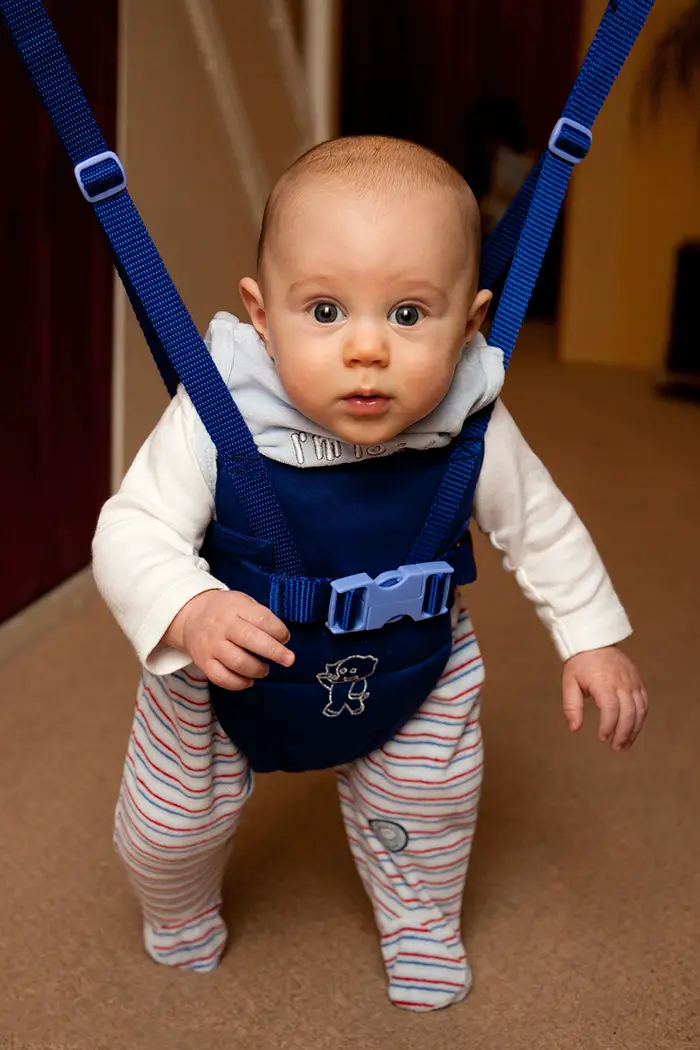 Searching for the best jumper for your baby? If you have already begun your search, you may be feeling a little surprised and taken aback by the number of choices available. Baby jumpers come in all different types with various activities – as well as a wide range of prices. How do you even begin to decide which one is best for your baby? Well, that's where we come in.
As parents, we understand why you want to find the best jumper on the market. Jumpers are fun and can entertain your little one for several minutes at a time! For a parent who needs their arms free now and then, a jumper can be a lifesaver! Plus, babies appear to love these things! There is nothing like the smiles and giggles you will see as your baby bounces with delight.
When Can My Baby Use a Jumper?
A baby needs to have proper head control, ie supporting his/her own head without assistance. It might surprise new parents just to see how wobbly a newborn's head can be, and you will be sure to notice the milestone when your baby can hold his/her head up proudly.
Think of it this way – a baby jumper is the next big kid milestone for your little one. A baby jumper allows your baby to jump on his feet rather than bounce around in an infant bouncy seat. A baby jumper with an activity center is the older version of an infant play mat.
​Some babies start using jumpers as early as 3-4 months, but this varies according to each baby's development.  According to Baby Center, "Your baby will probably be able to lift her head when she's about a month old, and hold it up when placed in a sitting position at around 4 months. Her neck muscles and head control should be strong and steady by 6 months."
It can be tempting to use the jumper as soon as your baby is holding her head up, but it is critical that you wait until your baby can hold her head without assistance and demonstrates neck control. Don't risk it!
Understanding the Difference Between Types
First things first, you need to understand the differences between jumpers.
A standard jumper

 is a seat with two elastic straps that allow the baby to use his/her fit to kick off the floor and jump. These types of jumpers may be stationary or may be attached to door frames·

An exersaucer 

is an activity jumper that is stationary. This type combines bouncing and activity and motion

Doorway jumpers tend to be less expensive, but they also have more safety issues. Additionally, since these are placed in a doorway, a pathway in your home will be obstructed.
Risks of Jumpers
Used the right way, jumpers are beneficial and stimulating for babies. And, they can give your arms a little break. But, you should also pay attention to how the item will be used. You might have heard that the AAP has issued warning about baby walkers due to mobility risks, but what about stationary equipment?
​The American Academy of Pediatrics states, "Data suggests that infants who spend too much time in confining equipment such as car seats, swings, bouncy seats, exersaucers, or strollers may experience delayed motor skill development." Parents should take heed of their advice regarding these types of confining equipment. They recommend babies spend no more than 30 minutes at a time in the jumpers (and less if possible).
Things to Consider When Shopping
Depending on the type of jumper you choose, there are several different things to consider when shopping. For example, your first decision will be whether you want a stationary jumper, a doorway jumper, or an exersaucer. Depending on your living space, this may be a factor in your decision. Furthermore, some parents feel more comfortable with an exersaucer than a doorway jumper.
With this major decision in mind, there are other factors to consider when shopping. When searching for the best jumpers on the market, I focused on identifying the best for each type according to these factors: weight limits, ease of use, care instructions, height adjustments, size/storage issues, and added features.
Weight limits

 – Different manufacturers have different weight limits. Since babies grow at different rates, you should be sure the jumper you purchase will accommodate your baby's current weight, as well as the predicted weight for the duration of use.

Ease of use

 – Is it easy to put assemble or take apart?

Care instructions

 – How do you clean the seat? Babies have occasional diaper leaks. You should also check to see how you clean the other parts of the jumper that your baby may use as a teething toy.

Height adjustments

 – Some jumpers are quickly outgrown because the height cannot be adjusted. Other jumpers are made to adjust as your baby grows.

Size/storage issues

 – Let's be honest: you are not buying a jumper because it is a beautiful piece of furniture. It looks like a toy. So, you want to find one that fits in your space and one that can be stored easily.

Added features

 – While some parents prefer a very simple doorway jumper without all the bells and whistles, other parents want an exersaucer that has tons of added features such as developmentally appropriate toys and music.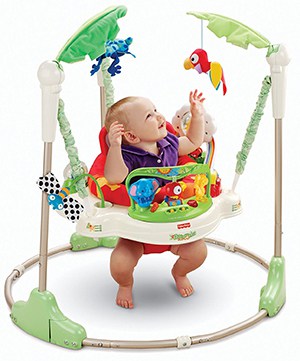 Lights, music, and interactive toys
Easy to adjust for height
Easy to store
Rotating seat
Depending on your baby's size, your little
one may not be able to touch the floor
   Price $$​$
The Fisher Price Activity Jumperoo is a frequent favorite of parents, and it is our favorite jumper as well.
This exersaucer is best overall because it is not the most expensive product on our list, but it includes all the features we want. We prefer a stationary jumper. We love all the interactive toys for little ones – and it is a nice feature that your baby can spin all the way around in this seat to get to the toy he/she wants the most. Babies love this exersaucer – and who can blame them? It's practically a mini theme park!
As parents, you will appreciate that these added features can be turned off and the volume can be changed as needed. Additionally, it is easy to store with frame that folds in. Plus, the seat is machine washable and dryer safe.
Lights, music, and interaction
Smaller size, not as bulky
Covered springs
Doesn't hold as much weight
Compact size also means less bounce
Price $$
The Fisher Price Space Saver Jumperoo is another great option for babies. This baby jumper stands out because it actually folds flat making it super easy to store or transport. If you do not have much space for any more baby goods, then this is a wonderful option.
However, while it is easy to assemble and clean, it does not seem to be quite as much fun as the larger Fisher Price Activity Jumperoo. Due to its smaller size and portability options, the bouncer itself doesn't have much bounce. Also, it does not seem as sturdy as the bulkier options.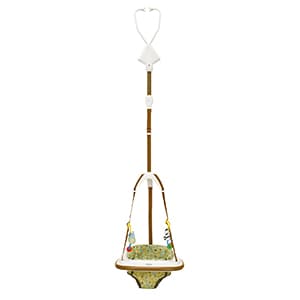 Traditional doorway jumper
Hidden safety cord
Non-twist straps
Easy to move and store
Limited height adjustment
Does not fit all doorways
   Price $$​$
The Graco Doorway Bumper Jumper is the cheapest option on our list, but is also one of the most frequently purchased and highly reviewed jumpers.
For those looking for a budget-friendly option, this is a great choice. It is a traditional doorway jumper, but it includes a unique bumper to protect your baby and your walls from bumping into corners. It also features a toy tray.
Parents will like that the seat is machine washable. It is also easy to move from doorway to doorway. Since it is primarily a seat and a bounce spring, it is very easy to store. Keep in mind, this jumper comes without many added features. Additionally, you must pay attention to your baby's weight and height as this makes a significant difference in its safety. It's height adjustable for a child from 5.5 to 25 lbs.
Basic jumper that is used without a doorway
Special spring for extra bounce
Unique saddle that supports baby's back and spine
No added features
Expensive
   Price $$​$
The Jolly Jumper with Stand is the most expensive option on our list, but for parents searching for a basic jumper from a trusted brand, this is the one.
This traditional jumper is the newest model of the original Jolly Jumper, which has been designing baby jumpers for over sixty years. This jumper does not have extra features, but what it is lacking in extra features, it makes up in extra bounce and safety. Babies (and their parents) will feel secure in this specially designed saddle.
For parents not wanting to purchase the stand, the Jolly Jumper may be purchased with a special doorway frame clamp. Depending on the model you purchase, one will be easier to store than the other. However, the seat itself is made of the same high-quality materials.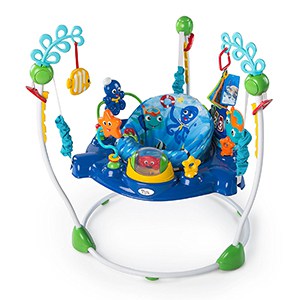 Lights, sounds, and three different languages
Multiple interactive features such as a discovery mirror
Rotating seat
Adjustable heights
   Price $$​$
The Baby Einstein Activity Jumper is another great choice for parents looking for an exersaucer as it includes the signature Baby Einstein interactive features.
This exersaucer has tons of added features making it stand out and a parent favorite. Baby Einstein is known for producing toys for babies that encourage learning and fun at the same time. With flashcards, toys that spin, letters, numbers and other sounds, this exersaucer will keep your baby busy! The seat rotates all the way around so your baby can choose where to play.
In addition to these fun add-ons, the exersaucer itself is adjustable to four different heights. Parents will appreciate that it is smaller than other exersaucers. Plus, even though it is small, it includes a place to store extra toys, bibs, or burp cloths. However, the small size may also mean your baby will outgrow it sooner than other options.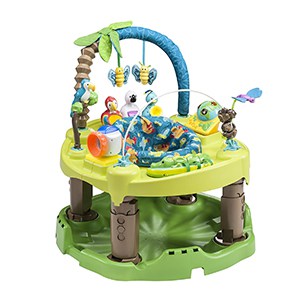 Music and several interactive toys
Converts into an activity table
Rotating seat
Height adjustment
Does not bounce like traditional jumpers
Large and takes up space
   Price $$​$
The Evenflo Exersaucer is the best exersaucer for activity without too much jumping on the market. For parents who prefer a stationary jumper with a bottom, this is a solid choice.
For parents who are more interested in added features than jumping, this may be the exersaucer for you. Babies can bounce in the seat, but it is not designed with jumper springs. However, this exersaucer is convertible. First, it works as a playmat. Then, it becomes an exersaucer. Once your child is walking, it converts to an activity center.
Additional Jumpers to Consider:
If you are still interested in shopping for other jumpers, here are our runner up's:
Disney Baby Finding Nemo Sea of Activities Jumper – This is a cute jumper with matching bounce pad for Disney fans.
Fisher Price Space Saver Jumperoo – This Jumperoo will work well for those wanting an exersaucer but without much space.
Baby Einstein Activity Saucer – For parents looking for less bounce and more play, this is another fine option.
As We Go…
While babies do not "need" a jumper, you will certainly not regret owning one. It will make your baby happy, and it will give you a little break. Watching babies giggle, bounce, and learn new things are the main selling points for jumpers.
Ultimately, it is your decision. Which jumper will work best in your home and for your baby? Use our guidelines to help you as you shop. Just remember: while a jumper can give parents a nice break, your baby should never be left unattended in the jumper or left in the jumper for longer than thirty minutes at a time.