Planning to practice babywearing and breastfeed? It is becoming more popular to do both, and to do both at the same time. As you enter this exciting stage of motherhood, you will be sure to find plenty of fellow moms to support you on your babywearing and breastfeeding journey.
Baby wearing is exactly what it sounds like – mothers "wear" their babies using slings, wraps, or carriers. According to Babywearing International, "Babywearing promotes bonding, supports breastfeeding, can help combat postpartum depression, makes caregiving easier, and can be a lifesaver for parents of high-needs children. Carried babies sleep, feed, and grow better."
Considering the many benefits of babywearing, it is a great idea to start researching the best slings and carriers to add to your baby registry. One thing you need to understand up front is that while babywearing supports breastfeeding, not all carriers allow mothers to comfortably breastfeed their babies while wearing them. For this reason, I have identified the best carriers for this specific purpose.
Tips for Breastfeeding Your Baby in a Carrier
You will soon find that breastfeeding your little one while he/she is in a carrier is convenient, eases the process, and allows for multitasking. You are going to love being able to breastfeed and have free hands at the same time. To make it go as smoothly as possible, here are some tips:
Make sure your baby is independently breastfeeding successfully before you attempt to breastfeed in a carrier.
Then, practice at home where you are comfortable.
Choose your clothing carefully. Nursing bras and loose shirts simplify the process.
Be sure to check to see if your baby's airway is open and not blocked. This is a must-do for baby wearing at all times.
In the beginning, you will need to support your baby's head. You may also have to push up your breast.
You will need to loosen or undo the strap to get your baby to latch comfortably. After your baby latches, then you may tighten the carrier.
Safety first - Always check your baby's position, head, and airways.
How To Choose A Carrier For Your Breastfeeding Baby
With their popularity on the rise, parents have multiple options for carriers and slings. So, how do you choose the one that is right for you and your baby? When researching baby carriers, I focused on these six criteria.
Type: There are multiple types of carriers – slings, wraps, soft carriers, etc. Some carriers only allow you to wear your baby one way, while other carriers are much more versatile.
Nursing-Friendly: A major deciding factor is that the carrier is nursing-friendly meaning it is comfortable for breastfeeding.
Comfort: While all women is shaped differently, the carrier should be comfort to most body types.
Safety: Carriers must be sturdy and safe. The design should support your baby's head and neck, as well as prevent any falls.
Ease of Use: Some carriers are much easier to use than others. Some carriers involve multiple steps, while others involve just a few.
Care Instructions: The carrier will be on your body and close to your baby constantly; therefore, it is imperative that it is easy to clean.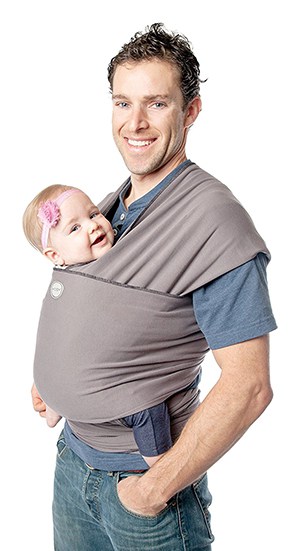 Versatile
Easy to use for breastfeeding
Comfortable
Easy to clean
Too much material for some women
Takes time to master
Price $$​
The Moby Wrap is essentially a long piece of stretchy fabric that is wrapped around the mother's body and the baby's body. It is 18 feet of strong, but soft fabric that can wrapped to carry your baby in various positions. Moms also feel support from the wrap covering both shoulders. The wrap allows you to breastfeed your baby in an upright or cradle position. Additionally, it is easy to wash.
However, some women find it difficult to use and find the lengthy fabric hard to manage. Plus, the size makes it hard to fit in a diaper bag. All the extra material wrapped around your body may also make you feel hot.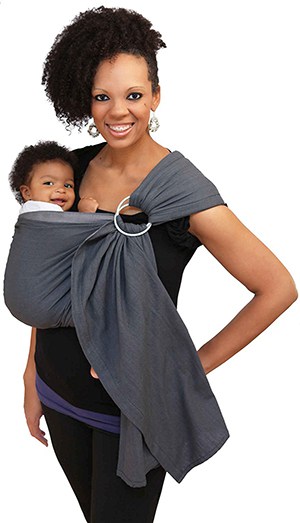 Comfortable
Can be used with babies 8 – 35 pounds
Once fitted, you can get your baby out quickly
Breathable fabric
Wear it on one shoulder
There is a learning curve
Price $$​$
This is a popular ring sling style carrier, which means using a long piece of fabric wrapped around the body through two metal rings. Ring slings are a popular choice because they are easy to use. It takes little time to place your baby in the carrier or take your baby out. The Maya Wrap is made of a comfortable, breathable fabric (so it will not make you feel hot). Plus, it "grows" with your child. It is also easy to clean.
Some moms are not fans of this ring sling because it places the weight primarily on one shoulder. It also takes some time to learn how to adjust it correctly so that you may carry your baby safely in it.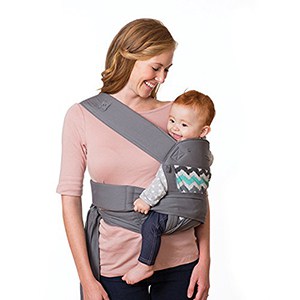 Affordable
Makes breastfeeding easy
Easy to use
Easy to clean
Ties can become loose during wear
Lengthy straps can get in the way
Price $
The Infantino Sash is the most popular Mei Tai carrier. A Mei Tai carrier is based on a centuries old design where mothers wrap their babies using two straps and a rectangular piece of fabric. This particular one is popular because you have various design options, as well as a trusted brand name. The mei tai is versatile allowing mothers to hold babies in numerous ways and allows mothers to breastfeed in an upright position.
Some mothers are hesitant using it with a newborn because the straps can become loosened over time. You will need to re-tie or tighten as you wear it. Additionally, the straps may become a nuisance – they are long.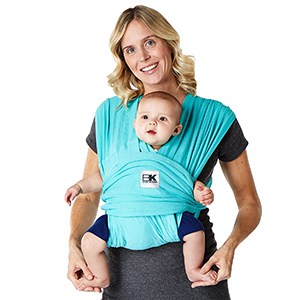 Best carrier for the summer
Cooler temperature wise
Assorted sizes for the wearers
Easy to clean
Sizing issues
Uncomfortable material
Price $$​
This is a wrap style baby carrier, but it stands out because it comes in different sizes to ensure a comfortable fit for mom. Mothers can wear their babies in multiple positions using this wrap. The fabric is also part mesh allowing air to pass through so you will not become hot while wearing it. Plus, it is easy to clean.
Unfortunately, some women had problems with the sizing. For instance, they ordered the wrap based on the sizing chart only to find it was too tight to fit their babies in it comfortably. Additionally, the material is not stretchy.
Ergo Carriers are the most popular soft structured carriers for babies. They are popular for many reasons, such as their versatility and support. With the supportive design, you can comfortably wear this carrier for hours. These carriers are also easy to use and very safe.
However, the Ergo design does not fit all body sizes. For example, women who are petite or plus size may struggle with it. Additionally, it is more difficult to breastfeed a newborn in this style carrier.
Additional Carriers to Consider:
If you are looking for more options, consider these carriers:
Boba Wrap – A soft, stretchy wrap that easily ties.
Beachfront Baby Wrap – This sling is designed to be used in and out of the water.
Peanut Shell – This versatile sling is popular with celebrities.
To Wrap Up
All the baby carriers in this guide are great for baby wearing and breastfeeding. Simply choose the carrier you will feel most comfortable using daily. Once you learn how to breastfeed and wear your baby separately, you can then combine the two for hands-free feeding and mommy multitasking.