Oven baked zucchini chips, delicious for an appetizer or snack.
Prep time: 30 mins (I'm slow) Cook time: 30 mins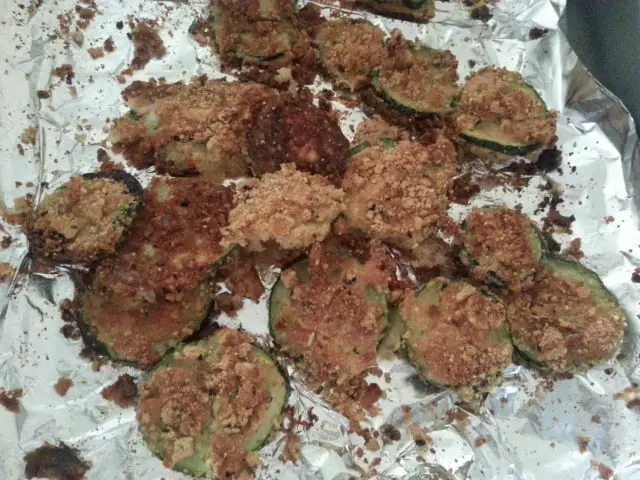 Ingredients
1/4 cup dry breadcrumbs (panko or even crumbled crackers work)
1/4 cup (1 ounce) grated fresh Parmesan cheese
1/4 teaspoon seasoned salt (unnecessary if your bread crumbs are salted)
1/4 teaspoon garlic powder (optional)
1/8 teaspoon freshly ground black pepper
1 egg
2 1/2 cups (1/4-inch-thick) slices zucchini (about 2 small)
Oil/Cooking spray
Preparation
1) Cut the zucchini into 1/4" inch thick slices (for speed, slice in a food processor.  Place in strainer and salt heavily.  Let stand for 30 mins.  Then rinse salt off and pat dry with paper towels.  Cucumbers are 90% water - this takes some of that out so your chips are crispier!  I haven't tried skipping this step yet, but it could be optional if short on time.
2)Preheat oven to 425° F.  Combine first 5 ingredients in a medium bowl and mix.  Whisk egg in shallow bowl.
3) Dip zucchini slices in egg, then dredge in breadcrumb mixture (coat at least a thin layer on the each side)
4)Prepare baking sheet with cooking spray or oil.  (I typically use a baking pan with aluminum foil and brush olive oil on) The oil ensures the slices don't stick so make sure there's an even coat.
5)Place coated zucchini slices on sheet and bake at 425° F for 30 mins or until browned and crisp.  Serve immediately.
This recipe makes zucchini a bit less boring.  The parmesan and crispy texture come together to make this snack a household favorite.
*recipe modified from recipe.com