Becoming a parent is one of the most important moments in your life. Your little bundle of joy is completely dependent on you and that responsibility may feel heavy - you want to give babies every single thing in your power.   To help you along the way, you'll be using a whole host of baby supplies, from infant car seats to diapers.  Don't forget items that will help momma too from this pre-baby registry checklist.
The reality is that baby products are expensive and these items add up.  It might even feel like you're emptying out your pockets to make the life of your baby comfortable. But you know what? If you are a little clever about it, you can get through the newborn stage without putting a massive hole in your bank account.
Let's break down the most important products that you need for your baby and then find a way to get it for free or at least highly subsidized!
Infant Car Seats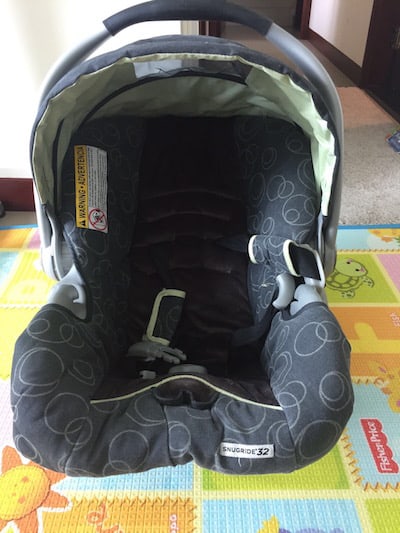 Car seats are mandatory in the US if you are travelling with an infant in a motor vehicle. Not only is it the law, but car seats save lives.  Car crashes are unfortunately the number one killer of children ages 1-12 in the US.
Choosing The Right Car Seat For Your Baby
Any car seat should be chosen to fit your child's size and weight. From birth to 12 months  your child should always ride in a rear facing car seat.  Infant car seats are specifically designed to be facing.   The American Academy of Pediatrics actually provides a list of car seats and manufacturers, which is an excellent guide.
Car Seats Expire
One little known fact is that most infant car seats have an expiration date of 6-8 years after manufacture.  Plastics don't last forever, and the integrity of the car seat can be compromised after wear and tear or just sitting in a hot car for years.
Do not settle for any free infant car seat that comes your way. Free baby car seats still need to adhere to the safety standards.  If you want one that lasts through toddlerhood, you will need to find a convertible car seat.
Where Do You Find A Free Baby Car Seat?
Free car seats are often available either from parents looking to reduce clutter (because baby stuff really does pile up!) or from organizations that assist low income families.  Most of these organizations are (by necessity) going to be local, so it's worth looking up your local departments.

Government Assistance
Health Insurance
Charities And Nonprofits
Private Organizations
Seat Installation
Getting a safe, free baby car seat is just the first step.  It's also crucial to make sure it's installed properly.  This goes for larger car seats as well as smaller ones.  A shocking 95% of new parents install their car safety seats incorrectly.  To avoid compromising your child's safety, certified technicians can actually install the car seat for you, typically for free.
There are sometimes car seat installation classes as well.  For example in Arizona, the CAPP (Children Are Priceless Passengers) program sponsored by the Phoenix's Children Hospital, offers a class on child safety seats, though the fee is $35.
Car Seat Accessory
We've compiled local resources in all 50 states at the bottom.  Click the button to jump to them.
Diapers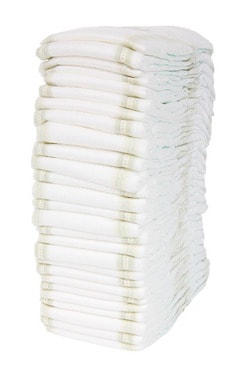 As these are a relatively lower-cost item, free diapers are easier to find per unit than free baby car seats. You might not find overnight diapers, but regular diapers can be tracked down.  If you cannot pay for the diapers right now, then here are some good places where you can find free diapers.
Free Samples - This is not a long-term strategy. Most diaper companies have aggressive sales strategies, so they are more than happy to send you free samples of their products. All you have to do is register on their website and ask for a free sample. They will readily send a pack with at least a few of their diapers, along with extras like baby wipes.
National Diaper Bank - Another non-profit, National Diaper Bank Network is dedicated to enriching the lives of the mothers and the infants, one diaper at a time. Food stamps and other social programs do not provide for diapers. So, if you need assistance, you can contact National Diaper Bank's local chapter in your area. They provide diapers for free.
Loyalty Programs - Many companies like Huggies and Pampers have loyalty programs. Obviously, to take advantage of the program, you have to first buy their products. So, it's not exactly free, but a bit of a rebate.
Baby2baby - Provide baby gear for low income families
Baby Food
Babies are not ready for solids until 6 months, and the World Health Organization recommends exclusive breastfeeding until then. Even though momma's milk is recommended, every family has to make their own choice between breastfeeding and formula.
Most formula companies offer an introductory package to promote their brand.
Similac Strongmoms - $400 worth of baby formula samples, formula coupons, and nutritional advice
Enfamily Family Beginnings - $400 of infant and toddler formula samples, discount coupons for formula, stickers to mark your baby's development, and expert tips
Even when you start on solids, the process is slow and gradual.  Most babies start out with purees and relatively easy to digest food.
Sourcing the right baby food is absolutely critical to good health and proper growth of the child. Here are a few easy ways for you to get baby food for subsidized rates or even free.
Women, Infants & Children (WIC) -As previously mentioned, WIC is a state-run program that you may qualify for if your family income is below the federal income limit. This program provides nutritious food for both mothers and the infants. You can also get baby formula for your babies.
Ask Your Doctor - Pediatricians may have samples of their own from companies to give out, but they will also be in touch with local sources.  Gerber used to offer a nutritional kit but the program has been discontinued.  They still seem to send kits to doctors though.  To double check for reinstatement call 1-800-284-9488.
Conclusion
Finding ways to support your newborn baby, especially if you are in need, will hopefully be less stressful with these ideas.
Have you heard of any other ways to find free baby supplies?
Free Car Seat Resources in all 50 States
Ask For Help!
Finding ways to support your newborn baby, especially if you are in need, will hopefully be less stressful with these ideas.
Have you heard of any other ways to find free baby supplies?