In today's hectic and stressful life, falling asleep at night may not be a child's play. And who wouldn't prefer a harmless natural way to sound sleep! Noise canceling headphones for sleeping are a rage these days for everyone who struggles with sleep problems.
Why Use Noise Canceling Headphones To Sleep
Natural: Sleeping pills are a turn-off, and nobody has time for expensive daily spa sessions to relax. Noise canceling headphones give you the quiet space to sleep peacefully even with young kids around (as long as someone else is in charge of them)
Fun: There can be nothing more soothing than a gentle music after a busy day. With the best noise canceling headphones, have fun with your favorite playlist or allow the guided meditations to lull you to sleep. You can use them for simple noise cancellation too.
Unintrusive: Enjoy the music without putting your partner's mood off. It can also be the other way round. If you are the silence lover, let your partner enjoy the music while you put on these headphones and also keep the neighbors' noise at bay!
Easy on Pocket: Let's be honest. Not everyone can afford the expensive exotic massages and spa sessions. Noise-canceling headphones are a one-time investment and an easy way to beautiful dreamy nights.
How to Pick the Best Noise Canceling Headphones
Comfort Level: How sensitive are you to the comfort of your ears should decide whether you want a padded headphone, earbud, or a headband. To some, the concept of earbud may feel discomforting as there might be an issue with the fitting in the ears. So, just give this issue a thought before making a purchase.
Efficiency: If you are surrounded with milder noises around you, a settling for an economical headphone may work fine. But if there is loud snoring going on beside you then prefer something a bit lavish and you won't regret at all. Advanced headphones are pricey but they can block any low or high-pitched noise.
Budget: Decide how much you want to spend on the headphones. There is a large variety available in the market that you can easily choose from depending on the bucks you are ready to throw.
Wireless or Not: No matter what the wires can be real frustration at times. If you too feel the same, go for a wireless headphone. They are less messy and prevent the risk of getting the phone entangled and falling off eventually.
Best for loud and sharp noises like snoring
Three levels of noise cancellation
Advanced "Aware" mode
Three different earphone size available
Price $$​$$
The Bose QuietComfort 20 Acoustic noise canceling headphones are created by a company that has long set industry standards. This earphone is the best choice if you are looking for quality and ready to splurge.
Its three-level noise cancellation system eliminates any possible unwanted noise from disturbing your sleep. The soft earbuds available in three sizes seamlessly fit into the ears.
High-pitched sounds like snoring and traffic down the road would not reach your ears. However, if you have kids around, use the advanced "aware" mode to keep you really aware of what's going on around you.
This product may seem a little costly but doesn't disappoint you when it comes to the flawless performance. If a wired headphone irritates you, then you might want to consider before purchasing these lovely headphones.
Along with the earphones, enjoy a clothing clip, a rechargeable lithium-ion battery (built-in), a USB charging cable, and a carrying case.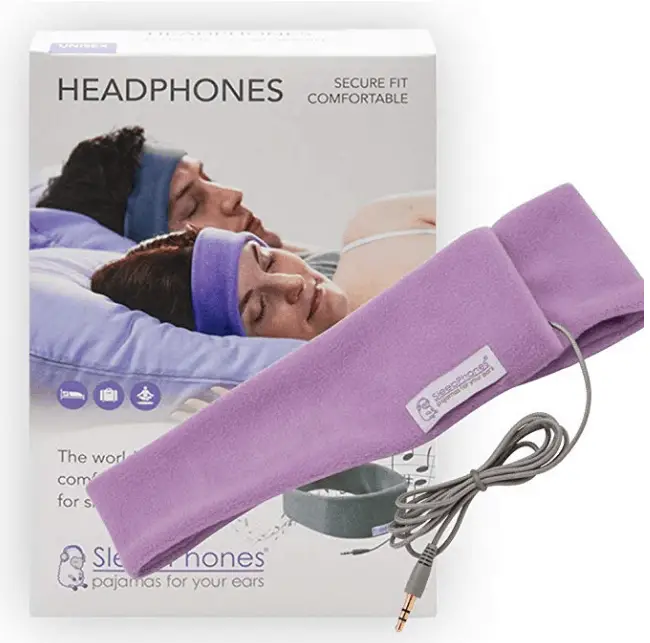 Smooth fleece material
1-year manufacturer's warranty
Easy to wear with a sufficiently long cord
Gets heated up after long use.
The battery needs to recharge every six hours.
Price $$​39
An easy-to-wear soft fleecy band that comes in beautiful colors and convenient sizes, AcousticSheep SleepPhones would satisfy you on many fronts. The company offers a 1-year warranty.
There are extra small, medium, and extra large sizes with soothing shades like lavender, soft grey, sunset pink, galaxy blue and many more.
The product can be connected to almost any kind of devices. You can use it either with wires or through Bluetooth. Bluetooth is really tempting, however, be ready to put the battery to charge every six hours.
The cord is 48-inches long which gives you a lot of scopes to turn around and not worry about it. The headphone doesn't hurt at all, no matter how you sleep. Though, the device gets heated up and causes discomfort after some time.
Fashion lovers may get disheartened because of its looks. All in all, expect a good night sleep wearing these sleep phones, as they cancel out most of the noise with their sound quality and delicate touch.
Trendsetting design made of pure fleece
Economical
High-quality sound and noise blockage
Speakers are a little fussy with a large size and present outside the band.
The device gets heated up.
Price $$​39
Tooks Sportec Band is worth buying. It is made of very soft fleece and does not hurt your pocket. The band is wide and comes in black, pink, and white shades.
The headband is capable of blocking all the noises while providing you an amazing sound quality. Just connect it to any device and enjoy your favorite music.
One issue with Tooks Sportec Band is that it has large speakers and on top of that they need manual adjustments as they are present outside the headband.
Another problem is its heating thing which doesn't pose much of a discomfort in the winters but wearing them during the summers can be tricky. If this really worries you, we would recommend you to try the cooler dry fit version of the same headband.
Overall, the product is quite stylish and can be flaunted outside, while you are working out. What's more! You can adjust the volume with its in-line wire control.
Stylish and made with soft lycra material
Easy-to-wear, very light, and can be washed
5-meter flexible braided cord
Speakers need to be adjusted time and again
Comes in one size only
Price $$​39
CozyPhones would make you fall in love with them. With a touch of soft lycra, they feel so soft to the skin. Light in weight, they can be easily washed at home.
The speakers are given outside the band, so they may need an adjustment from time to time. However, the quality of sound produced by this headband is going to impress you a lot.
Another smart feature is its long flexible braided cord which is free from the problems of tangling and breaking due to twist. One more aspect is that it doesn't heat up even after long use.
Some people would find the headband difficult to wear as it comes in single size only. You would also get a sleek travel bag to put the headband in when it is not in use.
CozyPhones is an ideal, budget-friendly headband that is perfect for your workout sessions, traveling, sleeping hours, or while meditating.
Highly stable due to its clip-on design
Very attractive design
Lightweight and affordable
Soothing Touch
May not fit well on all ears
Sound quality is not up to the expectations
Price $$​39
A glossy black sleek set of earphones for your relaxed nights or bright days. The Panasonic earphones are quite compact and have a slim design.
Their clip-on design is an ergonomic feature which would let it settle easily on your ears and keep it unmoved even when you are doing exercises or just trying to sleep.
The speakers are surrounded by foam-like material and feel so soft on the ears while sleeping. The earphones are easy to afford and carry. However, it would have been much better if a carry bag was provided with them.
Those who are looking for an uncompromised sound quality should know that it may not be a perfect choice. The sound quality is good but not extraordinary.
The glossy finish adds to its appeal but at the same time asks for a lot of care as the finger marks are very easily visible on the gloss. When not in use, the magnets present in the earpieces keep them together and make it a hassle-free product.
After all, with so many headphone options available, it is hard to label only one product as the best noise canceling headphones for sleeping. We are all different and so our choices and preferences would differ too.
Hence, just prioritize your likings and purpose of buying a headphone. A feature that might suit you may not be desired by the other person. So, it is better to go for what features sound best to you.
Picking out of these most tested and recommended headphones would surely ease you into a deep sleep and make your nights better.