Whether you're traveling to an exotic beach or visiting the local pool, bringing a baby adds a few extra considerations.  It is normal to feel a bit anxious about bringing your baby to a new environment, but that grin on your kid's face will send those worries away.  Your baby might even sleep better after an exciting day at the beach.
Taking An Infant To The Beach Or Pool
While bringing a newborn in the first week to the beach would be a bit overwhelming, there's not much reason to completely avoid the beach a few weeks after.  Many parents do feel a more comfortable after the baby is a month old, when breastfeeding is more established.  The sleep deprivation is still real though, and that often doesn't start improving until 6-8 weeks.
Taking a baby to the beach doesn't mean setting the kid on the sand uncovered and unprotected.   Important to note for infants:
Sunscreens are not approved for babies under 6 months.   Cover an infant completely with UV(ultraviolet) protected clothing and a hat.
Monitor your baby for signs of overheating, which include redness and sweat.  It's best to find shade under an umbrella.
Infants may actually be a bit easier to manage than chasing toddlers around, as long as they don't eat a gallon of sand or turn into a cherry tomato with sunburn.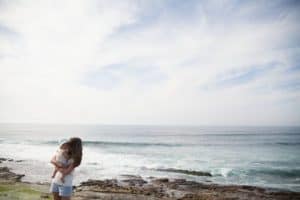 Baby Gear For Sunny Outings
Bringing a baby may require some extra planning to enjoy your time on the beach, but it doesn't actually require bringing 15 extra things beyond what's usually in your diaper bag.  Your beach and pool essentials are actually fairly straightforward.
Essentials
Wipes/Burp Cloth/Diapers/Bottles/Water

No stranger to the diaper bag, you tote around this gear anyway!

Not only do hats fight the heat but they offer protection from the sun for babies who shouldn't be wearing sunscreen yet.  Bring a broad rim or full protection hat with flaps for the neck.  It will entirely cover your baby's head including the neck and ears. Look for hats with UPF+ sun rating.Sunscreen is a must for you as well as your baby (6 months and up). Make sure your kid is lathered up in sunscreen 15 minutes before sun exposure.   You can keep the sunscreen in the cooler and later re-apply it as can help keep your baby's body temperature normal.

I spent a few solid hours researching safe sunscreens for kids.  I used to use Thinksport but read some strange reviews on Amazon about it not working.  Maybe it was user error, but it led us to search for others.  We scoured the independent review board EWG for nontoxic solutions.  

In the end I settled on Goddess Garden and Blue Lizard.  Blue Lizard is a slightly pricier Australian sunscreen, but since Aussies have to deal with that hole in the ozone above them, we feel pretty comfortable they produce good sunscreen! 
Cooler – Your beach outing can turn out to be a hot and humid affair. Maybe your breastmilk storage cooler can double as a portable bag, or bring a small portable cooler so that you can keep all the essentials like soda, water, baby food, etc in it.   Frozen snacks can be kept here as well.
Snacks – If you are breastfeeding, it is easy to do on the beach. Find someplace sheltered where sand and gust of wind can't disturb your child's feed. If you are bottle-feeding, you can use BPA-free bottles. It is difficult to warm food on the beach so you take along a flask of boiled water, pour it into a jug and warm the food container. If your baby will eat finger foods, depending on his/her age and taste, good options include;

Raisins
Rice cakes
Chunks of cheese
Cooked carrots
Banana
Milk  – Whether you are feeding your baby infant formula or expressed breast milk (cold), BPA-free bottles

and Breast milk containers are must for a beach outing. Also, bring a double walled

vacuum flask

to keep warm liquids.

 
Nice To Have Items
Save your money on pricey beach toys -your baby will probably be engaged enough by the new environment!  A simple beach ball for toddlers, water squirter, or kickboard can provide endless hours of fun.  For a bit more, bring a baby beach tent/umbrella.
Bring an inflatable pool and an Umbrella or a UV Sun Tent to keep your baby cool and contained at the beach. This is especially for the 'crawlers' who put everything including sand in their mouth.
A pool float offers comfortable shade and a way for parents to relax while bringing infants in to the pool
Baby Beach Wagon – Roll your Load
You don't have to carry your baby along with the chairs, umbrellas, cooler, beach bags, and baskets. You can bring an infant beach gear like baby beach wagon.
Toddler Beach Chair and a Small Fan
Your baby might want to enjoy the breeze and the warmth of the beach. An ultimate luxury is bringing a small chair along with a mini battery-operated fan. It will help your baby to relax.
Sometimes the shade of the tent or the umbrella isn't enough to keep the baby cool. You can bring a small spray bottle filled with ice water. Spray it on your baby if he/she is looking flushed.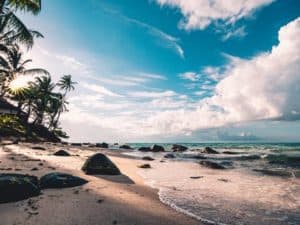 Safety Kits- First-Aid Kits add peace of mind.  because you never know, accidents may happen. Things like bandages, hand sanitizers, prescription medications, and all other essentials that you feel are necessary for a beach outing should be kept.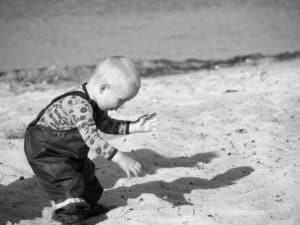 Conclusion
A day at the beach or pool will give parents a glimpse into that former adult life with sun, wind, sand, and water!  Enjoy the day and the summer, knowing that beach or pool days can bring delight to the whole family.