Parents want only the best for their kids and that includes not only what makes their kids happy, but what makes them safe. In that regard, one of the best investments parents can make for their kids is secure and comfortable car seats so their young ones can travel in safety and comfort.
Rear-facing car seats are the safest, so keep your children facing only and rear-facing convertible is for infants and toddlers. Toddlers and preschoolers should have a forward-facing convertible or forward-facing harness for their protection. Boosters are the next step after a child has met the height and weight limits for 5 point harness.  Children should be using one of these forms of seats until they are 4 ft 9 inches in height, which is usually around 8-12 years of age.
Below we give you a run down of the best narrow seats or booster we like in each category.
Tips For Buying Car Seats For Your Child
Car seats are different for children of different ages and sizes. Follow the recommendations shared by

NHTSA

(National Highway Traffic Safety Administration). According to their recommendation, look at both, the instructions– including the size and height– of the car seat manufacturer

and

the instructions for car seat shared by the vehicle's manufacturer to make sure they match and fit together.

To save time and effort, look for car seats that are easiest to install into the car, such as belt adjustments system, how securely and easily the belt hooks and unhooks, how light it is to carry to and fro from the car, and pay attention to various other harnesses and straps. If your kids are the lunch to-go kind then prefer seats that come with storage areas.
For your convenience and savings, choose a car seat that also fits into many different kinds of strollers. It makes it a better travel partner and fewer things to carry. When the car seat doubles as a stroller bed, it also saves space in the car.
Never disregard the comfort factor of the car seat, or your baby will be fussing and crying the whole time you're driving. The seats, the padded cushions for coziness, breathable fabric for the hot season, and the energy-absorbing foam liner that cushions the baby are some of the comfort features to look out for when buying the car seats.
Absorbs impact with EPS foam

Easy to install with the SuperCinch® LATCH tightener

Affordable
Non-breathable fabric

The sunshade doesn't provide much coverage
Chicco KeyFit 30 Infant Car seat comes highly recommended by neonatal intensive care unit (NICU) nurses. This infant car seat provides precise installation with the RideRight® bubble indicator. It also offers easy and secure installation with the SuperCinch® LATCH tightener.
In addition to being suitable for normal babies and toddlers, this car seat is also fit for preemies as it comes with a detachable head and body support to help fit them. Additionally, it also has a shoulder strap pad to keep babies as small as 4 pounds, safe and snug.
The adapter of this car seat is designed to fit on Chicco compatible strollers so parents can make a stop in the car, shift the seat and the baby to a stroller and continue. This seat is available in six different colors and is designed for infants of 4 to 30 pounds of up to 30-lbs. The weight of the car seat is 9.6 lbs. and 16.75 lbs. wide, which makes it suitable for small cars. This car seat can only be installed on a KeyFit Infant Car Seat Base that has dimensions of 20" x 15.5" x 8". It can also be installed without a base as per Chicco Manual.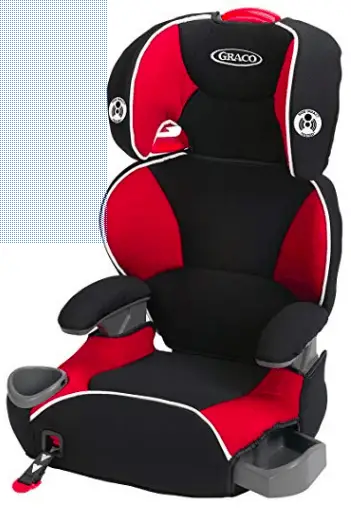 Secure connection to the vehicle's seat with a unique one-hand front-adjust LATCH system

An integrated cup holder and a hide-away storage compartment

Removable, machine-wash seat cushion
Latch system can sometimes become slightly loose

Headrest slips occasionally
Price $$​
This high back booster is designed to provide safety and comfort to the child, and ease of usage to the parents. It is designed for children weighing 30 to 100 lbs. and up to 57″ tall. The one-hand front-adjust makes it easier for the child to self-buckle as well. The headrest is fully adjustable for kids of different ages and the back is removable for a backless mode.
This high-end booster is engineered and crash tested to meet the US Safety Standards under FMVSS 213. For long drives, parents can store children's snacks and drinks in the 2 cup-holders at the bottom.
The seat of this booster weighs 9.8 lbs. with dimensions 25.4" H x 16.75" W x 10.5" D. The base measures 16-inches. This car seat comes with a 1-year manufacturer's warranty.
Best for traveling with only 7.6 pounds of weight

Easy to install in the car with its belt and LATCH.

Certified for use on aircraft

Machine washable and dryer safe seat pad
Cosco Scenera Next is a very lightweight convertible car seat and is considered great for air travel. This budget option is compact with a base width of only 17-inches, at the widest point by the child's hip and fits easily into small cars.
The seat has a rear-facing weight limit of 5 to 40 lbs. and forward-facing weight limit of 22 to 40 lbs. This car seat is also certified for aircraft use with dimensions of 17 x 22 x 23.5 inches. This car seat also fits into strollers.
The car seat pad is extremely easy-to-clean as it is removable, machine washable, and dryer safe. Matter of fact, even the cup holder of this car seat is dishwasher safe. This one is also tested and approved by the NHTSA and meets and surpasses Federal Safety Standards.
Installation is also convenient and effortless with the Cosco Scenera Next. It allows the babies and toddlers to fit snugly and comfortably with its 5-point harness with an easy front adjustment, 5 harness heights, and 3 buckle locations. Most importantly, it protects with its Side Impact Protection built.
Comes with a 1-year warranty

Certified and approved for use in aircrafts

Available in 7 different colors
Seat padding is not machine washable

Non-adjustable recline
This car seat allows the baby to stay in a safe, rear-facing position in their car seat until they weigh 50 pounds. The forward-facing mode can be used for babies weighing between 22-65 lbs.
Just 16.9 wide, the Clek Fllo allows the parents to fit three of them to fit in the back row with their compact design. 
The seat itself weighs 38 lbs. and the seat width at the base is 13-inches.
The seat comes with two options to install in the car, either by LATCH or the belt. It is considered the safest option because it comes with the most safety features, with the latest safety technology.
The safety features include adjustable headrest with deep side wings, several layers of energy-absorbing foam, a metal substructure, and an Anti-Rebound bar for during the rear-facing mode. This fixture keeps the child's head from hitting on impact.
While this seat is not for newborns, it can be used for them by inserting the separately purchased "infant-thingy insert". The expiry date of the seat lasts for 9-years.
Machine washable seat fabric

2 layers of shield impact protection

Easy installation with ClickTight

7 recline positions
This car seat comes with multiple safety features to ensure the safety of the young ones. There are several layers of side protection in the seat along with an Anti-Rebound bar to help reduce impact.
It is also very easy to install because of its ClickTight technology. Britax Boulevard car seat is designed with child growth in mind and comes with a 14-position harness. The seat weighs 28.5 lbs. and has a width of 18.5 inches. The car seat can accommodate 5 to 50 lbs. on rear-facing mode and 20 to 26 lbs. on forward-facing mode. The base area depth and width is 10.5" / 11.5"
Don't rush to get to the next level car seat - the previous version protects your child more. Investing in a compact car seat helps keep your backseat roomy, in case you decide to add another baby to the mix!