(Header image: Songlim Hanam)
Sometimes, you're just hungry and need to eat.  A lot.
Or, maybe you're a maximizer (rather than a satisficer).  In which case you want to eat as much of the breadth and depth of Korean food as you can, before leaving.
This post is for those times.
Here are two types of dining options that let you gorge on as much of the breadth as possible while in Korea.
Han-jungsik
This can literally be translated into Korean as "Korean Standard Fare", and is a type of Korean dining featuring set courses typically serving no less than 15-20 different types of foods, from light vegetables to marinated meats, to fiery side dishes.  
http://www.hankookilbo.com/
These multi-course delights are a great way to be exposed to the sheer variety of Korean foods, and make the most of your time here.
While everyone at the table needs to order the same set, the sheer number of dishes – and breadth of hot and cold, sweet and sour, bland and spicy, salty and savory flavors – is sure to delight.  
The epicenter for these traditional Korean cornucopias is Insadong, although you will find more modern twists elsewhere, especially in Gangnam.  Sets usually start at around $30 per person.  
http://www.dullegol.com/
Buffets
During the past few years, there's been an arms race of sorts among major companies entering the buffet game.  
With menu prices in the $10 to $20 range, this is an eminently affordable way to indulge in the wide variety of both traditional Korean and modern/international hybrid fare that Korea offers.  
Enjoy a wide variety of vegetable and meat wraps, tossed noodles, side dishes, bibimbaps, and an array of desserts.  As may be expected, the more inexpensive buffets feature fewer selections for carnivores.  
Like we said, sometimes you're just hungry.
계절밥상 (Season's Table)
http://food.chosun.com/
Season's Table, with dozens of locations around the country, offers fresh and seasonal Korean fare – a wide variety of vegetables, meats, seasonings, rice dishes, teas, drinks, and desserts.  While Korean food is the core, there are also often other Asian offerings.
The menu is rotated out every few months, according to the season.  Find locations here.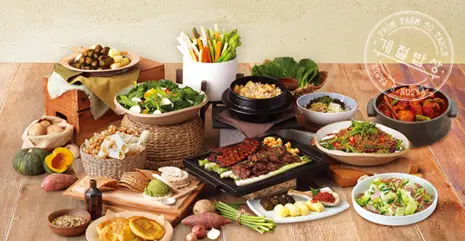 ---
자연별곡 (Nature Kitchen)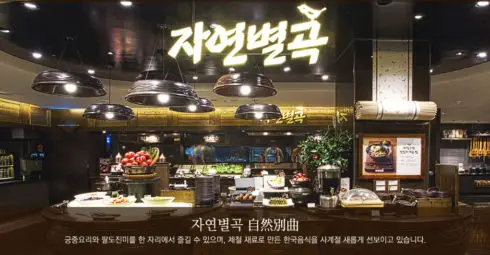 Honestly, we can't really tell the difference between this brand and the former (Season's Table), since both offer fresh Korean food in great variety and abundance, and have dozens of locations around the country.
What we're sure about is that both offer great value, and have amazing food, drinks, and tastes to suit every palate.  Find locations and menu here.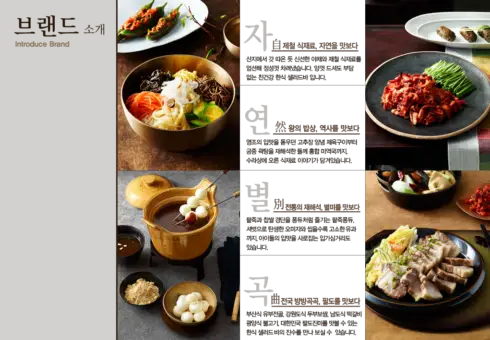 ---
올반 (Olbaan)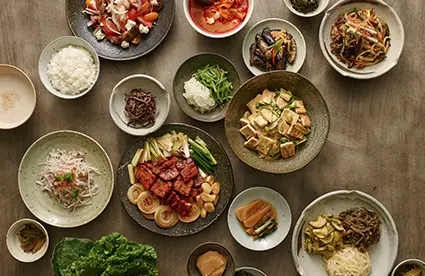 Operated by the Shinsegae Group, who seems in no hurry to expand or catch up with the others, there are only 5 of these Olbaan restaurants in the country.  
As is expected of the Shinsegae Group, these buffets are a bit higher-end, and generally have more expensive dishes – like eel, ox-tail soup, seafood, to name some examples – and unlimited beer is standard, rather than an add-on.
Find locations and menu here.

---
풀입채 (Pulipchae)
http://www.metroseoul.co.kr/news/newsview?newscd=2014112200081#cb
Also with dozens of locations in Korea, Pulipchae's name translates literally into "leaves and grass", which is not a reference to a book by the American poet Walt Whitman, but rather a reference to the fresh, seasonal leafy greens that serve as the wraps and accoutrements for the rice dishes, meats, pickles, and seasonings that this buffet offers.  
We also find it hard to articulate the differences among Pulipchae and its competitors Season's Table and Nature Kitchen, as they are all around the same price point and offer a great variety of deliciousness.  Although we're sure there are differences; maybe in the decor.
Find locations and menu here.
http://www.etoday.co.kr/news/section/newsview.php?idxno=1155407
---
Seven Springs
Compared to the other buffets, Seven Springs comes in at a higher price point.  Why?  Because in addition to Korean and Asian fare, this chain goes a step further and offers steaks, salads, pizzas, and sometimes even tacos and southern BBQ.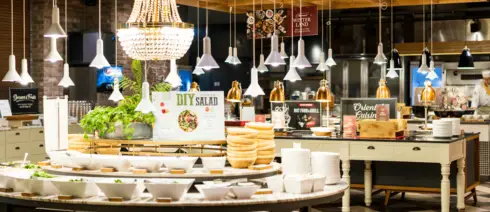 If you really can't decide on what to eat, or just want to eat everything, this is your choice.
Not as many branches as Nature Kitchen or Season's Table, but still about a dozen locations scattered around Seoul.  Find locations and menu here.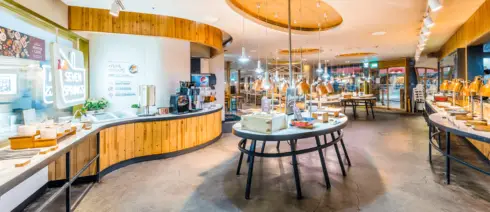 ---
Ashley American Grill & Salad

Contrary to what the name implies, these buffets serve more than just American food.  Similar to Seven Springs, go to Ashleys for Asian fare as well as steaks, pastas, pizzas, and salads.
With dozens of locations around the country, there are several different concepts, from Ashley Classic, to W, to A Lab.  These all have slightly different menus, with price ranges to match.
Find locations and menu here.