Childbirth is one of the most important moments in a woman's life, but, pregnancy is surely not all just baby showers, unicorns and rainbows.  It's an intense emotional and physical journey that produces very visible changes in the body. First the body has to prepare to carry a child, and after birth it has to recalibrate to a new normal. Postpartum Girdles can be the first step in helping a mother regain confidence in her body and hopefully quicken healing times.
Postpartum girdles are known by many names, postpartum belly wraps, belly binders, but they are mostly a type of shapewear with medical benefits.  They fit around the belly snugly to help a new mother improve posture and assist in regaining shape after the delivery.
It helps the body to readjust the organs after the body has been through the stress of pregnancy. Given the important role of the postpartum girdles, it is important to choose the right one. There are so many available in the market, but here are the top picks that you should seriously consider.
Abdominal Separation
Maybe laughingly, I had thought carrying a baby would make my abs stronger.  After all if I'm carrying extra weight, shouldn't those muscles become ripped?
Unfortunately the weight just gets to be a bit too much for the abs, and movement that seems normal ends up causing problems.
Most women get some form of ab separation, or diastisis recti, where the abdominal muscles separate.  This affects approximately 60% of women, though most women don't even know about it and doctors seem to prefer not to bring it up.
It's the main cause of the mommy tummy or mommy pooch.  Wearing a binder helps to bring these muscles back together and support healing.
How To Choose A Belly Binder
Shapewear is an incredibly personal piece of clothing, but a few things are important.
Comfort – is the fabric breathable and comfortable for long hours of daily use
Sizing – Is the band adjustable or will I be able to find a size that fits?
Durability – Is this material made to last?
Simple, lightweight velcro belt
Durable and washes well
Edges of belt could be slightly rounder
Price $$​
During our tests of postpartum binders, this belt felt particularly lightweight and durable.  This is especially important postpartum when you're looking for something that doesn't get in the way of nursing a baby.  You also don't have to feel like you're walking around with a giant pad on your belly.
The material is a combination of cotton, polyester, and spandex, which offers the kind of flexibility and support your postpartum stomach needs.
Some women find themselves with a pregnancy related hernia, which causes protrusion of the intestine from the abdominal wall.  Sounds a bit worse then it has to be, and it usually resolves itself, but this binder also comes with a silicone disk that helps to hold it in.
Simple, lightweight velcro belt
Very sticky velcro
Belt fibers stick out slightly when velcro is loosened
Price $
This binder offers latex free, breatheable contoured support that is adjustable and well suited for surgical recovery or postpartum moms.  During testing we found the velcro to be very sticky, which helped to keep the binding nice and tight.  It can also be close anywhere on the belt, creating a custom fit.
Breastfeeding could also be done without jabbing the baby, which is a plus.  The velcro is so strong it starts to pull fibers out, which actually helps the velcro stick on further.  In fact when it arrives there's velcro protection to keep it from sticking before use.  The only downside is that the material might start looking a bit used, though the belt is still durable.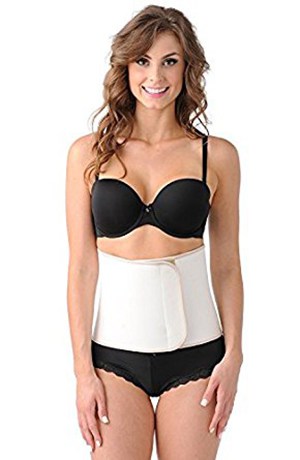 Supports the abdominal, back and hip muscles
Medical-grade compression to keep the belly in
Eco-friendly and absorbent material
Latex-free
Visible under light clothing
Some customers reported rolling and uneven distribution of the material
Price $$​
Made from bamboo, The Belly Bandit is a soft and environment-friendly solution to tighten your belly. This naturally antibacterial abdominal wrap helps in reducing weight and is especially comfortable for women who have undergone a C-section during delivery.
Given the strong material, the wrap appears to be quite durable. It is highly absorbent, so you will not be left sweaty even after wearing it for hours. It also does not have any latex for those who may be ultra sensitive.
Users who did not find the wrap comfortable experienced rolled edges or an uneven distribution of the material. It also may be visible under skinny clothing.
For a better fit, the abdominal wrap provides a Velcro adjustable support for the back and hips. It keeps the belly flat using medical-grade compression.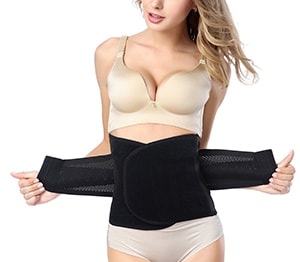 Adjustable Velcro helps with size customization
Budget-friendly
Lightweight
The Velcro sometimes touches the skin, which can irritate the skin
Visible under clothing
Price $
One of the most challenging aspects of finding the right belly binder is finding one that fits right. With the Goege Waist Trimmer Belt, you can adjust the size with the Velcro belt. It provides lumbar support and also helps in binding the stomach.
The waist trimmer is made of 80% polyester and 20% spandex, but users have sometimes noticed the Velcro texture against the skin. Given how budget friendly this option is, it's likely at least worth a try. Sizes range from medium to 3XL.
The belt is likely best for home use, as the design of the product makes it quite visible under fitted clothes.
The belt is light to wear, clocking in a weight of only 2.4 ounces. This makes it easy to wear it around the whole day for a new mother.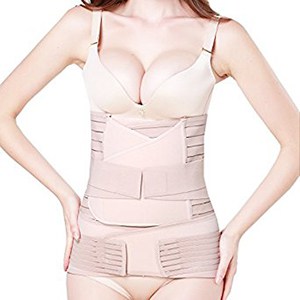 Breathable material makes it ideal for use for long hours
Complete support from the back to the hips
High degree of flexibility from 3 belts
Medical Grade postpartum girdle
Closing 3 belts is a bit more time consuming
Can fold over while sitting, which can get uncomfortable
Price $
For a multi level approach to reducing postpartum weight, the 3 in 1 Postpartum Recovery Belt offers a Velcro fully customizable solution. Why 3-in-1? Because it comes with 3 different belts – stomach belt, waist belt and a pelvic belt. These belts work together to get your body back in shape. It pushes your belly and hips back to the pre-pregnancy measurements, and also support your back and relieve the pain that new mothers go through.
We'd recommend this product for curvier women who need more adjustability in size. The product is made of 80% of polyamide and 20% of elastic, made to be lightweight and breathable. The high elasticity of the product makes sure that it fits all the curves of your body and provide you maximum comfort.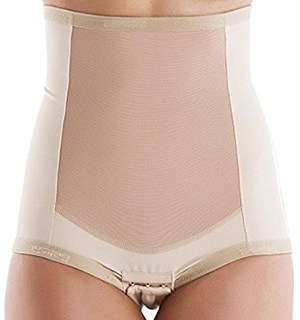 Reinforced Abdominal Panel
For rectangular body shapes post natural birth
No side hooks or zippers
Price $$​
The Bellefit Medical Grade Girdle is a pull-up design with no hooks or zippers for an easy finger fumbling free solution. Made from hypoallergenic fabric, these postpartum girdles can be worm comfortably for hours. The groin closure can be accessed using a flap with hooks.
Given that there's no zipper on this version, the wrap has increased durability. Granted finding the right fit may be slightly more challenging, but there are also Bellefit binders with zipper or hooked closures.
Shopping for postpartum girdles is especially difficult given that everyone's body shapes tend to be different. You also may end up paying more for durability and comfort. This is one of those products where you would prefer a generous return policy!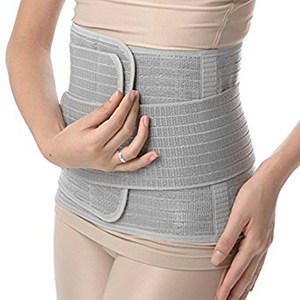 Two compression subbelts for extra reinforcement
Contains Breathable bamboo fiber material
Durable and washes well
Added bulk from support bands
Possible folding around the edge when sitting
Price $$​$
Another belly band with naturally antibacterial material, this product has adjustable velcro subbands that help to provide extra support where its most needed. The wrap also consists of nylon, polyester, and rubber, making it simultaneously stretchy and supportive. Breathability is a key factor leaving this a comfortable option.
The quality of the fabric is high and maintains well even after repeated washing. Ideal for both c-section and natural births, the band offers triple compression for better abdomen stabilization. As an added plus customer service also seems responsive.