Having nursed my firstborn well past the first year and counting, I wish I had the following breastfeeding accessories from the start. Consider this your checklist for breastfeeding and pumping essentials.
1) Nursing pillow - Believe it or not it can be hard to position a floppy little baby to feed correctly, especially in the beginning, and many women get "mother's thumb", which is basically like carpel tunnel.  Having a solid nursing pillow provides the support to minimize these effects-you really need a flat pillow.
Stays securely in place without slipping or sliding.
Helps maintain ideal latch on positioning to prevent back and neck pain.
No shoulder stress.
Prevents the baby from rolling.
It is machine washable.
Unstrapping a sleeping baby can wake them.
Price $$​
This breastfeeding support pillow is an essential part of a new mother's gear. It's made of 100 percent polyester fabric making it extra soft for your baby's comfort. Its deluxe strap has a silent release buckle that allows for easy, one-hand use. It also has a wraparound design for easy fitting around the mother's body. You can use it for nursing and breastfeeding. The cushion is firm, flat at the front, and adjustable to keep your baby from rolling during breastfeeding. If ever you needed to carry nursing supplies, this product has a pocket for just that purpose.
2) Nipple cream - Uh oh the N word. Well now that it's out there, I'll share that I have not met a nursing mom who did not feel pain from breastfeeding. And while lactation consultants say there should be no pain , only soreness, if you are nursing with appropriate technique, well then even soreness hurts! (and yes most likely someone needs to show you the least painful and most efficient way to nurse) That baby is feeding at least 8 times in 24 hours, often for an hour each time, so that is a full working day! You better believe the nipples start to turn into raisinets (as per comedian Ali Wong). Cracking and bleeding is common. Apply cream after nursing, no need to wash off before the next feed.
Lanolin is most commonly used and should work just fine, but I've also included 2 other options for the sensitive folks:
It contains no synthetic chemicals.
It's safe when swallowed by the baby.
Price $$​$
3) Nursing cover with stiff collar - In those early days while you're still fumbling around but need to nurse in front of father-in-laws or in public, the Bebe Au Lait Nursing Cover comes in handy. This is extra useful while traveling, and with the stiff collar you can adjust the baby if needed. There are convenient little pockets within the cover to stash goodies for mom, and it doubles as a curtain to drape over a sleeping baby in the carrier.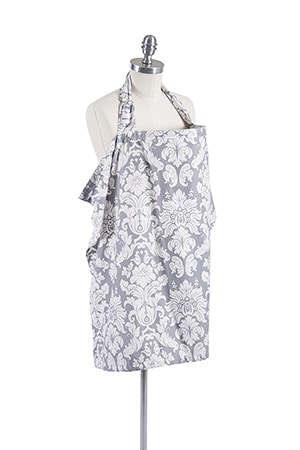 It ensures there is proper air flow.
It allows mother and baby to maintain eye contact.
Good for breastfeeding in public.
It is a one-size-fits-all affair.
You can wash them using a machine.
Slightly pricey, especially if you know how to make your own!
Price $$​$
As a nursing mother, you need to maintain your privacy while breastfeeding in public places. Here is a one-size-fits-all nursing cover made of 100 percent cotton. It comes in a unique design that features a patented neckline and interlocking cap system.This nursing cover has a secure and adjustable strap to hold it in place while you are breastfeeding. For easy clean-ups and storage, this nursing cover has two internal.
4) Nursing bra/nursing tank - The bra I'd recommend a proper fit, so there's no sense in purchasing online, but I found H&M Nursing tanks to be durable, comfortable, and basically all I wear at home. White nursing tanks are a bit silly, but I believe they do offer other colors.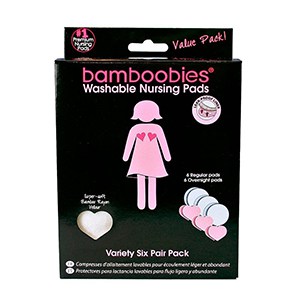 They are leak-proof.
They are not visible through clothes.
They are soft and comfortable.
They come in two types.
Less clammy and cold when wet.
Price $$​$
Who likes it when they get leaks and lines while breastfeeding? If you have been using disposable pads, save money by getting yourself Bamboobies. These pads don't leak or show through like their washable counterparts. With these pads, you have a product that is not just comfortable, but is soft and don't feel clammy and cold when wet. The producers of these nursing pads have made them in two types, namely regular and overnight nursing pads. While the regular pads are made for light leaking and little visibility, overnight pads are for heavy leaking and for nursing newborns. Its fabric is a combination of cotton and bamboo rayon velour. This is what makes them ultra-absorbent for your protection.
6) Pump and accessories – Soon enough that you will find nursing is a 24/7 job. For a little bit of a break, a pump is an absolute necessity, to provide milk for the baby and keep your supply going.
Under Obamacare insurance companies cover breastpumps, so make sure to check with your insurance to see which pumps they offer. One of the most popular is the Medela pump.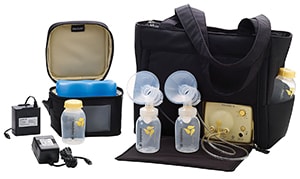 Allows for both AC and DC battery use.
Preserves breast milk in the cooler bag.
For use several times a day.
Prevents spills through its bottle holders.
Price $$​$
If you are a mom who pumps breast milk several times a day, here is a pump made just for you. It is designed for daily use on both breasts. With this double electric pump, you can use the AC adapter or 8 AA batteries to run it. This presents the convenience of pumping milk anywhere and anytime. You will pump the milk into bottle holders to prevent spills. Furthermore, you get to preserve the milk in the removable cooler bag that has the capacity to hold 4 bottles.
7) Drying Rack - For drying all those tiny pump parts! Your typical dishwashing rack or dishwashing machine will have gaps that are too large for your little pump parts. A small rack is likely enough.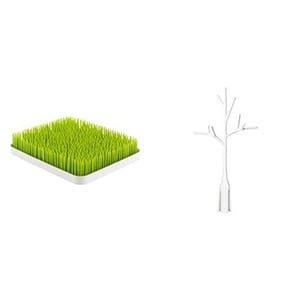 It's easy to clean.
It looks great in the kitchen.
Allows for easy drainage.
It has to be washed regularly.
Takes up counterspace
Price $$$
For drying your bottles and pacifiers, you definitely need this green rack. It works by easily holding items of all shapes and sizes for drying. Excess water slips through the grass-like blades leaving your bottles dry. It's a low profile drying rack that's made to look great in the kitchen.
8) Slow Flow Bottle Nipple – A nursing mother's nightmare is working so hard to nurse, but then have nipple confusion take over. Drinking out of a bottle becomes so easy that babies develop a preference. To prevent this preference, lactation consultants recommend using slow flow nipples on bottles.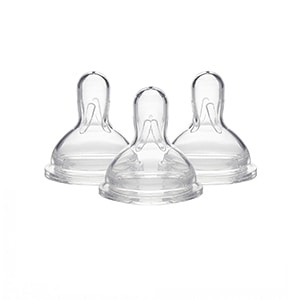 It's BPA free.
Allows for slow or medium flow.
No special cleaning needs.
May not work with other bottle brands.
Price $$$
This is the perfect nipple for your zero to four months old newborns. Apart from allowing for slow and medium flow, they are made without BPA hence safe. You can use it together with each and every one of the Medela breast milk bottles. This nipple has no special washing needs. You may wash it by hand, in a dishwasher, boiled or micro-steamed.
9) Shortcut Pump Part Cleaning Methods - These come in handy for a quick sanitization of pump parts, when you don't have time to sterilize all those pump parts and lay them out to dry. These bags are great for working or traveling moms who are trying to sterilize on the go.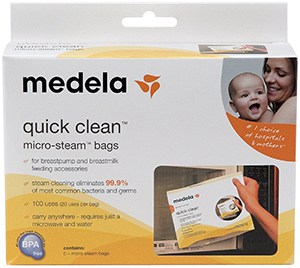 Eliminates most of the germs.
Disinfects all breastfeeding essentials.
Can use each bag up to 20 times.
You have to wash first then disinfect.
Price $$$
You probably already know that you need to disinfect your breast pump shields, accessories, pacifiers, nipples, and breast milk bottles. Well, this is just the product you need. All you need is a microwave and water. You will then steam clean to eliminate 99.9 percent of bacteria and germs. It can also be used for storing pump parts.
10) Breastmilk Storage Bags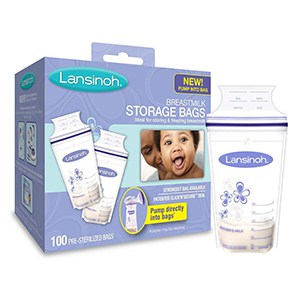 It's pre-sterilized.
They are strong and tough.
They are leak-free.
Made to be BPS and BPA free.
Expensive if you exclusively pump breast milk.
Price $$$
If you are looking for a way to freeze and store your breast milk, here is the product for you. These breast milk storage bags are not just leak-proof, they have a convenient pouring spout. They are sterilized to ensure your breast milk doesn't get contaminated. You simply lay them flat in the freezer and the milk will be securely stored.
12) Support!! I took a breastfeeding course but still asked for lactation consultants to come visit me in the hospital and at home after birth. It can be daunting! KellyMom is a great online resource by a lactation consultant. Also try joining your local La Leche League chapter, which is part of an international breastfeeding support group.
These are a few of the best breastfeeding products I found after attending LLL meetings, trying out breastfeeding supplies, and consulting plenty of moms. Parenting is a journey that requires plenty of help!