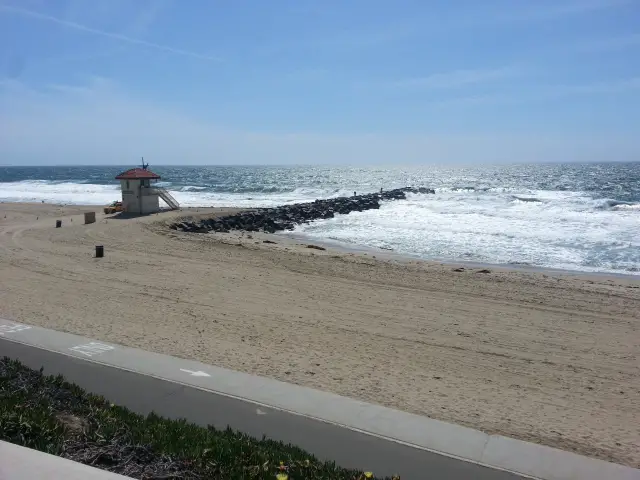 Ideas for a weekend in Los Angeles?
These days, my favorite weekend activity is biking up the coast. It' s mostly easy and flat, but you can soak in the sun, taste the salty air mixed with sunscreen, look into the gorgeous and mostly empty houses on the strand, and enjoy the ocean breeze.  After biking 20 miles round trip, even with food breaks in between, I can call it a workout.
The 20 mile coastline bike path starts down in Hermosa Beach on Herondo and goes all the way north to Malibu.  The path curves slightly along the way, offering changing views of the coast, palm trees, surfers, and even hang gliders.
What's the damage and where can I stop along the way?
We start at Marina Bike Rentals in Redondo Beach, rent bikes (beach cruisers, you don't need gear) for $24/day, and bike up at least to Marina Del Rey.  Whole day bike rentals go for about $20-24, getting slightly cheaper as you go North.  Up in Santa Monica I've rented from Sea Mist Rentals under the pier.  Around the piers there are usually people strolling around the path, so a leisurely pace is required, but it's easy to rack up the miles.  Pack a picnic lunch or stop at Manhattan Beach brunch places (like Ocean View Cafe or Uncle Bills Pancake House).  
A bit further north,  we've enjoyed Mendocino Farm sandwiches in Marina Del Rey (favorite sandwich shop!),  Fig Tree Cafe in Venice Beach, and Tender Greens in Santa Monica. The only time this activity was more of a struggle, was when we went biking a few days after a light storm, and the sand had blown over parts of the bike path.  Check conditions with the bike shop owner and bring a breeze resistant hat and sunscreen!