Traveling with babies and toddlers is stressful. But being prepared can help reduce some of that stress. When traveling on planes or even trains, buses, and cars, headphones for your kids can make all the difference in the world. Don't believe me? Just take a peek at the kids on the planes who are the quietest. I'm willing to bet they have headphones on! Maybe they got them as a gift for new parents or planned ahead.
With that being said, I need to be honest. When I flew with my toddler for the first time, I knew we needed headphones that would work on an iPad. So I just bought the first pair I saw. I have since learned that was a huge mistake! Headphones can be a sanity saver for parents, but they also need to provide quality hearing loss protection for kids.
Unfortunately, there are several kid's headphones and cheap headphones on the market today that are designed more for looks than for sound protection. Once I knew better, I wanted to do better. Headphones for babies flying need to be comfortable and fit! So, we researched the best headphones for babies and toddlers on planes, buses, or anywhere, and I am here to present the best ones from my research so you don't make the same mistake I did.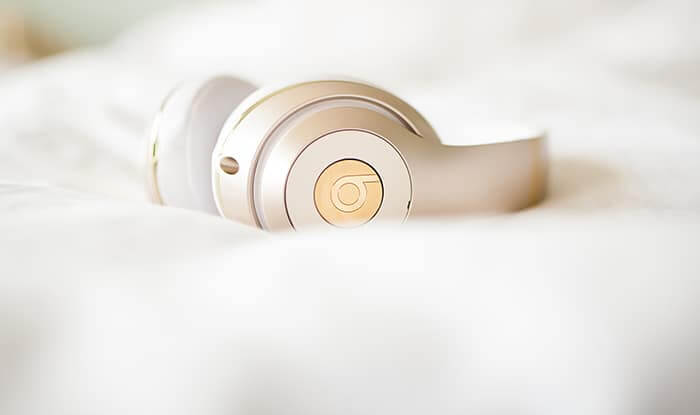 Benefits of Headphones (Or Why Your Little Ones Need Them)
Noise level Protection. The foremost benefit of headphones is protection from high decibels. For example, OSHA recommends limiting your exposure to 85 decibels per eight hours, but less is better.The issue is that there is a growing trend of noise-induced hearing loss among youth. Since parents cannot check the decibel level constantly, headphones that offer protection can ease your worries.
While you may be using headphones to protect your baby from sounds on a plane or at a concert, children also run the risk of listening to sounds on their electronic devices at high volumes. Children would rather hear the sound from their show or game on the device than turn the noise down to an appropriate level. Low volume headphones prevent children from listening at unhealthy volumes.
Multifunctional. Noise-cancelling headphones are great for plane travel, but they can be used in many other places such as fireworks displays, concerts, or sporting events.  Wasn't planning on taking kids to these activities? You want to still have a life after children right?
Special Needs Compatible. Noise blocking headphones can also keep sounds muted for those with auditory processing issues. For example, children with autism struggle from too much stimulation (such as loud noises).  Appropriate headphones can help prevent sensory meltdowns.
Fear Management.  Once in awhile they also come in handy to help calm children's fears. For instance, many children do not like loud noises like 4th of July fireworks. With noise cancelling headphones, they can enjoy the beautiful firework display without feeling anxious. Or, as you travel, they can help calm your child's fears of strange, loud noises.
How To Choose Headphones That Suit Your Babies/Toddlers
As I mentioned earlier, there are some cheap headphones that do not offer the protection or quality noise blocking features your child needs. There are a few primary features to look for as you shop for toddler headphones.
Type of Protection: There is a difference between ear muffs and headphones. Ear muffs aren't just for the winter, there are actually safety ear muffs for hearing protection. They do not connect to audio – they simply muff noise. In contrast most headphones do not offer complete noise blocking like ear muffs do; however, headphones may offer volume limiting features and a design that blocks background sounds. For this piece, we are looking at headphones rather than ear muffs. If you are looking for ear muffs for traveling with your infant, I suggest you check out Baby Banz listed in our runner-up category.
Volume Limiting: The headphones should have a limiting feature that does not allow the volume to go above 85 decibels. Some headphones actually have a lower setting at 70 decibels. However, you will find that many headphones do allow the decibels to extend past 85 decibels, but quality headphones should feature volume control.
Size: Children (especially babies) should not wear earbuds. Instead, they need headphones that cover their ears (either on or over) with a headband that fits their small child-sized heads. Headphones for 2 year olds are going to be smaller than bigger kids' headphones.
Connection: Wired or wireless headphones need to have a clear way to connect to your devices. You can choose between bluetooth headphones and wired headphones for your child.
Ear Cups: Headphones for kids either fit over the ear (offering the most noise cancellation) or fit on the ear (more comfortable, but allows more background noise to filter in).
Overall Look: This is not a deal breaker, but some parents find they have an easier time getting their children to wear headphones if they look "cool" or "fun."
Cost: The cost for headphones designed specifically for young children varies. Ultimately, you should choose the headphones that are the best quality your budget will allow.
Hypoallergenic ear cushions
Adjustable, Fits larger range of children
30 Day money back guarantee, Limited lifetime warranty
Price $$​
Jlab headphones come in a variety of colors with a variety of theme stickers children love. They are small enough to fit your child's head comfortably. They feature a true volume limiting control to less than 90db that is automatically built in. Your toddler will not be able to turn the volume up louder than he/she should. Plus, they can connect to all the devices your child uses. For traveling, you should consider purchasing the style that includes the folding option making them take up even less room. JLab also includes a travel bag for the headphones.
These are designed for children two or older, so they are not the best pick for babies.However they've been known to fit kids anywhere from 18 months to 11 years old with its extended adjustability.  Compatible with any portable devices with a standard 3.5mm jack, these baby headphones for the airplane are a common choice.
Durable, made from aluminum
Block out 82% of ambient noise, great for planes
Built in microphone
Wired or wireless options
Higher cost and heftier base
Price $$$$
These headphones are the most expensive for good reason – they are the best rated all around, providing quality volume limiting Bluetooth wireless headphones for children. They offer volume limiting at 85 decibels but still deliver high-quality sound. They are also designed with comfortable ear muffs to block out background noise.
The wireless feature is super convenient. No need to deal with pesky wires that tangle around little arms.  Plus, the Puro offers 18 hours of battery life – and all the parents rejoice! Anyone traveling with kids knows the problems you run into when your devices run out of battery.  If you do run out of battery, the headphones actually come with a wire that can be plugged in also. They also offer a folding option making them great for traveling.
Constructed from lightweight aluminum, these headphones are meant for the long run and priced that way. The quality components extend to the leather ear cushions, leaving it harder for your toddler to tear apart.  They're also designed for children two and older, so the built in microphone can be used for phone calls.  Adults with smaller heads can even use these headphones.
Foldable
Durable polycarbonate construction
Connect multiple headphones to one device without splitter
Built in microphone
Foldability adds a little vulnerability to the headband
Price $$
A top-rated pair of toddler headphones, the Lilgadgets Connect, includes volume limiting at 93 decibels, but still manages to have quality sound. Another reason this pair stands out is because it includes a shareport so you can hook up two sets of headphones to the same device. They are comfortable and designed to fit toddlers and even recommended up to age 8.
Lil Gadget has a few other models, but we chose these for toddlers.  For example, Lil Gadget Connect uses different materials and is smaller in size than Wireless Lil Gadget.  The cable is lengthy and detacheable, allowing space for your child to move around with ease. They are also perfect for traveling as they are foldable and come with a travel pouch.  Customer service also seems great for any issues.
With special shareport technology, multiple headphones can be used to connect to one device without a splitter, allowing your kids to watch the same movie.
Another reason parents love Lilgadgets – a portion of their proceeds goes to bullying prevention. So, you can feel good about the purchase as you are protecting your little one's hearing and helping prevent bullying.
Lightweight and foldable
Comes with built in audio splitter
Microphone included
Likely too small for older kids
Price $
Explore Buddy Phones come in several bright colors with a variety of stickers allowing children to customize their headphones. These volume limiting headphones have a limiter that is always set to 85 decibels. They are designed to be both comfortable and durable, with padding along the top band as well as earpieces. They also feature an audio splitter so multiple headphones can be connected to the same device. Plus, they are light enough and small enough to fit in your bags as you travel.  You can choose between a foldable and unfoldable version.
The Explore style is designed to fit toddlers, so your child will eventually outgrow them. But, they can work well while children are in the toddler stage.
Comfortable for kids who hate earphones
Washable
Headband feature means sweaty foreheads
Price $$​
The newest headphone trend is the headband trend. CozyPhones headphones are cute, animal headphones that wrap around your child's forehead. So, it depends on the circumference of your child's head to determine when he/she will be able to wear these fun headphones. The headbands are comfortable, which means they work well for children with sensory issues. Another selling point is that they are excellent for travel because they are so small.
When your children beg for these "cool" headphones, here is what you need to know. They will make your child's forehead hot and sweaty.
And the Runners Up Are…
Baby Banz – If you are looking for ear muffs rather than headphones for a child two and under, then Baby Banz are the best choice. These are not headphones because they do not have any audio connections; however, if you want noise eliminating ear muffs for babies, then Baby Banz is the most popular brand on the market.
Califone Over the Ear – Another choice your kids will want due to the cute animal designs on the ear covers, these are one of the cheapest headphones offering volume control.
Polaroid On-Ear Kid-Safe Headphones – The cheapest headphones offering volume limiting.
To Wrap Up
I'll admit that I'm a little overprotective of my child (but what mama bear isn't?).  Maybe it's also a matter of age, because when I goto the gym I've realized that even the music during spin class gets a little loud.
Since kids are using headphones at such a young age now, I would like fellow parents to know the most protective solutions!    While babies will benefit the most from a pair of noise-blocking earmuffs, your toddlers will be more appreciative of audio headphones while traveling. In addition to providing hearing loss protection, volume limiting headphones are great tools for helping ease children's fears and anxieties by blocking out loud unfamiliar sounds.
A happy child makes for a happy trip!