This is a guide to the neighborhoods and different districts of Seoul, and where you might want to stay on your next trip.
First, when you set out planning your trip to Seoul, you'll be faced with the choice of either staying in a hotel, or in a homestay/Airbnb.  Airbnb actually covers Seoul quite well, and covers an even greater and broader selection of various neighborhoods than hotels do.  Here's a distribution of hotels and Airbnb below, scraped from hotels.com and airbnb.com, respectively.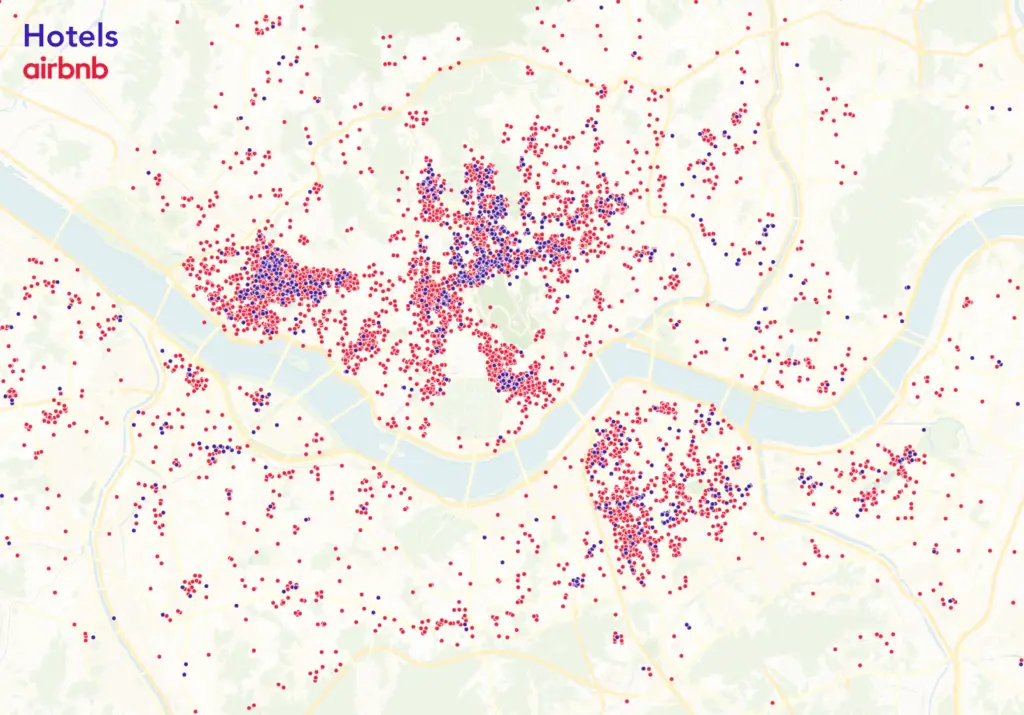 We've sliced Seoul up into a few districts that we think cover the major areas, as below.
Each has their own character, and we've chosen neighborhoods both north and south of the Han River.  Each has a unique character in terms of history, culture, family-friendliness, and nightlife, but each is a major district/neighborhood: meaning each is surrounded by restaurants, shops, and cafes.  So don't worry about that.
If you have extended time in Seoul, we would suggest splitting your stay between North and South, or at least between different districts, as these all have markedly different characters.  Seriously.  Seoul is a large city, and traveling from one end to the other is lengthy – office workers who live South of the river often book hotels for their "business trips" North of the river.
You'll notice that in a lot of these neighborhoods, there are not many hotels – and so they've unfortunately remained less known among tourists.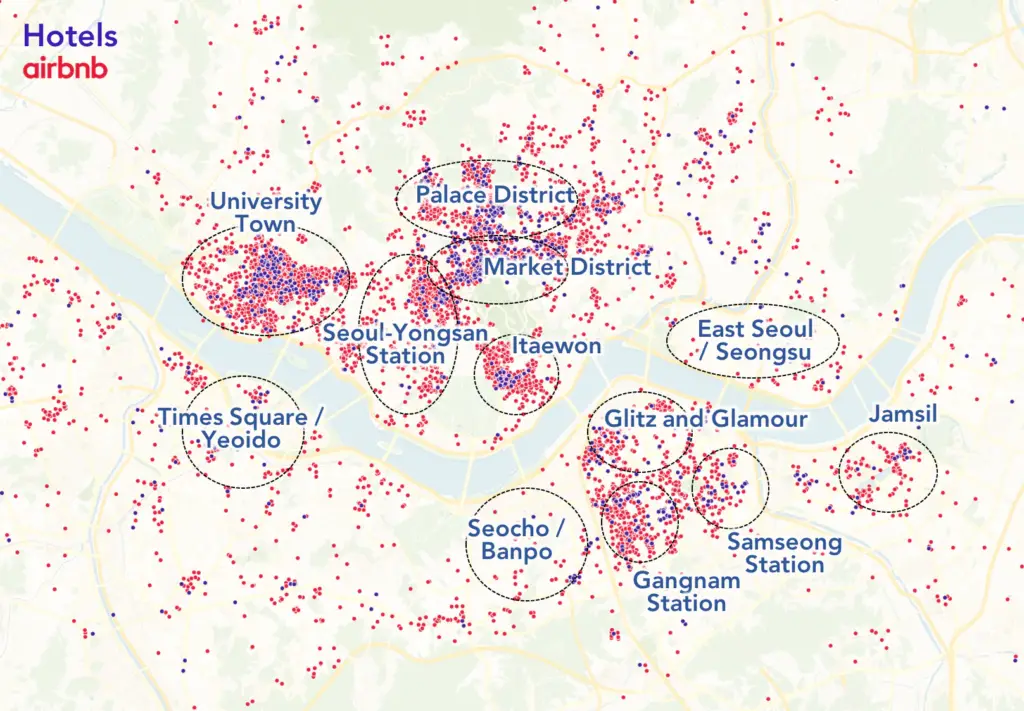 South
The area south of the river is newer, with broader streets, newer and taller buildings, and stratospheric real estate prices.
Banpo/Seocho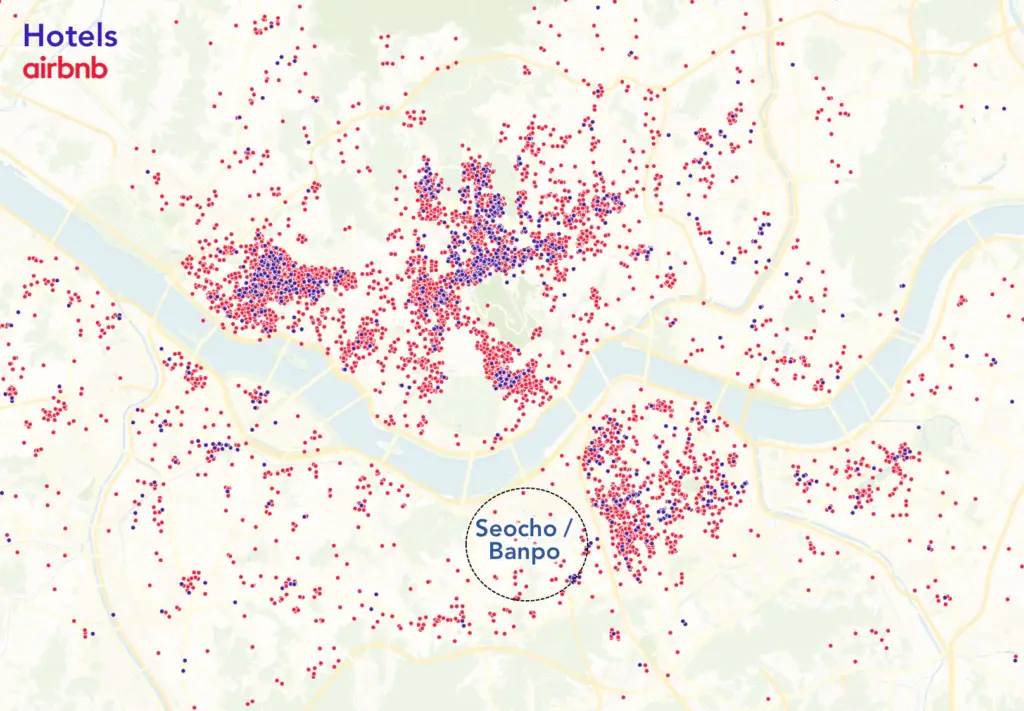 Summary: Great for relaxing, lots of open and green space, easy transport, tons of shops and restaurants.  Great for families.
Major Attractions: Seorae Village, Central City Complex, Shinsegae Department Store, Han River Park, Express Bus Terminal, parks.
This area was one of the first residential areas south of the Han, and still maintains quaint pockets of residential neighborhoods.
The big landmark in this area is the gigantic Central City complex, which is one of the three mega-mall complexes in South Seoul.  Located above the Gangnam Express Bus Terminal subway station, the Central City complexes comprises a large mall, Shinsegae Department Store, the J.W. Marriott hotel, and the Gangnam Express Bus Terminal, from whence buses ply the rest of Korea.  This mixed-use commercial, office, and hotel complex is one of the largest in Seoul and imbues the area with a bustling activity, and can be a good landmark to begin your exploration of the rest of Seoul, and Korea.
The area is also not far from the Han River park, a miles-long stretch of greenery, playgrounds, ferries, and restaurants, and among the residential districts is Seorae Village, a truly quaint little French-themed village.  Anchored on the south end by a French International School, the area was settled by French expats starting in the 1980s and flies French and Korean flags side-by-side along its main thoroughfare.  While French is unfortunately mostly not spoken, many of the boutiques and restaurants have a decidedly Gallic flair.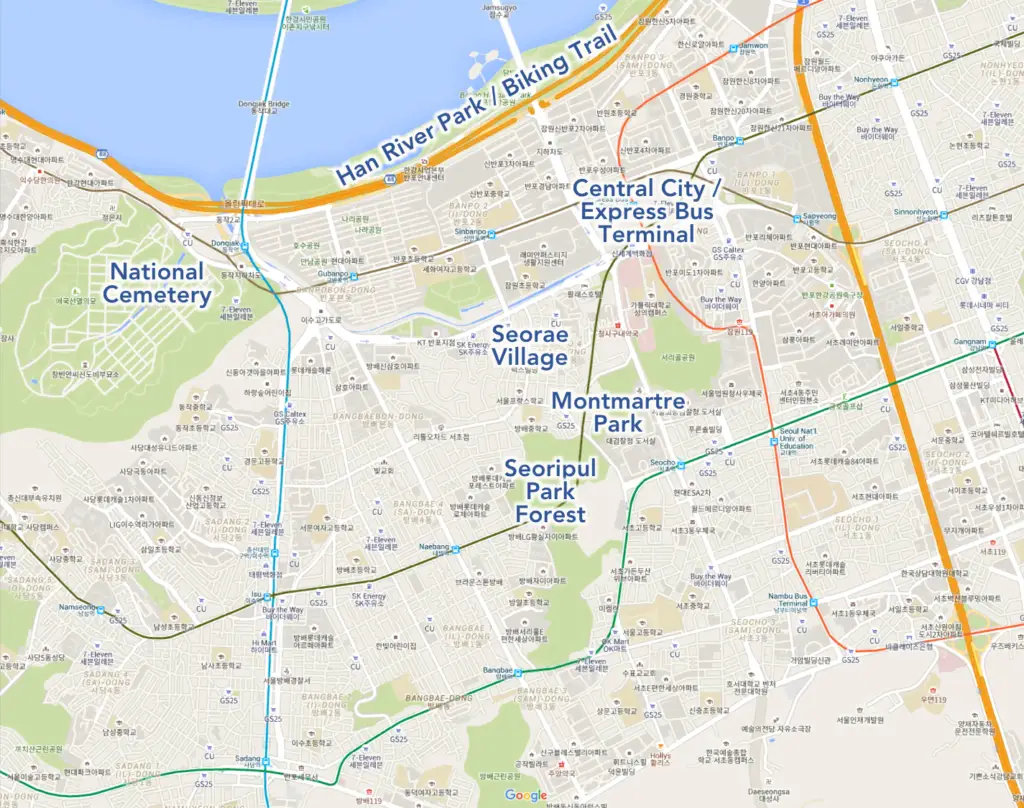 ---
Apgujeong/Shinsa/Cheongdam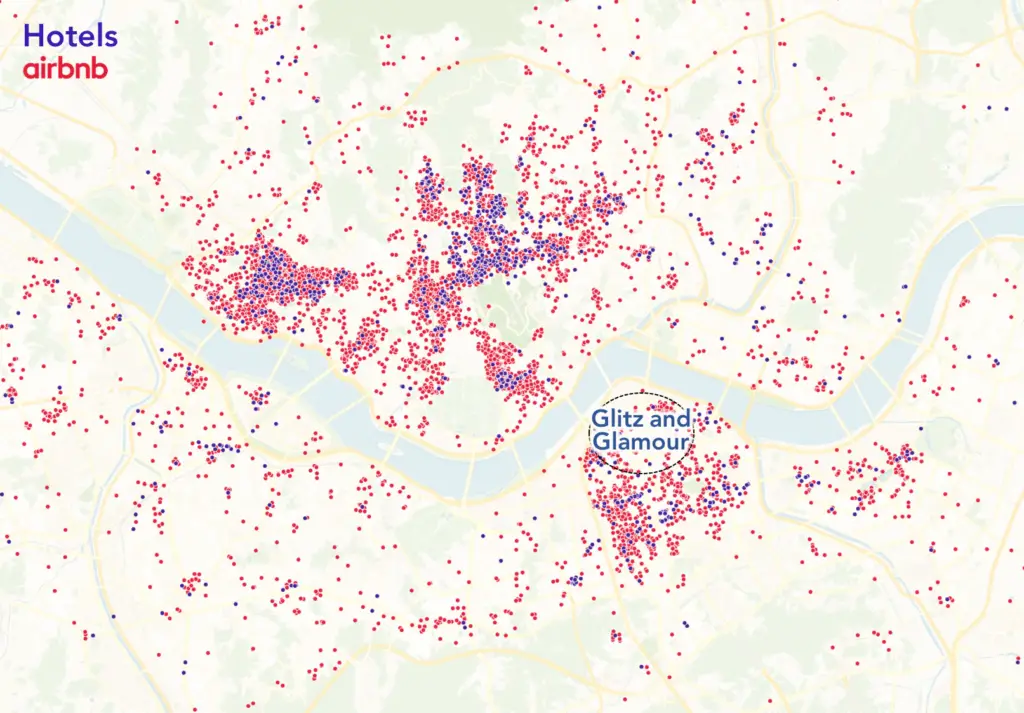 Summary: Style mecca, surrounded by boutiques and shops, good nightlife, relaxing, and good transportation options.  Cosmetics and aesthetic clinics abound.  A little pricier than other neighborhoods in Seoul.
Major Attractions: Hyundai Department Store, Rodeo Street, K Star Street, Garosu Street, clubs, kpop studios, Galleria Department Store.
These neighborhoods are among the highest-priced in Seoul.  During the Joseon dynasty, this area was filled with villas for the nobility – now it's filled with luxe apartments, officetels, and boutiques.
The area really began its ascent in the modern era when the Hyundai Group launched its first residential projects during the 1980s, featuring ultra-modern (at the time) amenities and layouts.  With the proceeds, they poured it back into their automotive business as well as into the Hyundai Department Store in Apgujeong.
Waves of land speculation pushed up rents, and pushed retailers out into the surrounding neighborhoods of Shinsa, so the area remains the epicenter of luxe and taste; boutiques and luxury retailers alike line the streets of Rodeo Street and Garosu-gil.  Kpop studios, agencies, and their stars make this area their home, so you can never be sure just who is being chaffeured past you in dark-tinted vans.

Sources: www.airbnb.com, visitseoul.net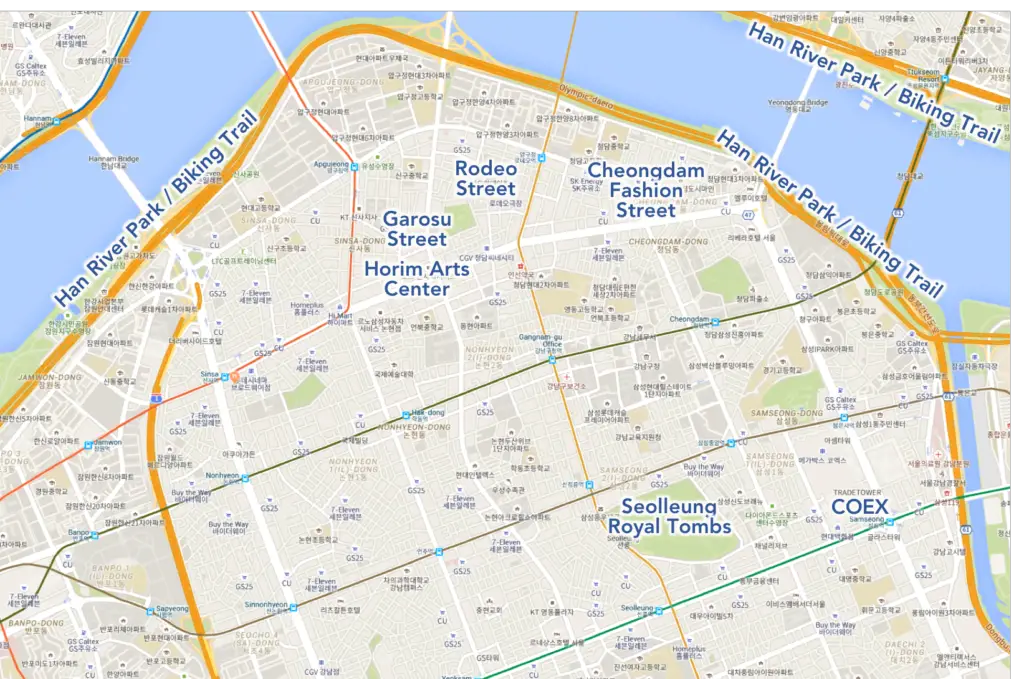 ---
Gangnam Station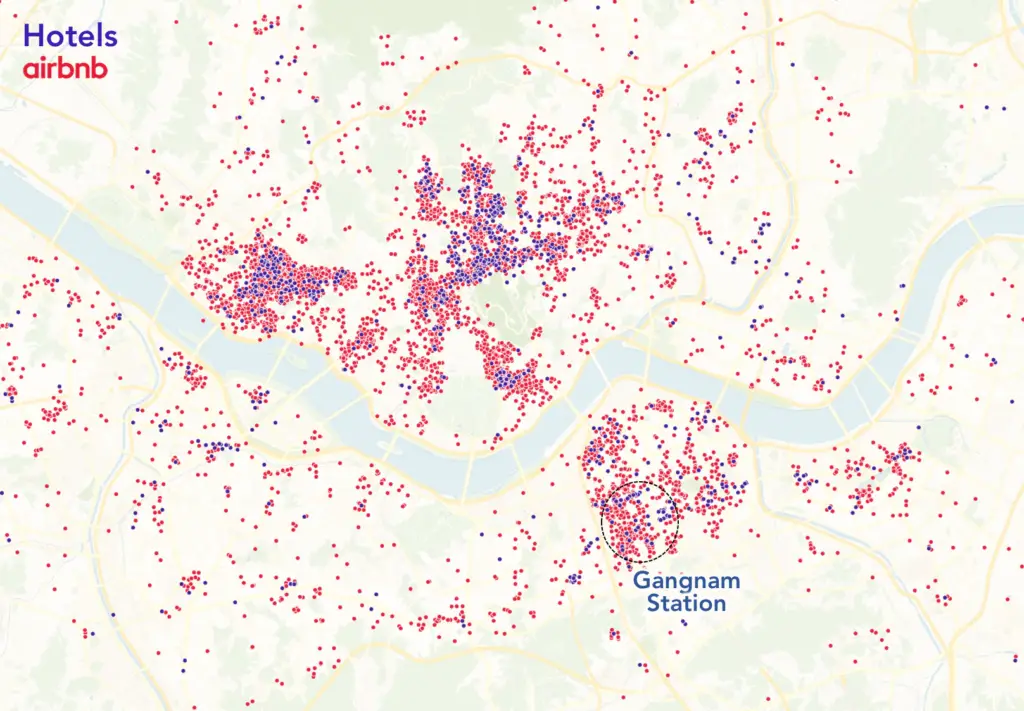 Summary: bustling, late-night district for eateries, shops, and clubs, centrally located for both business and tourists alike.  Lots of aesthetic and cosmetic clinics.  No shortage of things to do.
Major Attractions: Gangnam Style sign, Samsung d'light museum, restaurants, cafes, boutiques.
Gangnam Station is decidedly the epicenter of modern Seoul.  Located at the crossroads of two of the largest thoroughfares in Korea – Hannam Road, which was the first road to cross over the Han River into the south side, and Teheran Road, an eight-lane boulevard hosting the headquarters of technology firms, venture capitalists, and modern industry, the station is a center for business, meetings, and nightlife.
There are different faces to this station.  The southwest corner, accessed by Exits 7 and 8, lead directly into Samsung Town, the massive office complex occupied by the major Samsung Group companies, in Samsung Electronics, C&T, and Life Insurance.  To the north, exits 10 and 11 lead directly into a boulevard deserving its place among the most famous in the world, with nearly 600 meters on each side of shops, academies, boutiques, tutors, plastic surgery and other 'aesthetic' clinics, restaurants, cinemas, and bars.  Follow exits 1 and 12 eastward for a more sedate office district.
With a massive working (and studying) population during the daytime, Gangnam Station transforms into a nightlife district in the evening – but like most nightlife districts in Korea, it's located a street back from the main thoroughfare.  The alleys that run parallel to Teheran Road come alive after 5pm, with clubs, bars, restaurants, cafes, karaoke bars, and shops of all types.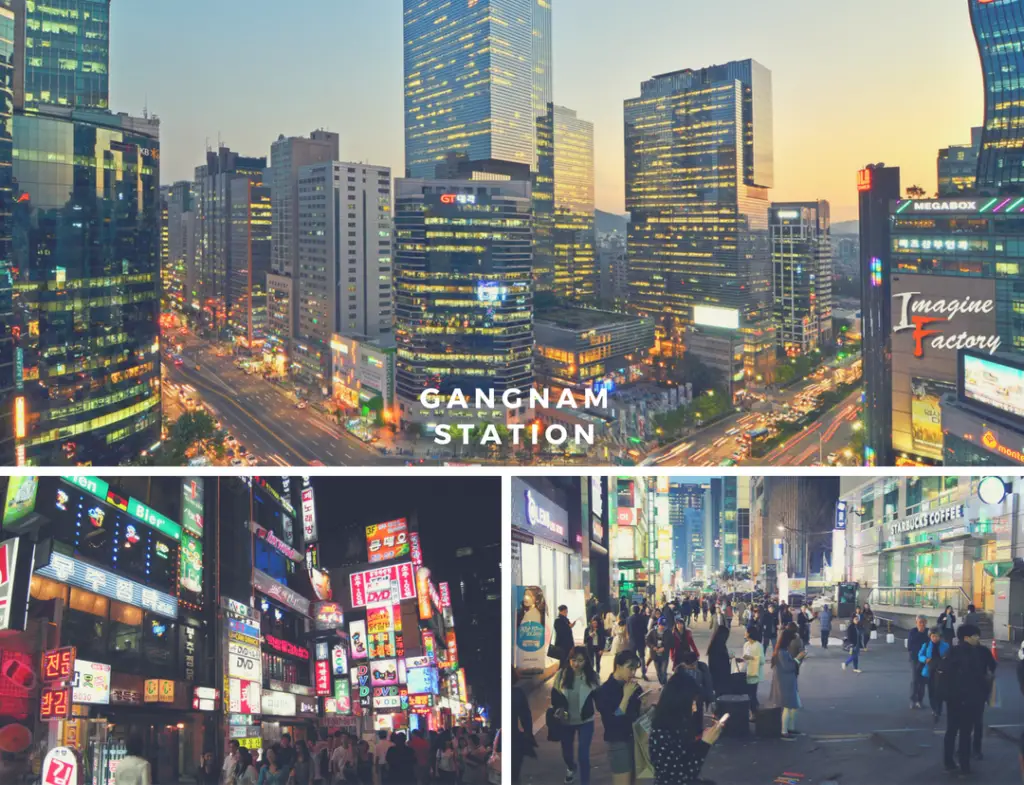 Sources: www.leunkim.com, Imagine Factory, photonlife.tistory.com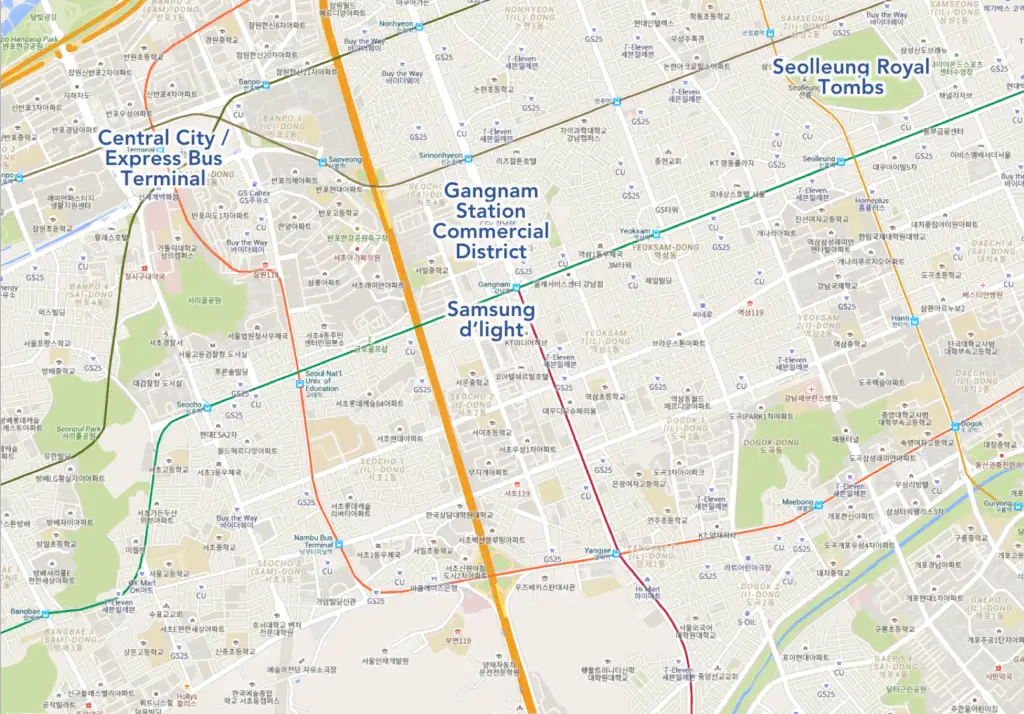 ---
Samseong Station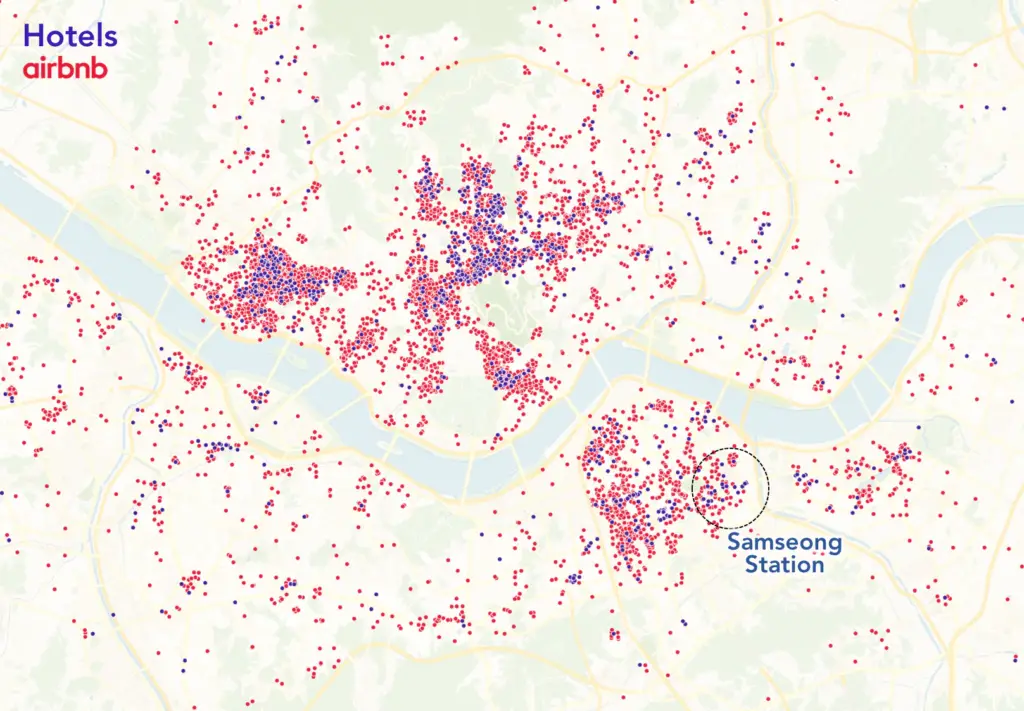 Summary: commercial district perfect for business travelers who want to be close to the action of Gangnam, some of Seoul's best modern shopping, great airport transport options.
Major Attractions: COEX, Intercontinental hotels, Hyundai Department Store, Starfield COEX Mall, Parnas Mall, Seolleung Royal Tombs, Han River Park.
Another center of commerce south of the river, Samseong is located a few stops east of Gangnam station, and is home to one of the other mega mixed-use complexes in South Seoul.  The station environs feature the COEX Convention and Exhibition Center, Parnas Tower, Trade Tower, two Intercontinental hotels, Hyundai Department Store, and two shopping malls that blend seamlessly into each other; the Starfield COEX Mall and the Parnas Mall.
As one of the three transit-oriented mega-developments south of the Han, the area offers a good base to go exploring.
Embedded amidst the hotels, offices, shopping, and restaurants is the City Air Terminal, where travelers can obtain boarding passes and check their bags before leaving for the airport, and the 6-story SM Town, an experience center owned by Kpop giant SM entertainment, and featuring a theater, cafes, shops, and a working studio experience that offers vocal and dance training, styling, and a personalized music video.
Sharp-eyed and interested observers will notice that the Trade Tower, a 54-floor office building, featured prominently in Psy's 'Gangnam Style'.

Sources: sonam.tistory.com, sbscnbc.sbs.co.kr, www.joongboo.com, Korea Tourism Organization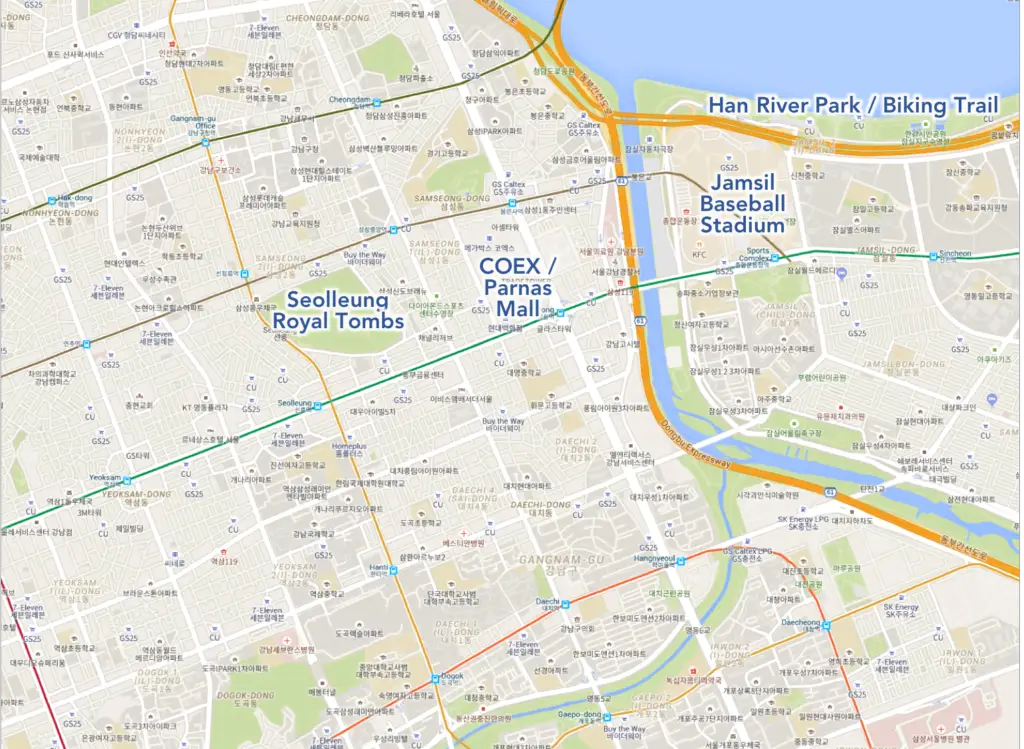 ---
Jamsil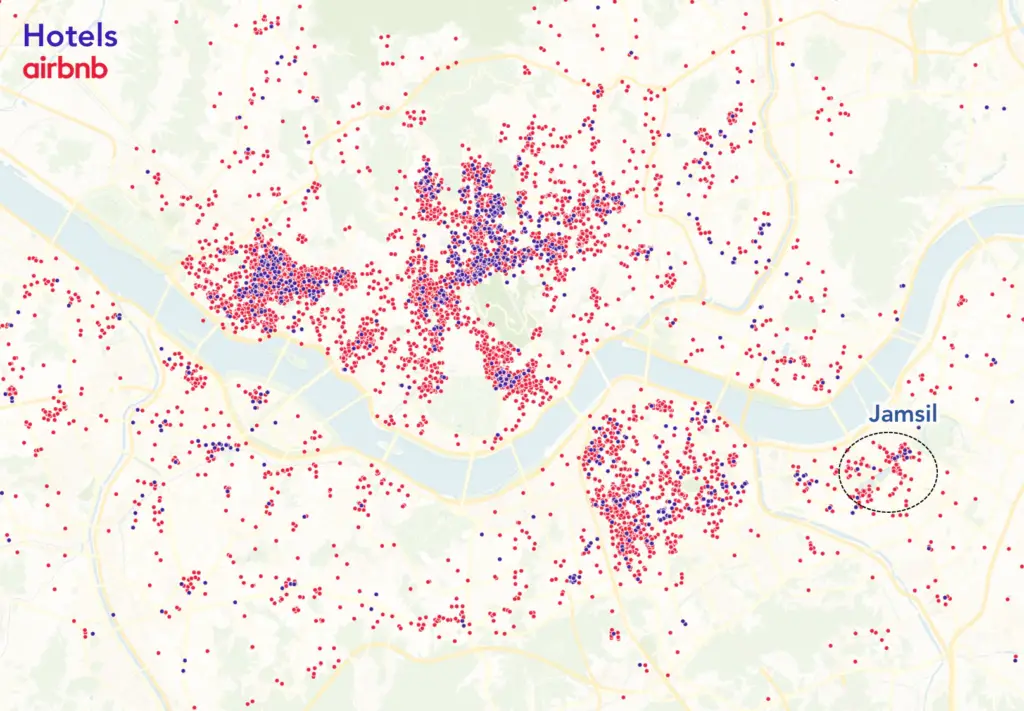 Summary: Bustling, family-friendly commercial area with Seoul's largest theme park and attraction options, simultaneously with some of Seoul's best and largest green spaces and relaxing parks, has Seoul's most overlooked historical sites, and the lake area affords good views.
Major Attractions: Lotte World, Lotte World Tower, Seokchon Lake, Han River Park, Baekje-era ruins (Mongchontoseong & Pungnaptoseong).
Like the Gangnam Express Bus Terminal in the Banpo/Seocho area, Jamsil is the commercial center of a more residential area.  Originally the location of imperial silkworm farms, Jamsil's Sino-Korean characters (蠶室) belie its origins – literally, mulberry tree area.  Historically as one of two silkworm farms in Seoul, the area was characterized by frequent flooding until it was eventually reclaimed and transformed into a residential district.
Jamsil Station is dominated by a single conglomerate – the Lotte Group.  Occupying almost three city blocks, the Lotte complex is anchored on the west end by the Lotte World indoor amusement complex, an indoor theme park of over 100,000 square meters.  The complex also has Korea's first Kidzania indoor theme park, and an indoor skating rink.  Along with the Lotte World Hotel and Lotte Department Store, this area comprises the western block.
The eastern complex, located right across the street, is the Lotte World II complex, comprised of the luxury/upscale Avenue L department store, the Lotte World Shopping Mall, the Lotte Mart hypermarket, and the world's fifth tallest building, the Lotte World Tower.  You can't miss it.  Behind the complex is the Seokchon Lake Park, which was once a part of the Han River until reclamation in the Jamsil area landlocked it.
North of the station, the area takes on a more residential feel, with large, deciduous trees lining the streets that directly enter the Han River park: bike- and walking paths connect this area to Gangnam proper, all the way to Yeoido!

Sources: 요한의 사진이야기, twitter.com/seoulmania, Lotte World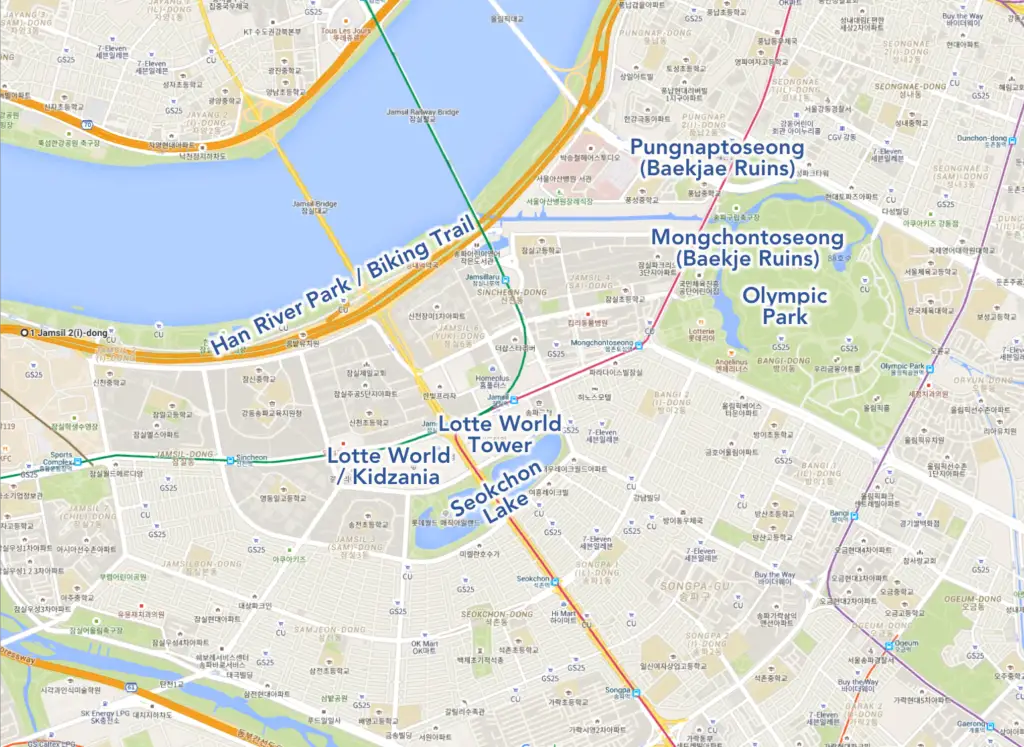 ---
Times Square/Yeouido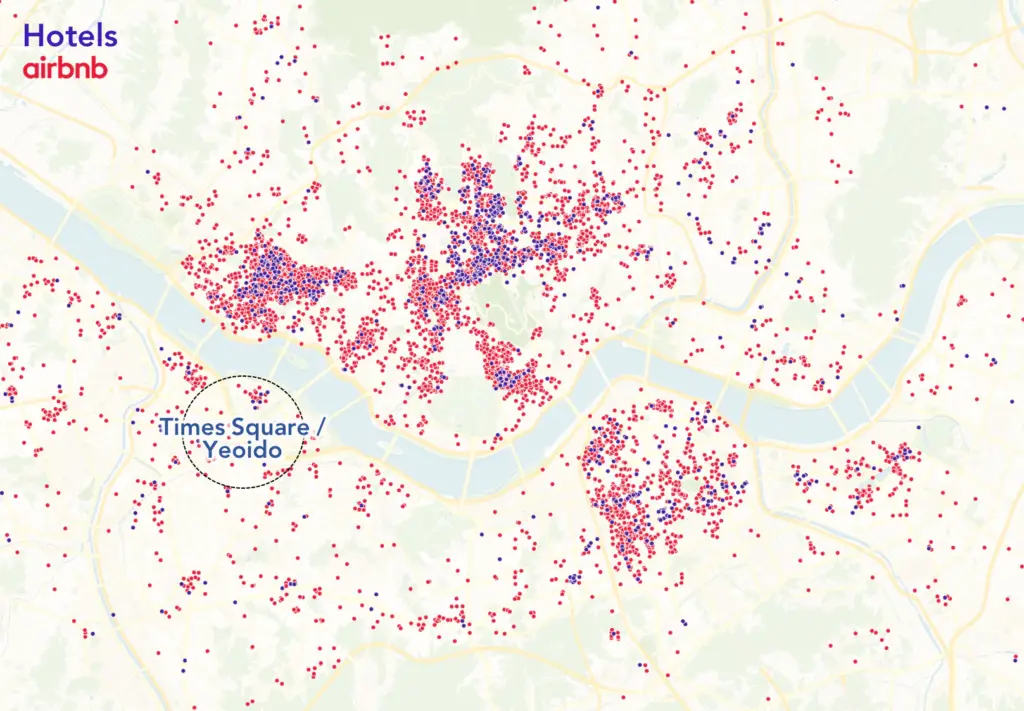 Summary: commercial district great for business travelers who want a more relaxed alternative to the madness of the downtown district.  Good access to airport transportation options north of the river.  Surrounded by emerging, gentrifying former industrial area.
Major Attractions: MBC headquarters, 63 Building, Times Square, Chinese-Korean quarter.
Yeoido is an island in the Han River and houses the Korean Parliament and the headquarters of the major broadcasting networks.  As one of the administrative and office centers, it has a lot of commercial activity, although it's relatively lighter on the retail front compared to other parts of South Seoul.
The area was home to the tallest building in Korea for some time, the 63 Building, which also houses a commercial area and aquarium.
South of it is the Yeongdeungpo area.  Redeveloped starting about a decade ago, the area is shedding its run-down, industrial reputation especially with the Times Square complex – which was, when it opened, the first true shopping mall in Korea.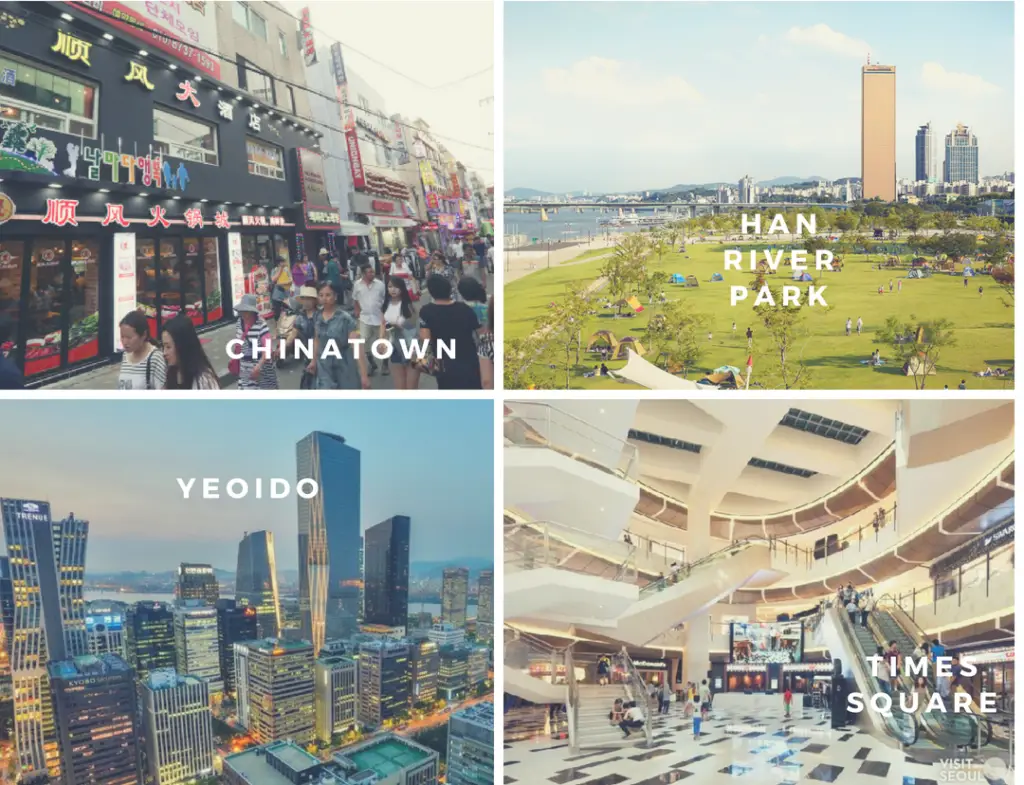 Sources: www.businesskorea.co.kr, www.770studio.com, visitseoul.net,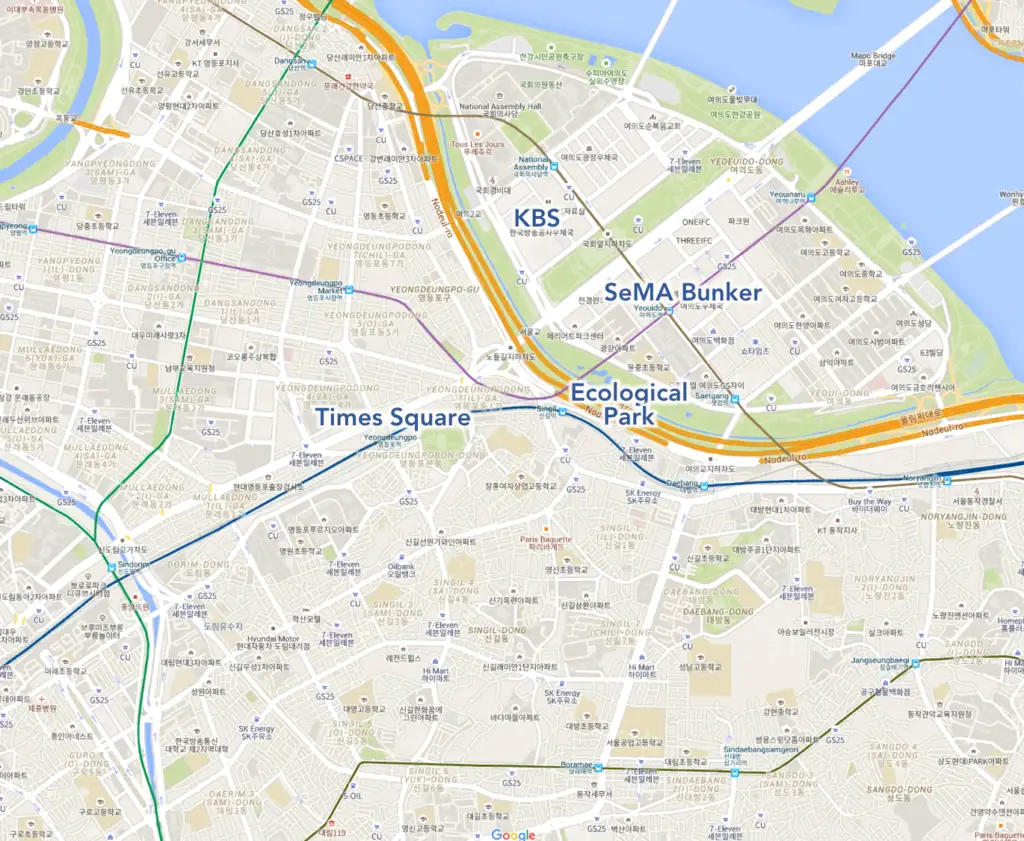 ---
North
Downtown – the Palace District

Summary: the original center of Seoul, with the majority of the city's major Joseon dynasty historical sites, from palaces to old neighborhoods.  Good for travelers who want to be next to both the downtown office district and the historical areas.  Bustling area, more dense (can feel more crowded) than areas south of the river.
Major Attractions: Gyeongbok, Changdeok, and Gyeonghui palaces, traditional cafe streets, Cheonggye Stream, Jongmyo Shrine.
Seoul was originally built according to ancient geomantic principles.  Among these principles were the orientation of palaces and royal buildings in a south-facing direction, and the placement of buildings in and around mountains and streams.
You can clearly see these principles in the palace district, which is the downtown area, north of the Cheonggye Stream.  The seat of power in Korea for centuries, the area is host to the Gyeongbok and Changdeok Palaces, which sit at the foothills of Bukhansan (literally, North Han Mountain), and face the auspicious Cheonggye Stream to the south.  In more modern times, Korea's presidential residence – the Blue House – was constructed at the rear of Gyeongbok Palace and remains there to this day.
While Gangnam has shouldered the mantle as the headquarters of new business, for the past few decades, this area remains the seat of power – and location – for all sorts of businesses, including austere law firms, conglomerates, and financial companies alike.

Sources: www.airbnb.com, Manchul Kim, visitkorea.or.kr, www.ttearth.com, visitseoul.net

---
Downtown – the Market District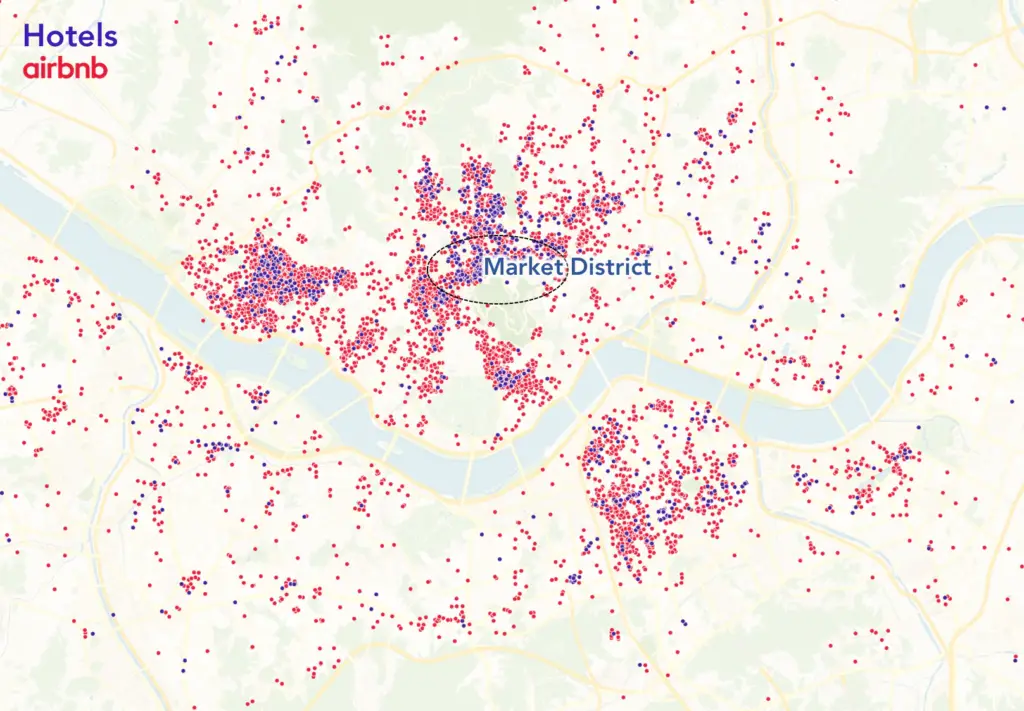 Summary: location of the major traditional markets and commercial districts, beginning in the Joseon dynasty.  Bustling, dense, and located nearby good transportation to both the airport and the rest of Korea.  A good strategic location for accessing most of Seoul north of the Han.
Major Attractions: Myeongdong, Namdaemun, Dongdaemun, Deoksu Palace, Shinsegae Department Store (oldest in Korea), Cheonggye River.
In ancient Seoul, the areas south of the Cheonggye stream were designated for the 'lower' activities, such as housing for commoners and commerce.  The ancient mercantile districts of Seoul were clustered around the main city gates, and some of the most famous retail areas in Korea remain there to this day.
Dongdaemun – literally, east gate – has Korea's most famous night market, and is a center for the global textile trade.  Namdaemun, or south gate, has also been a center for wholesale trading for centuries.
During the Japanese colonial period, Myeongdong emerged as Korea's original retail and entertainment district, and was home to wealthy Japanese.  This area is characterized by a dense cluster of shops, cafes, and restaurants, and before Gangnam was developed, was the premier – and only – meeting spot for date nights and parties.  In the environs is also Korea's first-ever department store, featuring colonial architecture – and now occupied by Shinsegae.  This area is further to the west of the market district.
As with the neighborhoods in North Seoul, the area is dense and easily accessible, with the three markets within three subway stops of each other.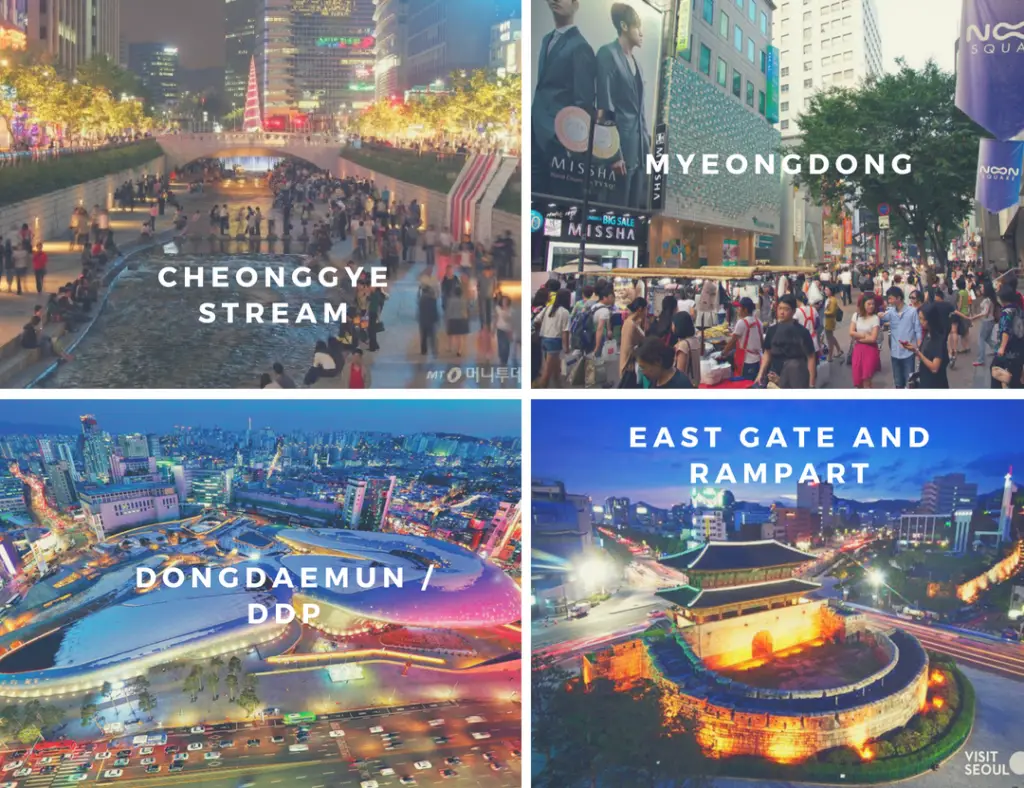 Sources: visitseoul.net, www.airbnb.com, www.seouland.com, Money Today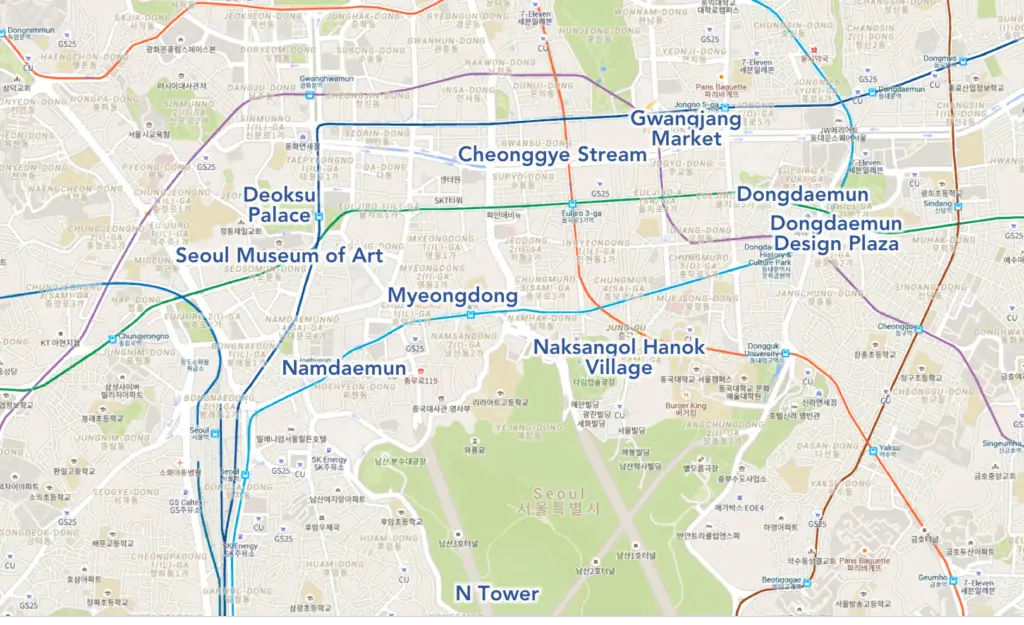 ---
Itaewon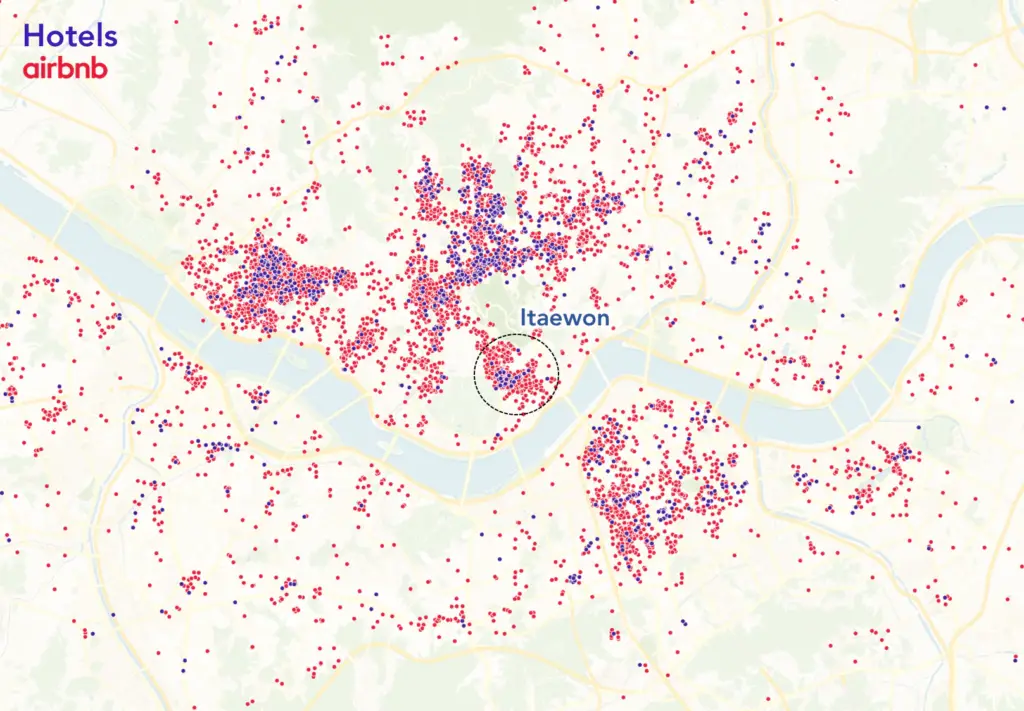 Summary: the center of expat activity in Seoul and with an active nightlife district, English widely spoken, with a good location next to major museums.
Major Attractions: Itaewon tourist zone, National Museum of Korea, War Memorial of Korea, N Tower (Namsan).
Itaewon is the expat center of Seoul, and for decades, has derived its character from the US military base in nearby Yongsan.  With layers of service industries that have grown up around the base for decades, the area is the most foreigner-friendly district in Korea, with English widely spoken in its myriad expat-owned establishments.
In recent years, the place has undergone somewhat of a renaissance, shedding its reputation as a cluster of beer halls and XL-size t-shirt purveyors, and hosts a quite cosmopolitan mix of eateries and bars.  Antique streets and purveyors of secondhand goods are nearby, too, catering to the itinerant foreign population.
Befitting its location, the profound War Memorial of Korea is located in the neighborhood.  Meanwhile, nearby Namsan (south mountain) has a popular observatory for both romantic outings and spectacular night views, and is a frequent Korean drama shooting location.

Sources: unesco.org, myeongdong.org, www.airbnb.com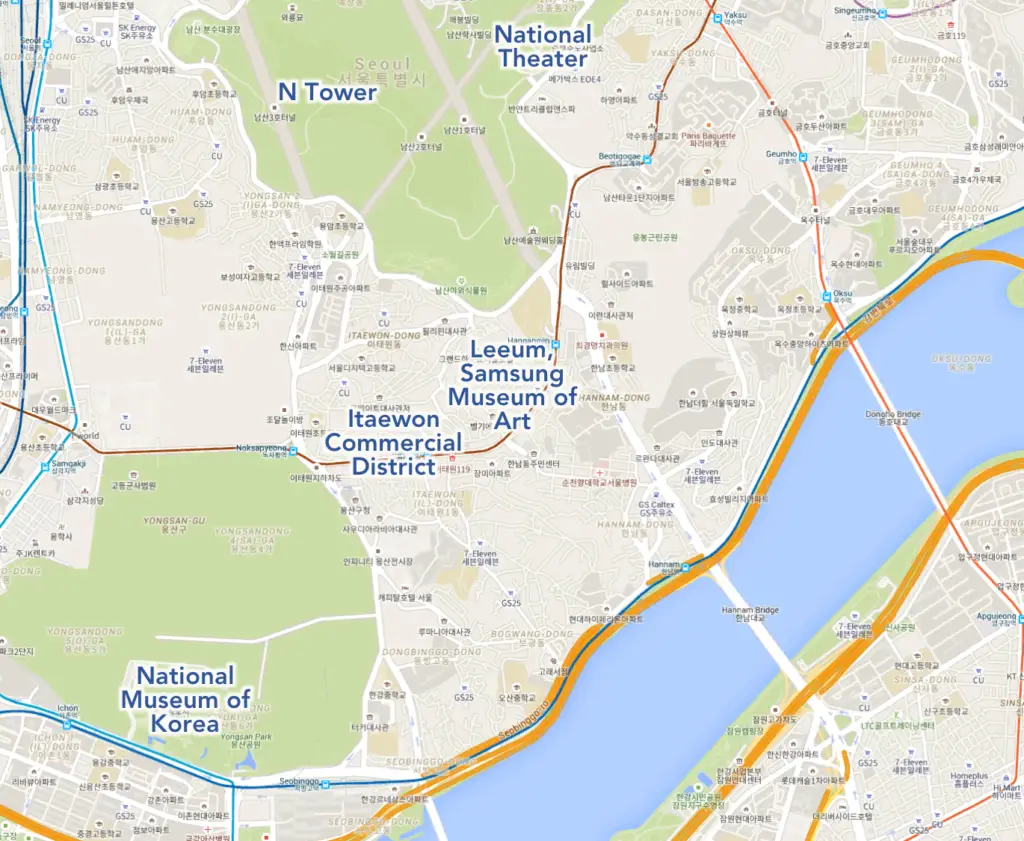 ---
University Town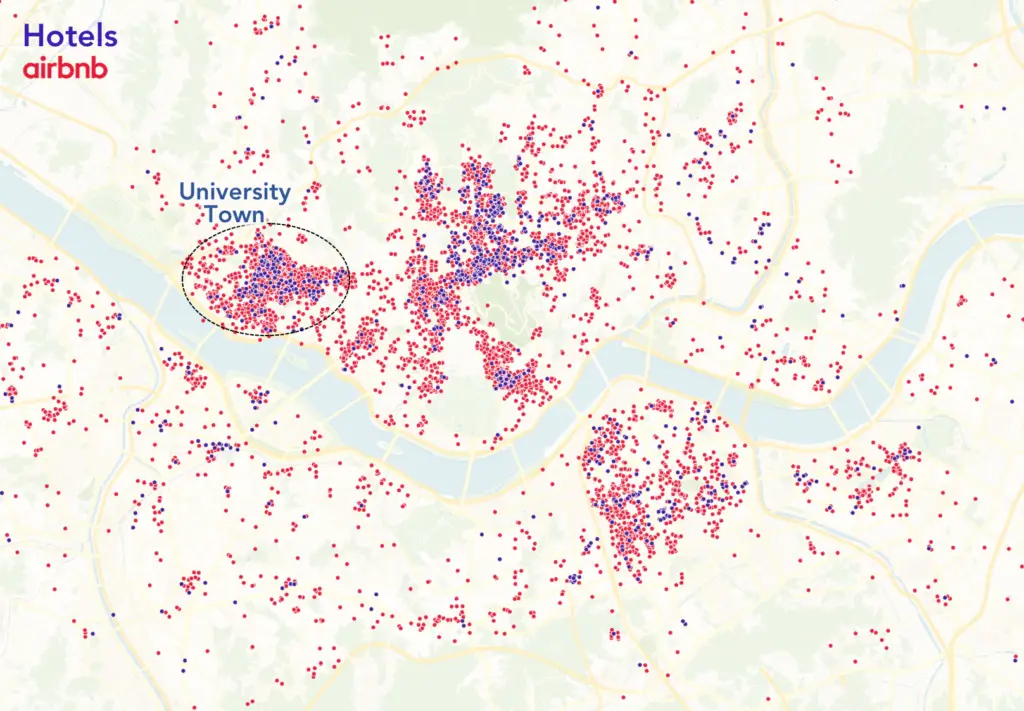 Summary: active nightlife and youthful energy from the nearby universities, centrally located to clubs, restaurants, cafes, art galleries.  Also proximate enough to parks along the riverfront.
Major Attractions: Hongdae Club Street, Sinchon commercial district, universities, Sky Park, Peace Park, Mecenatpolis Mall.
Four universities are packed in this single area alone, imbuing the area with its youthful, counterculture vibe, and nearly 24-hour entertainment options.
Yonsei University and Ehwa Womens' University sit side-by-side in the area around Shinchon Station.  Further south are Seogang University and Hongik University.  An epicenter for youth culture and trends, shops, boutiques, restaurants, bars, and clubs are clustered around the Shinchon and Hongik University stations.  The area around Hongik University features galleries and studios, and an infamous bar and nightclub scene.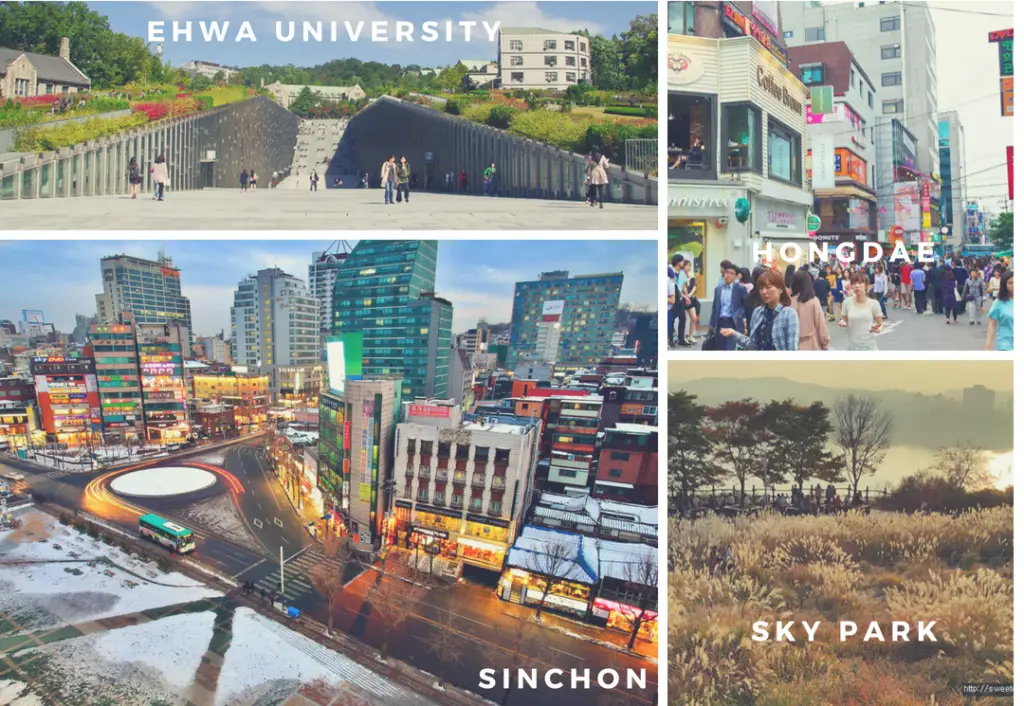 Sources: www.airbnb.com, Manchul Kim, www.ttearth.com, sweetcheri.tistory.com, facebook.com/Sinchon.Love

---
Seongsu Area / East Seoul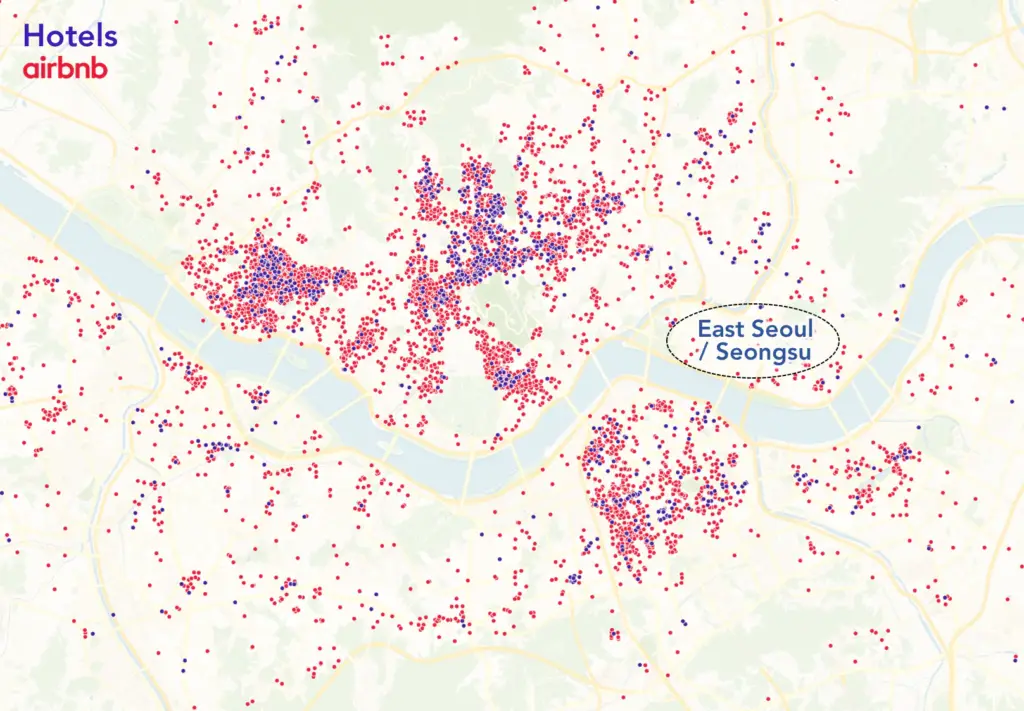 Summary: good mix of vibrant commercial areas and nightlife, and relaxing parks, open green space.  Decidedly family-friendly, off the beaten path.
Major Attractions: Seoul Forest, Children's Grand Park, Seongsu-dong Cafe Street, Konkuk University commercial district, Hanyang University.
This lesser-known district of Seoul is home to two universities and two of the largest parks in the city.  As you'll see, there aren't many hotels here but there are a decent amount of Airbnb's.
Sandwiched between Hanyang University to the west and Konkuk University to the east, this area was previously an industrial district that is in the process of revitalization.  The Common Ground and Understand Avenue retail districts, built with reused shipping containers, play homage to the area's industrial roots, and the area remains vibrant as a result of the surrounding universities.
The Seoul Forest is one of the best parks in Seoul, and anchors the western end of this peninsula, with the Children's Grand Park (replete with zoo and amusement park rides) on the eastern end.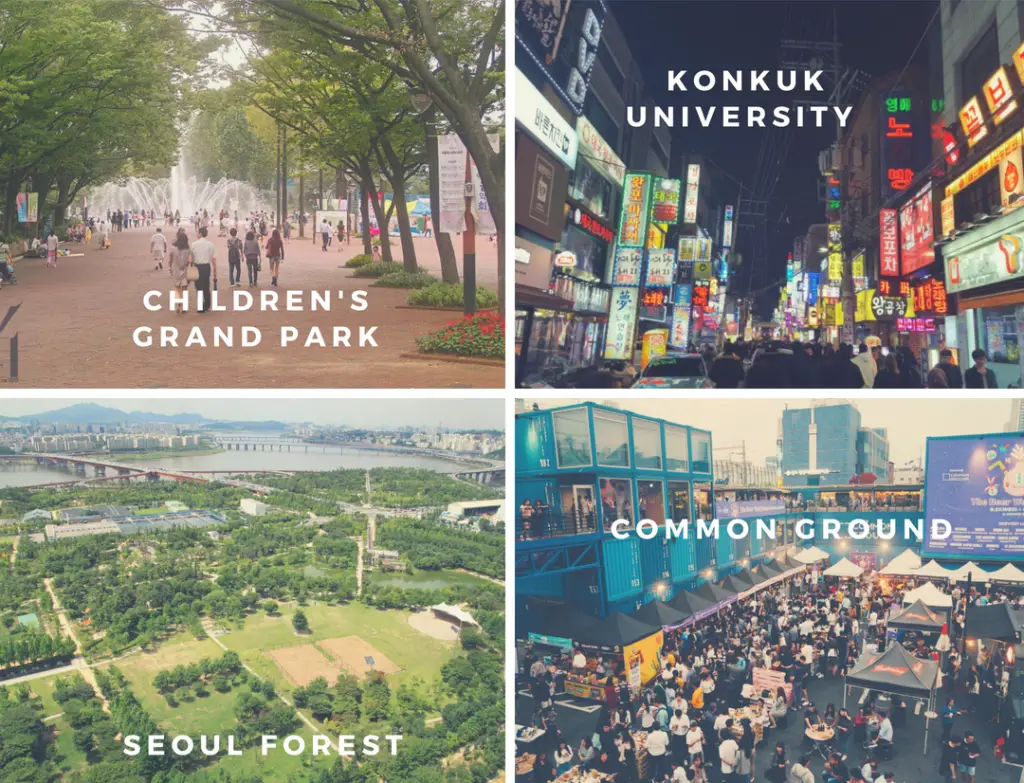 Sources: blog.naver.com/PostView.nhn?blogId=jiujitstroll, domiii.tistory.com, news.joins.com, findingskylines.com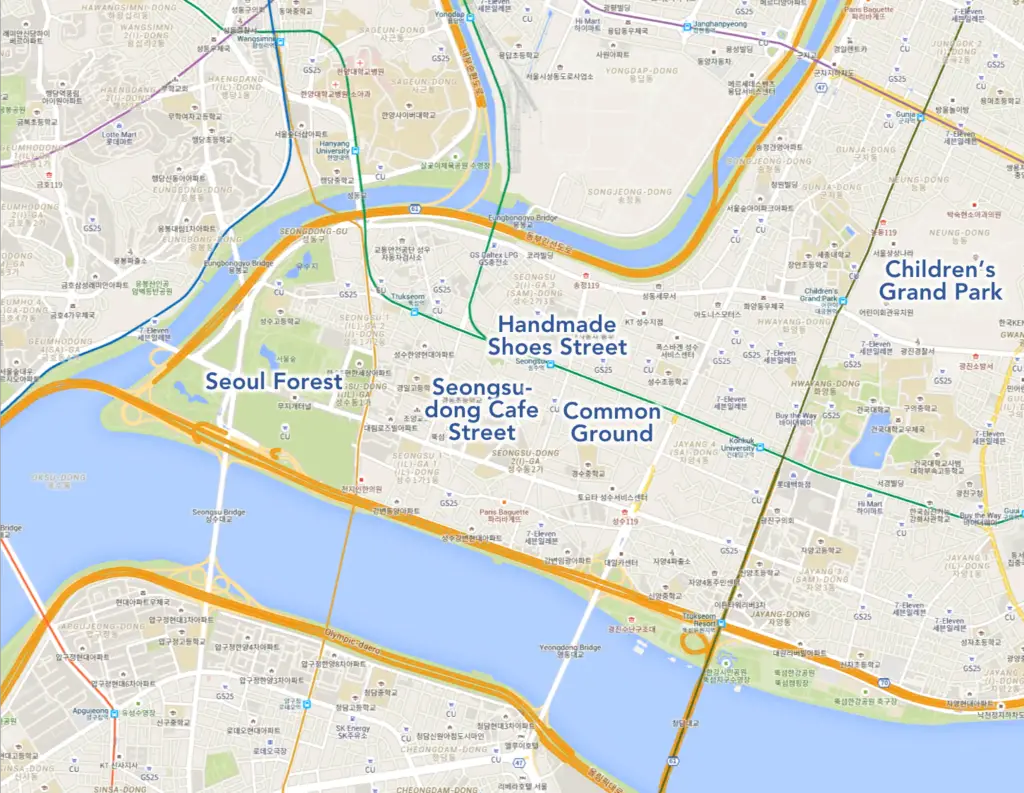 ---
Seoul / Yongsan Station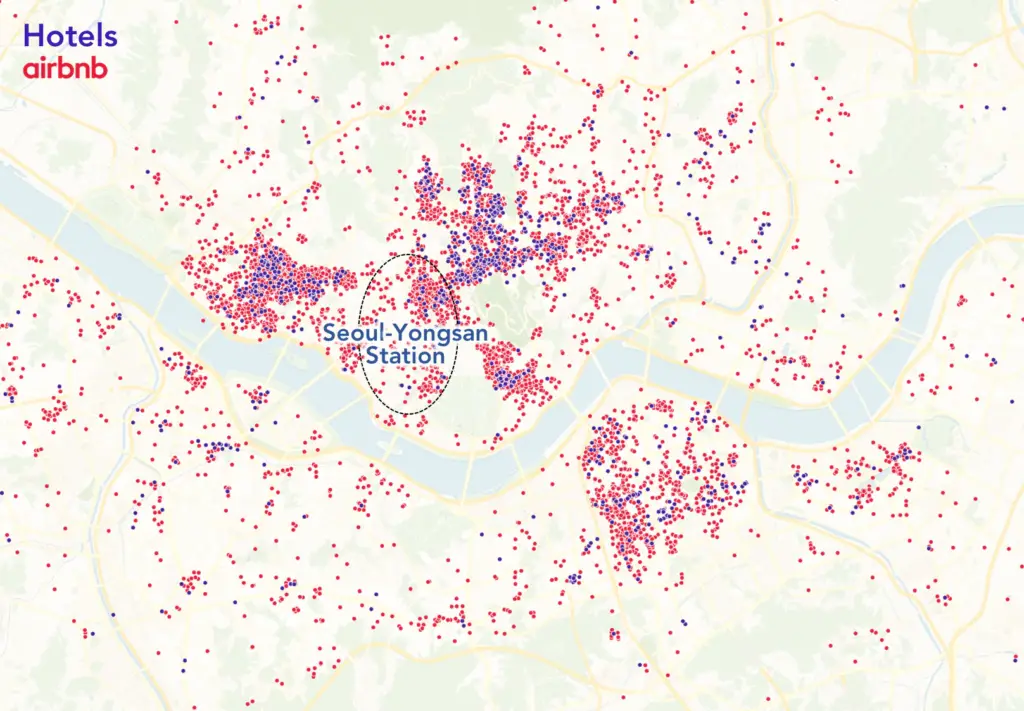 Summary: no better location for transport in/out of Seoul, KTX line to rest of Korea originates here, as well as airport rail stops.  Torrid redevelopment of this area has resulted in new, large modern commercial developments alongside colonial-era historical sites.
Major Attractions: Old Seoul Station, Seoul 7017 skywalk, iPark Mall, Sookmyung Women's University commercial district, N Tower, War Memorial of Korea.
Geographically, this area is almost the exact center of the city, and remains Seoul's transportation hub.  Seoul and Yongsan stations are the transit centers for the Airport Rail Line that services both Gimpo and Incheon Airports, and you'll have to leave from Yongsan for any KTX (high-speed rail) itineraries to the rest of the country, including Busan, Korea's second largest city.  The story of this area is the story of urban infill and revitalization.  For the past two decades, Seoul has been focusing redevelopment efforts in this area, which has resulted in the area shedding its colonial- and post-war era industrial image.  Several large developments have revitalized the area, from the i-Park mall, to the Digital Media City, and most recently, the Seoul 7017 skybridge.  Plenty to do and see in this area.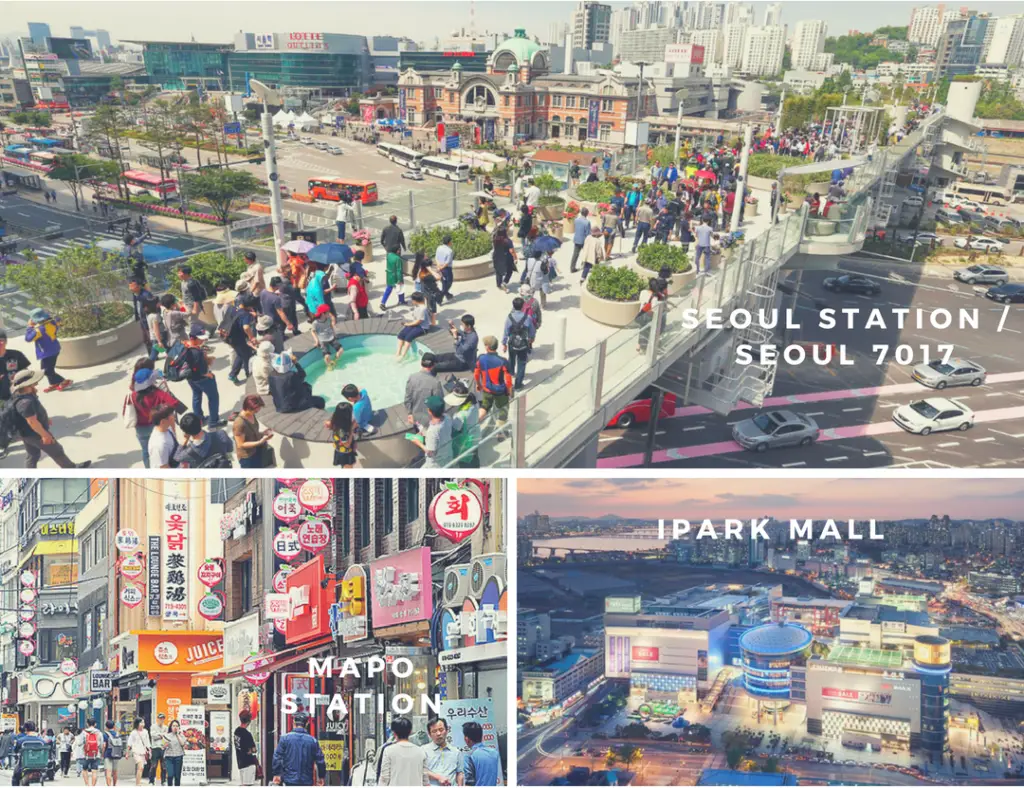 Sources: tong.joins.com, hdc-dvp.com, magazine.hankyung.com