You do not need to be a master chef in the kitchen to create your own baby food. Although convenient, commercial baby foods can lose essential nutrients and vitamins during processing, as well as freshness that can make your little one excited to try new combinations and foods.
If you are looking for simple baby food recipes that are quick, inexpensive, and can satisfy the pickiest eaters, then you are at the right place.
Here are yummy baby food recipes that are made with minimal processing:
For 4 – 6 Month Olds
If your little one is 4 – 6 months old, then you will want to use simple, single-ingredient purees. This should help you spot and identify food sensitivities and allergies as early as possible. Once you have proven your baby's tolerance to individual foods, you can then try different combinations in order to enhance the flavor.
Banana Puree
Usually called the "perfect food", bananas are loaded with fiber and potassium. It is also known as one of Mother Earth's own antacids and quite gentle on the tummy.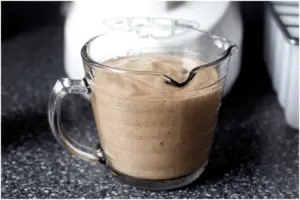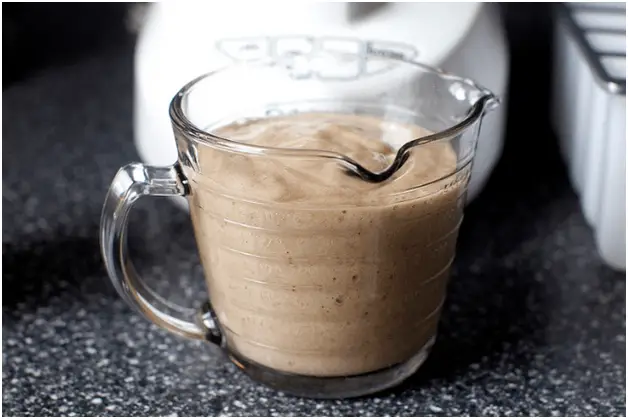 However, even if the banana is among the best first food for little ones, be careful not to overdo it since it can cause constipation.
Check out the recipe.
Ingredients
1 small banana
Method
Peel a small banana and mash with a fork.
During the first stages of weaning, add a little milk if necessary to thin down the consistency and add a familiar taste.
Serve with breast milk or formula if serving as First Foods Breakfast.
Baked Sweet Potato Puree
Adults love the taste of sweet potatoes and are quite popular for its amazing health benefits, too. Sweet potatoes are packed with fiber, antioxidants, vitamins, so it makes sense that your little one can benefit from this yummy tuber, too!
 You only need to create a simple puree with a hint of your baby's favorite milk or just a touch of water in order to create a nutritious and yummy first food, your little one will surely love!
Check out the recipe.
Ingredients
2 medium sweet potatoes
Method
Preheat the oven to 400 F / 200 C / 180 C Fan. Scrub the potatoes and prick with a metal skewer or fork.
Place on a baking tray and roast for about 45 minutes or until wrinkled and tender.
Remove from the oven, cut the potatoes in half, scoop out the flesh and puree in a food processor until smooth. You can add a little of your baby's usual milk to thin out the consistency if you wish .
You can also use this method to bake potatoes – potatoes tend to take longer to cook than sweet potatoes so between 45 minutes and 1 hour. Do not puree ordinary potato flesh in a blender as it will break down the natural starches and produce a stick texture. Its best to puree potato in a baby food grinder or mouli or for slightly older babies simply mash with a fork.
For a quick method you can microwave the Sweet Potato – Scrub the sweet potato and prick with a fork. Cook in  microwave on high for 8 to 10 minutes until soft.  Cut the sweet potato in half and scoop out the flesh, mix with a little breast of formula milk or cooled boiled water to make a smooth consistency.
Avocado Puree
A buttery treat for your little one, this puree is loaded with good fats that are essential for your baby's physical and brain development. Furthermore, a perfectly-ripe avocado features a creamy texture that little ones seem to love!
In order to help prevent browning when refrigerating, you can add the avocado pit in the puree.
Check out the recipe.
Ingredients
1 organic avocado – mashed
Method
If Serving Fresh / Immediately
Mash the avocado with a fork or blend it in a food processor.
Mix with breastmilk, formula or water to reach desired consistency.
If Freezing
Mash the avocado with a fork or blend it in a food processor.
Divide into ice cube trays, wrap/cover, and freeze.
Thaw in the fridge the night before use, or thaw by putting the ice cube in a bowl over a bowl of hot water on the counter to defrost.
Once defrosted, mix with breastmilk, formula or water to reach desired consistency
Pea Puree
Peas are tiny yet loaded with nutrition such as calcium, protein, iron and vitamins C and A. However, if the skin of the peas makes the puree texture less appealing to your little one, then you can just strain them in order to make the puree smooth as possible.
Check out the recipe.
Ingredients
3 cups frozen peas
½ cup breast milk
Method
Place a steamer insert into a saucepan and fill with water to just below the bottom of the steamer. Bring water to a boil. Add peas, cover, and steam until tender, about 15 minutes.
Place peas and breast milk in a blender or food processor and puree until creamy. Strain the mixture through a fine-mesh sieve to remove any lumps.
Spread pea mixture into an ice cube tray, cover with plastic wrap and freeze until solid, 2 to 3 hours. Transfer frozen cubes to a resealable plastic bag and store in the freezer.
To serve, heat cubes in the microwave for about 30 seconds until warm but not hot. Stir thoroughly.
For 7 – 9 Months Old
With a 7 – 9-month old baby, you can create thicker purees with several ingredients. You can also add some meat and other proteins if your pediatrician gives an OK!
Spinach + White Yams
The simple combination of yams and spinach adds a healthy dose of vitamin A, iron, calcium and folate to your little one's diet. The yams add a touch of wetness in order to create a pleasant introduction to greens.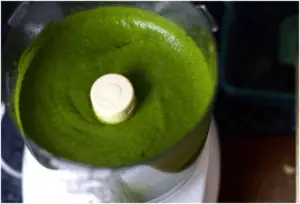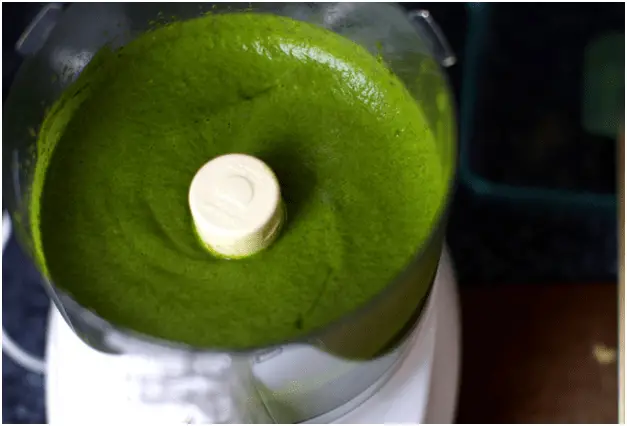 Check out the recipe.
Ingredients
1/2 pound fresh spinach, stemmed and washed but no need to dry it
A half-pound yam, white if you can find it, peeled and cut into a 1/2 to 3/4-inch dice
1 1/2 cups water or sodium-free vegetable stock
Method
In a large pot, bring the yams to boil about 1 1/2 cups of water or stock.
Reduce the heat to a simmer and cook the yams for about 10 minutes.
Add the spinach and cook it until both the yams and spinach are very tender.
Let the mixture cool and purée it in a food processor or blender.
Veggies and Sole Puree
Fish, peas, carrots, and potatoes make a delicious combination that is ready to eat under 8 minutes.
A seasoning ingredient in this recipe, Vegit, can also be subbed for Mrs. Dash which is a low-sodium seasoning. This recipe is a simple yet great introduction of fish for your baby.
Check out the recipe.
Ingredients
a cube of white sole fillet
a cube of carrot, warmed up and mixed
one tablespoon of rice cereal
one teaspoon of grated parmesan cheese
half a teaspoon of Extra Virgin Oil of Olive.
Method
Place 0,75 lb. fresh wild caught sole fillets on a parchment paper.  I suggest you to go to a trusted fishmonger or a grocery store that has a fresh fish department. The quality of the fish is essential. Instead of sole you can use another white fish pending what you find locally. On top of the sole fillet place two bay leaves and two garlic cloves. I will not leave them in the baby puree, I'm just using them to give a nice scent and flavor to the fish meat.
Close the parchment paper forming a nice package. Place the package in a steamer and cook for 15 minutes.
Remove the package from the steamer and slowly open it (be careful with your hands!! the steam will come out from the package and it's very hot). Discard the bay leaves and the garlic.
Place the sole fillets in a blender. Add the white liquid released by the fish that is left in the parchment paper package and also 1/2 cup of cooking liquid left in the steamer. I'm using those liquids to thin the baby food as they contain healthy nutrients left by the food while cooking: we want to keep as many nutrients as possible in our baby food
Puree' everything for 1/2 minutes. How thin/how thick the baby puree' should be is totally up to your baby's taste. Very young babies (6/8 months) usually like a very running consistency ( that equals more liquid to add), toddlers like a more solid/thick consistency.
Beets and Blueberry Mash
Not only is this blend a pretty shade of magenta, but it is also a nutritious mixture of fiber, vitamin, and antioxidants. You can mix this puree with a bit of cereal for a delicious and nutritious breakfast for your little one.
Check out the recipe.
Ingredients
2 medium beetroot
100 g blueberries fresh/frozen
Method
Rinse the blueberries and beetroot with water and remove the beetroot skin with a grater.
Cube the beetroot  and place in a medium saucepan, along with the blueberries.
Add just enough water to cover the tops of the beetroot and blueberries. Cook on a medium high heat for 10-15 minutes, until the beetroot are tender.
Pour into a blender and blend until smooth.
Store portions in your weaning pots and freeze extras for future use.
For 9 – 12 months old
During this age, your little one can now enjoy chunkier mashes and purees. You can now add dairy like yogurt or cheese to their foods. Babies can also advance to adult food and complex food combinations that are softened or finely minced.
Quinoa Ratatouille
Your little one's French classic gets tastier. The traditional ingredients of ratatouille now meet the super powerful grain, quinoa, in a much delightful "gourmet" puree your baby will love!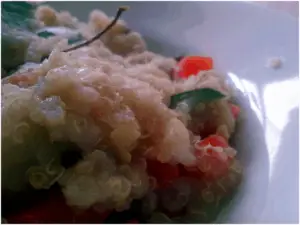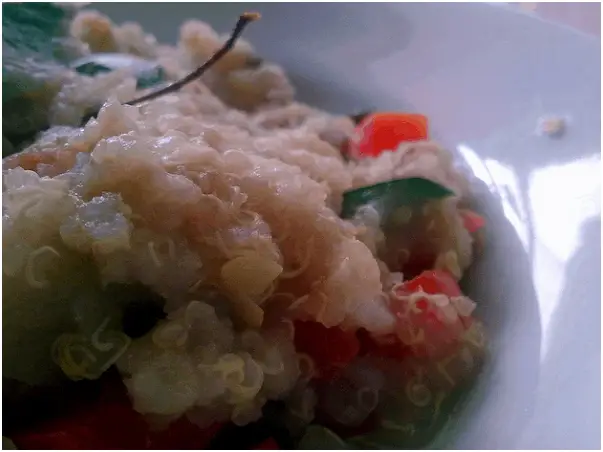 Check out the recipe.
Ingredients
1 tablespoon olive oil
¼ medium onion, diced
1 pinch garlic (powdered or fresh)
1 pinch dried thyme leaves
1 cup eggplant, diced
½ cup green or red bell pepper, diced
1 cup zucchini, diced
1 tomato, chopped
2 tablespoons tomato paste
¼ cup quinoa
1 cup vegetable broth
Fresh basil and/or parsley (optional)
1-2 tablespoons grated Parmesan cheese (optional)
Method
In a medium saucepan, heat the olive oil over medium heat.
Add the onion and cook until soft, about 5 minutes.
Stir in the garlic, thyme, eggplant, sweet pepper, zucchini, tomato, tomato paste, quinoa and vegetable broth.
Bring to a simmer.
Lower the heat and cover.
Cook for 15-20 minutes, until the quinoa has "sprouted" and the vegetables are tender.
Add more broth if necessary during cooking.
Remove from the heat and stir in fresh herbs and cheese.
Puree in a Infano or Dansa food processor until you reach the desired consistency, adding additional vegetable broth or water if needed.
Quinoa Banana Mash
Another quinoa recipe, this protein-packed grain will make a great addition to your growing child's diet. It adds a new texture to banana mash which your little one probably already loves.
You can even try serving cooked quinoa by itself to your baby. This is because the cooked seeds tend to stick on your little one's fingers and making it easier for them to eat.
Check out the recipe.
Ingredients
1/2 banana
Pinch Cinnamon
3 Tbsp cooked quinoa
1 Tbsp whole milk yogurt
Method
Place all the banana in a bowl and mash.
Add the remaining ingredients and stir to combine.
Serve.
Banana and Apricot With Cinnamon
Apricot and banana pureed together makes an yummy combination. Spice it up with a dash of cinnamon, your baby will surely love.
Check out the recipe.
Ingredients
1 cup oatmeal
1 banana
1/2 cup apricots, pitted and diced
3 cups water
Method
In a medium pot, bring water to boil. Add steel cut oats and stir. Bring to boil. Simmer for 20-30 minutes or until all the water is absorbed and the oats have cooked through. Quick oats will take less time than traditional oats.
Place apricots in small bowl and cover with boiling water. Let soak for 10-20 minutes.
Combine all ingredients in the food processor and serve pureed.