Congratulations! Your baby has arrived and you are beginning to get into a nice little groove. But, now you've hit a bump in the road. Has your baby been increasingly uncomfortable and crying often? Are you starting to think it may be gas or even the dreaded colic? While it is hard to hear while you are in the midst of it, this season will not last forever.
However, we understand that minutes feel like hours when your little one is experiencing discomfort. The crying keeps you awake and leaves you frustrated because you feel like nothing you do seems to help. So, what's a parent to do?
One of the best ways to address discomfort due to gas is to switch to a better bottle. With a plethora of bottles on the market, it can feel overwhelming. To help you in your quest for less tears from your baby (and yourself), we've researched the best bottles for gassy babies on the market.
Why Bottles May Help with Tummy Troubles
It may sound oversimplified, but there are reasons why just changing your baby's bottle may help with gas and colic. Parents need to understand that gas is caused from babies swallowing air. Since babies can swallow air anytime they open their sweet little mouths, it means gas is to be expected.
For many babies, the gas becomes very uncomfortable causing babies to become fussy. If your baby seems to calm down as soon as he/she passes gas, then you are most likely not dealing with colic. However, for parents of colicky babies, their fussiness will continue for hours at a time for several weeks. As WebMD explains, "Gas does not cause colic, but if your baby is colicky, she may swallow more air, which gives her more gas."
Therefore, choosing a bottle that lessens air intake makes a big difference in tummy troubles. Simply switching to a better bottle can help ease your little's one discomfort.
Bottle Shopping Considerations
Different types of bottles may work better for gassy babies because they are designed to prevent too much air intake. While there are multiple options available, we focused on researching five different criteria to determine which bottles are the best for gassy babies.
Nipple Flow – The nipple flow is what determines the speed at which the baby takes in the milk as well as the amount of air your baby ingests. For example, an infant will use a slower flowing nipple than an older baby. Even so, a slow flow nipple from one brand may have a faster flow, so it is important to do some research.
Nipple Shape – If you are breastfeeding, the nipple shape is especially important because it should mimic a woman's breast as closely as possible. However, nipple shape also contributes to air intake depending on how your little one takes the bottle.
Vent System – Some bottles include a vent system (or valves) that work to remove air from the bottle and the milk so your little one ingests less air while feeding.
Overall Bottle Shape & Size – Since bottles come in a variety of shapes and sizes, you should consider what one works best for how you feed your baby. For example, some bottles are straight, while others are angled. In addition, the overall shape and size should be thought of in terms of your use. Will it stand easily or fall over? Will it fit in a diaper bag?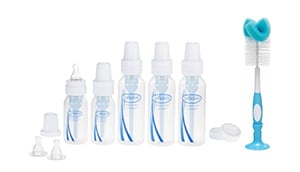 Patented "no vacuum" design
Vent system to alleviate air intake
Affordable
Nipples come in various flows
Difficult to assemble
May leak if it is not assembled correctly
Price $​
The most popular bottle option for gassy babies is Dr. Brown's BPA Free Natural Flow Bottles, and it is easy to see why. These bottles are the most affordable option and have a great reputation. These bottles are designed with a unique vent system that helps air from mixing in breastmilk or formula. The air is transported to the back of the bottle while the milk flows from the nipple.
Dr. Brown's bottles come in various sizes and with nipples in different flows. However, these bottles are made of multiple parts making them more difficult to clean and assemble. Yet, many parents swear they are worth the extra hassle because of their vent system and "no vacuum" design that prevents fluid in the ear. However, parents looking for a bottle they can put together in a hurry may find this bottle system frustrating.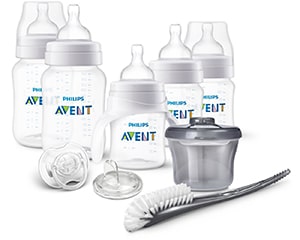 Clinically proven to reduce discomfort
Unique Airflex vent system
Easy to assemble and clean
The line grows with your baby
Not designed specifically for breastfeeding mothers
Some leaking
Price $$​
Another popular choice is the Philips Avent Anti-Colic bottle because of its proven effectiveness. The company claims that these bottles have been "clinically proven to reduce colic and discomfort." Part of the reason for the bottle's success is the unique Airflex vent system which reduces the amount of air your baby ingests. The vent in the nipple works to push the air back to the bottle rather than your baby's tummy.
Another reason these bottles are so popular is because they are easy to use and fit the entire line of Philips Avent bottle system – so it is possible for your child to use these bottles until they move on the sippy cup stage. The bottles are also easy to clean. However, unlike other Philips Avent bottles, this line does not include the breast-like nipples with comfort petals. For breastfeeding moms, this is disappointing.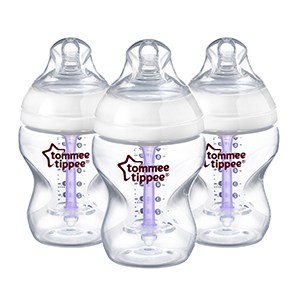 Venting system
Nipples designed with breastfeeding mothers in mind
Ergonomic shape
Wide opening
Many parts make it difficult to clean and assemble
Some issues with the vents opening correctly
Price $$​
Tommee Tippee Closer to Nature Bottles have released a specific anti-colic line that includes a special venting system. It utilizes a tube and a valve that vents air through the tube and to the bottom of the bottle away from the milk. Additionally, the venting also continues to the nipple which is designed to resemble the feel of a mother's breast.
The bottle's shape and size is also a selling point as it is comfortable to hold. This bottle also has a wide opening that makes it easy to clean. However, this bottle system has many parts, which can make it more difficult to take apart, clean individually, and reassemble. While the system works well, some parents noticed that the vents often need to be pinched or squeezed open.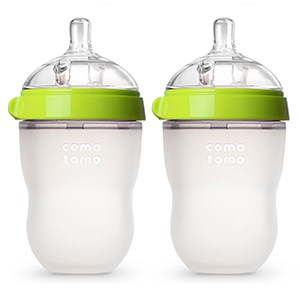 Soft, flexible texture
Dual anti-colic vents
Various nipple flows
Easy to clean and assemble
Dishwasher safe
Prone to tipping
More expensive
Price $$​$
Parents love the pricey Comotomo Baby Bottles because of their soft and squeezable feel. These bottles also help with gas problems with dual anti-colic vents that prevent air intake. These vents work to allow the air to circulate while also allowing your baby to drink milk without problems. The line comes with various nipple flows that also work to ensure your baby does not suck too hard or drink too quickly, which also helps with tummy troubles.
In addition to the soft silicone material, these bottles are also easy to clean with a wide opening and few parts. Plus, they can be cleaned in the dishwasher or a sterilizer. Plus, parents seem to be willing to pay more for these bottles even though they are prone to tipping.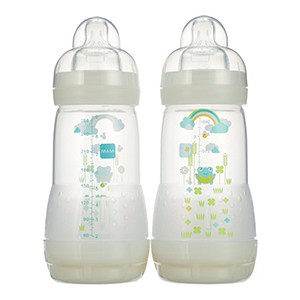 Vented base for reducing air intake
Designed with a Skin Soft textured nipple
Interchangeable nipples in various flows
Easy to clean
Difficult to assemble
Some leaking was reported
Price $$​
The MAM Anti-Colic Bottle is on our list because of its patented vented base that helps alleviate gas problems for your little one. As the vented base reduces pressure and bubbles, your baby will intake less air. These bottles are also a great choice for breastfeeding mothers because they have a patented Skin Soft textured nipple designed to make it easy to switch from the breast to the nipple.  Breastfeeding moms sometimes need a few other choices.
In addition, these bottles come with nipples in various flows and are interchangeable. The bottles are also easy to clean with wide openings. However, due to having multiple parts, they are a little more difficult to assemble.
Additional Bottles to Consider:
Here are our runner-ups if you are still looking for a new bottle for your gassy baby:
Playtex Ventaire – These angled bottles are designed to provide tummy comfort.
Lansinoh Momma – A leader in breastfeeding products, this bottle also has an air ventilation system.
Playtex Nurser with Drop-in Liners – These special disposable liners prevent air ingestion and make clean up easy.
As We Go…
If you are already dealing with a gassy baby, you should look for a bottle that includes nipples in various flows and an effective venting system. If it takes you a few tries to find the right bottle for your baby, don't give up. Finding the right bottle for your baby can be a challenge. All babies are different; therefore, all babies have different preferences.