Are you on a search for the best pacifier for your breastfed baby? With so many different types of pacifiers on the market, it can feel daunting to choose the "right" one for your baby. Because you've worked so hard to breastfeed, you don't want to derail any progress there!  Rest assured that there are safe, breastfeeding-friendly options for your little one.
Why do you need a pacifier? The number one reason is that it will be a sanity saver for mom and dad! A pacifier essentially works to "pacify" a baby. Pacifiers help babies soothe themselves by allowing them to use the sucking motion.
Pacifiers come in handy when your baby is crying because of discomfort (or no particular reason at all).  Some parents use it as a sleep aid; in fact the American Academy of Pediatrics recommends using a pacifier to help reduce the risk of SIDS.
How To Choose A Pacifier For Breastfeeding Babies
While I am highlighting the best pacifiers for breastfed babies, it should be noted that each of these pacifiers may also be used with bottle-fed babies. When shopping for a pacifier for a breastfed baby, you should look for a pacifier with a more rounded nipple shape and one that has more give in the nipple. In addition, I focused on these four different factors:
Quality of materials

  The pacifier you choose should be BPA free and preferably made of silicone
Comfort – Choose a pacifier that is more soft and able to bend rather than one that is stiff and solid. This is especially important for breastfed babies as it should somewhat mimic a mother's nipple.
Durability

 – The pacifier should be designed to withstand everyday use and then some.
 Ease of Care – Consider how you will need to clean the pacifier. Can it be washed in the dishwasher? Can it be sterilized? Or is it hand-wash only?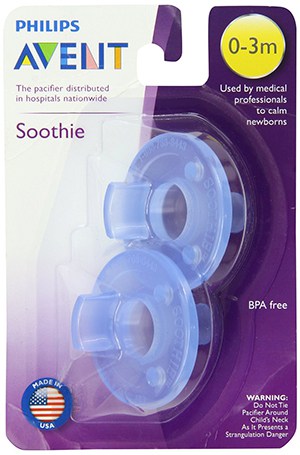 Endorsed by hospitals
Made of hospital-grade silicone
Durable, but flexible
May be washed in the dishwasher
It may rest uncomfortable on your baby's nose
You cannot attach a pacifier connector
Price $
The Philips AventSoothie Pacifier is the most recognized pacifier as it is endorsed by hospitals. My hospital even sent us home with a set of these wonderful pacifiers! It is shaped and sized perfectly for your baby's mouth.
It is a one-piece design made of hospital-grade silicone. You can tell that it is durable just from touching it. However, it is also comfortable as the nipple is flexible, but it won't become bent after use. In addition, these pacifiers are easy to clean. They may be sterilized and washed in a dishwasher.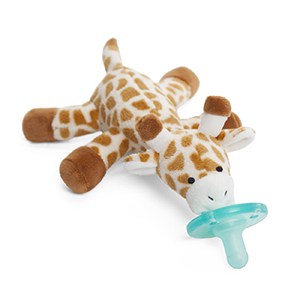 Made with the Soothie pacifier
Used in hospitals
May be washed in the laundry machine
A variety of animals to choose from (giraffe, elephant, monkey, lion, etc.)
Expensive
Cannot be washed quickly
Price $$​$
The WubbaNub Infant Pacifier takes the Soothie Pacifier up a step by combining it with an adorable stuffed animal. Babies love these things! And, let's just admit it, moms do too. Why? Because the combination of an excellent pacifier and a cuddly animal is cute and comforting.
The pacifier is attached to the stuffed animal, which does make it a little more difficult to clean. However, the design of the actual pacifier allows for easy cleaning since it is one piece. To clean the pacifier and the stuffed animal, you simply place it in a mesh bag in the laundry machine.
The biggest downside of the WubbaNub is the price. For the price of one WubbaNub, you could purchase several other pacifiers. Also, if you lose one (and it will happen), you will have to replace it.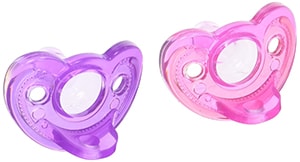 Made of high quality materials
BPA free and Latex free
Easy to sterilize and clean
Shaped to fit around a baby's nose
May be sized too big for some babies
A little harder than other brands
Price $$​
The First Years Gumdrop Pacifier is also a popular pacifier for breastfed babies. It stands out because it is not only made of high quality materials such as silicone, it is also BPA free and latex free. It is also a one-piece design, but its shape is designed to fit around the bottom of a baby's nose.
This pacifier is easy to sterilize and clean. It is also has a flexible nipple and is durable. Many moms swear by this pacifier because they found their breastfed babies took to it easily but did not suffer from nipple confusion. Another perk is that this pacifier may be used with a pacifier connector unlike other brands.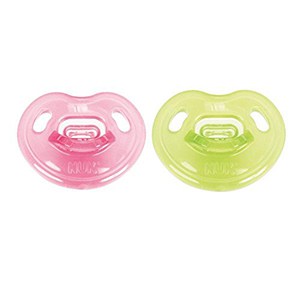 Orthodontic
100% silicone and BPA free
Easy to clean
Shaped to fit around baby's nose
Uncomfortable nipple shape
Price $$​
The NUK Newborn Orthodontic Pacifier is another excellent choice because it is designed with your baby's dental future in mind. It provides the same soothing relief while also fitting into your baby's natural palate.
This pacifier is also designed to fit comfortably under your baby's nose. It is made of 100% silicone and is a one-piece design that is easy to clean. Its durable materials and shape ensure it is long-lasting.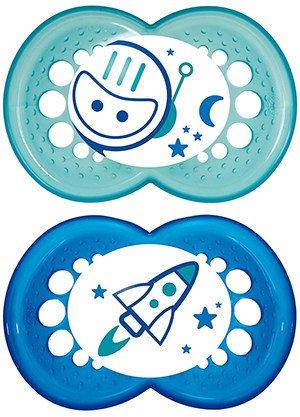 Glow in the dark feature
Orthodontic
Silicone SkinSoft nipple
BPA free
Comfortable shape and nipple
A little more expensive than other brands
Glow in the dark feature does not last all night
Price $$​
These pacifiers are unique in that they use the MAM silicone SkinSoft nipple which feels much more natural. In addition to this unique nipple texture, the outer construction is made of glow-in-the-dark materials making it easy to find in the nighttime. I love this feature!
This pacifier is also shaped to fit your baby's mouth and under the nose making it comfortable. The orthodontic shaped nipple works to help prevent future dental concerns. They are easy to sterilize and clean.
Additional Pacifiers to Consider:
Nuby Ortho Soft Flex Pacifier – Designed specifically to mimic the motion of a mother's nipple
TommeeTippee Closer to Nature Fun – Playful, fun designs with an orthodontic shape
Mustachifier– Why not? Parents deserve some laughs.
How To Introduce A Pacifier
The number one consideration when introducing a pacifier is to wait until breastfeeding has been more established, usually 3-4 weeks. Breastfeeding moms sometimes difficulties in getting their babies to take pacifiers.  After all, head to head with breastfeeding, cuddling with mom AND getting fed must take the cake!
Keep trying and don't despair!  If you'd like a pacifier in your arsenal, you may have to try multiple pacifiers to find the one that your little will take.  Remember, all babies are different.  Even if it doesn't work at the 1 month mark, you may find your baby happy to pick it up later.
Stock up on the type your baby loves. You'll want a few to keep them in the places your baby is likely to need soothing – the car, the crib, the changing table, and on hand in your diaper bag.
Conclusion
Pacifiers can be wonderful ways to help soothe your baby and you should not worry about a pacifier causing nipple confusion.
Which pacifier does your breastfed baby love? Let us know in the comments.