The Pack n Play is incredibly convenient among travel playards, and often becomes a goto for naps especially on the go.  The standard mattress that comes with the Graco playard may be a bit thin and many parents begin looking for the best pack n play mattress.
FAQs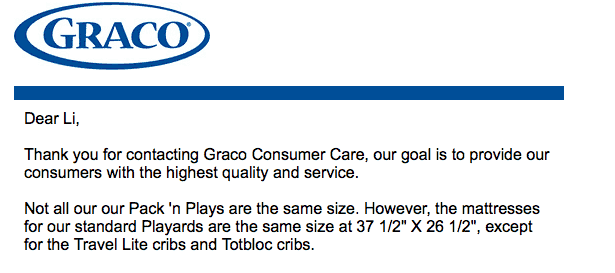 Why use a different mattress?  First of all the manufacturer includes a warning tag that says you should not use any mattresses that did not come with it.  Many parents nevertheless choose to find a more comfortable mattress for their babies.
Can a baby safely sleep inside a Pack n Play?Yes they can. The American Academy of Pediatrics considers Pack n Plays as a safe place to sleep as long as the baby is kept on her back, the mattress used is firm and there are no extra things left in the Pack n Play like loose sheets, blankets, pillows or toys that can pose a risk of suffocation.
How To Choose A Mattress For Graco Pack n Play
Quality - Many people use Pack n Plays during travel; since both the Pack n Play and the mattress will get tossed around quite a bit during travel, you should make sure that the mattress is sturdy, durable and of good quality. Quality becomes an even more important factor if the Pack n Play will be used by multiple kids. It's important to make sure the mattress will not easily succumb to wear and tear.
Size - It is important to ensure that the mattress you buy fits snugly inside the Pack n Play and there are no gaps around the edges which can be dangerous. The best way to ensure that it fits perfectly is to measure the Pack n Play you have at home and the mattress you intend to buy.
Easy to clean -As with many of the things you buy for your little one, you will want to make sure that the mattress is easy to keep clean. Most Pack n Play mattresses can be cleaned with mild soap and water. Others come with machine washable covers. If your baby has frequent diaper leaks, it is best to buy a mattress with a waterproof cover.
Portable  -  Since you will most likely be travelling with your Pack n Play mattress (or occasionally taking it along to grandma's house), it is important to make sure the mattress is light, easy to pack up and take along with you. Some mattresses can fold up and even fit inside the same case as the Pack n Play which is a big plus since it saves you the hassle of carrying one extra thing!
Made from 90% foam and 10% vinyl
GREENGUARD Gold certified
Passes flammability, lead, phthalates and toxicity tests
Anti-bacterial waterproof cover
Easy to clean
Not meant to be used at bassinet level for pack n plays
Not completely snug fit
Price $
Made from high quality foam, this mattress features an anti-bacterial, non-allergenic waterproof cover that helps prevent odor, mildew and mold from building inside. Greenguard Gold certified, it passes all flammability, lead, phthalates and toxicity tests.
The mattress is easy to wipe clean with mild soap and water. Measuring 37.5 inches long by 25.5 inches wide and 3 inches high, it features four 90 degree corners that fit Graco Pack n Plays that have similar corners for the inside of the play yard where the mattress rests.  The description specifically says it fits square Graco Pack n Plays.  It also seems to fit other pack n plays like Chicco and Brightstarts
Opinions actually differ on whether this mattress is a good fit.  The mattress drops cleanly into the bottom of the playard (you can remove the bottom mat), but it is not necessarily perfect.
The sides of the playard are flexible as well, so it's tough to measure how much of a gap there is.  There might be about 1.5-2" of give on the sides, probably not enough for the baby to get caught, but it's definitely not snug. Again, Graco warns parents not to use mattresses that didn't come with the pack n play.
Dream on Me recommends this mattress to be used with the following:
Fisher Price Ultra-Lite Day & Night Play Yard #CBV60
Chicco Lullaby LX Playard #06079059500070
Baby Trend Nursery Center Playard #PY81400
Graco Pack 'n Play Playard with Automatic Folding Feet #1801373
Chicco Lullaby LX Playard #06079059500070
Graco Day2Night Sleep System #1907179
FUNSPORT DELUXE PLAY YARD PY384
Graco Day2Night Sleep System #1852644
Baby Trend Nursery Center (Tanzania Collection) #PY81979
Safety 1st Disney Baby Sweet Wonder Playard #PY379EKY
Cosco Funsport Playard#PY384DHC
Graco Pack 'N Play Snuggle Suite LX Playard #1927563
Graco Pack 'n Play (Pasadena Collection) #1801373
Fisher Price Ultra Lite Day & Night Play yard #CJK24-998
Firm side for babies and soft memory foam side for toddlers
3.25" thick for comfort
Waterproof, antibacterial, hypoallergenic cover
Standard pack n play sheet will not fit because it's thicker
Price $$​
The Hiccapop pack n play mattress pad is the first dual sided mattress of its kind, with denser foam on one side and memory on the other.  This offers babies a firmer surface that can be switched to a softer surface for toddlers.
The washable cover is convenient and its dimensions of 38 x 26 x 3.5 along with rounded, firm corners and thicker foam provide snug fit in standard sized (38 x 26) playards.
Winner of 4 national awards including "Best Buy" by Parents Magazine
Made in California without vinyl or plastic
Some reported a smell from the foam
Price $$​
The MamaDoo is carefully made in California without flame retardants, vinyl, plastics, or toxic chemicals.  Fits all standard size pack and play yards (37.5" x 26" x 1.5"), including Graco, Chicco, Nuna Sena, Boppy, Eddie Bauer, Evenflo, Baby Trend, Safety 1st, Arms Reach Original, Aprica, Cosco, Combi, Boppy, Nature's Purest Comfort, Bright Starts.
This multiuse topper can be used at the bottom or in the bassinet as a portable changing station or play mat.   A small number of reviewers reported a smell from the foam, which is something to look out for.
A travel bag is included with a one handed carry strap for additional portability.
Waterproof Cover
High density foam
Doesn't fit in overhead bin
One handed open needs quite a strong flick of the wrist
Price $
Arriving vacuum packed, the mattresses can take time to fully expand.  When they do, users have reported a high level of comfort that makes sleeping easier.    These measure 38x26x1.5 with rounded corners for a good universal fit.
Milliard's tri fold design means the mattress can also fold up into a bonus carry bag (included).  The cover is waterproof for ease of cleaning, with a long zipper for easy removal.
Conclusion