Blackout shades rarely ever make it on baby checklists. Maybe it's shopping fatigue, from the hundreds of items that had to be selected for the baby shower. Bouncer vs swing? Sleep sack vs receiving blanket? What the heck is a swaddle anyway?  Blackout curtains, for the nursery or travel, certainly aren't a new mom's first concern, although they ought to be.
What's the hardest thing about having babies, anxiety aside?
Actual fatigue usually sends parents scrambling to cover all bases. And I'm not talking about "the hungover from a late night, need to sleep in until noon" type fatigue. Parents roll their eyes when their single friends exclaim "oh I'm soooo tired!"
Hmmm tired? Did you set your alarm every 2 hours, only to spend an hour trying to fix that alarm (a scream that makes your hormonal body crazy)? Then after you think you've jello-jiggled your baby into sleeping submission, halfway down into the crib he lets out a primal shout again.
The worst time span is probably the 4-6am window, when even the baby senses it's too late to go back to sleep properly, but it's too early to wake up happily, which means it's the best time to simply grumble. Usually Mommy or Daddy is frantically trying to patch together another hour of sleep, which is a losing battle as the room starts to lighten. Baby wakings every 15-30 mins in that interval, if they can be coaxed into sleeping at all, are a bit too common.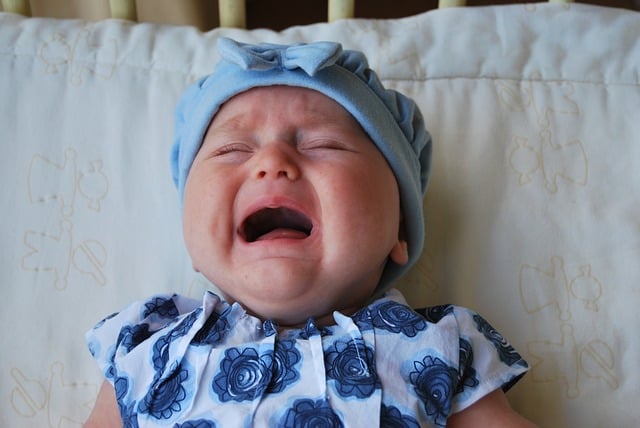 What are Babies Used to?
Before babies are introduced in the real world, they are accustomed to a dark environment 24/7, with the sound of Mommy's heart beat and the swishing of her circulation. To help them start producing melatonin and regulate their sleep cycles, exposure to the light of day followed by dark of night is extremely important.
Darkness for daytime naps help to set the stage for quiet time, and for the first few months when babies are napping every 2 hours or so, you begin to realize just how much sleep your baby really needs. Babies are said to sleep anywhere from 15-20 hrs for the first 6 months of their lives.  I hear you, I want to know which stork can bring me those babies too.
What If My Baby Is Spoiled By Blackout Drapes?
Admittedly, some parents worry that babies will get used to sleeping in a dark room and will never be able to sleep anywhere else.  But babies, especially newborns, are arguably already used to the darkness and warmth of the uterus.
Nap times in particular can get difficult to implement, especially when it's bright outside and regular activities are ongoing in the house.  Seasonal changes also cause changes in light.  Summer time brings about earlier daylight and longer days, which as a natural signaling mechanism can make it harder to get kids to sleep.
Children Are More Sensitive To Light
Scientific institutes recommend a quiet dark room for sleep, even for adults.  The reason children may need even more darkness, is that they are more sensitive to light; for example children's eyes are anatomically different and let in more light than adults' eyes do.
Researchers experimented with tracking the sleep hormone melatonin in children under different circumstances.  Children were exposed to different levels of light right before bed, including exposure to bright light vs dim light.  Bright light exposure suppressed melatonin by almost 90%, and the effect stayed even after kids returned to dim light.
The takeaway is that winding down kids so that lights are dimmed or turned off "cave like" promotes better sleep.  Getting into a rhythm and routine of a sleep schedule  also typically helps.  In fact a consistent bedtime routine is associated with better sleep, including shorter times getting to sleep.   As a new parent, getting those extra few minutes of sleep is always worth it.
Benefits Of Blackout
Many babies cosleep for some period of time, especially breastfed ones. Temporary blackout solutions can be moved from room to room when the transition to the crib is made. Moveable blackout drapes also come in handy for travel, either on vacation or an overnight stay at grandma's!
That's where blackout curtains/drapes come in.  They help you give your child the dark environment he needs in order to get restful sleep, both at nap time and night time. It's best to look for curtains that are portable so that you can create the same environment for your baby when you travel.
Easy to bring for travel
Encourages maximum to sleep
Temporary change to decor
How To Choose Blackout Blinds Or Curtains
Price -  Blackout curtains are available in a wide price range, from extremely cheap options to very expensive, branded options. If you're on a tight budget but still want a good quality product, try to look for something in the middle range; curtains/drapes that are very low priced indicate that the fabric and its durability is not very good.
Portability -  If you're looking for blackout curtains that are portable and can easily be packed up, you will need to consider certain factors. How easy is it to remove and re install the curtains? Do they easily fit into a travel bag that is light and convenient to carry?  Will it leave a mark?
Durability - If the shades are easily removable, can they be re-installed comfortably and still maintain blackout?
Ease of Installation - Are you going to be stuck reading manuals and buying tools, or is the setup intuitive?  The last thing you want to do if you're already sleep deprived is to have to expend extra mental energy on curtain setup.
Adjustability - If you are traveling, the shades may have to fit many different window sizes without leaking light.
Appearance - You're in your baby's room probably more often than not, so these shades can't be an eyesore.
Maintenance -  The material of your blackout shades or blinds will determine the care and maintenance that they need. Most of the materials made from cotton and polyester mix will need to be machine washed with cold water, while others made from vinyl can simply be wiped clean with a damp cloth.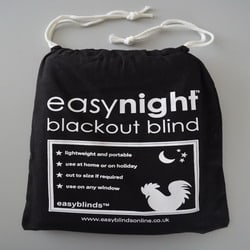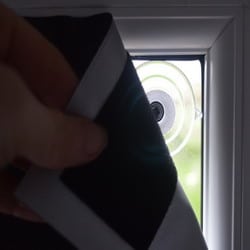 Folds up into travel bag, small size <1lb
Use under existing window treatments
Price $$​$
A Gentle Parenting 2015 Gold winner, the Easynight Portable Travel Blackout Blind is a lightweight blind for the traveler. The XXL version folds up into the size of a bag of flour and the blinds come with a small travel bag, handy for a trip away from home.  The regular size is 59" x 57".
Installation requires placing the suction cups as desired on the window and taping the blackout sheet against the cups.  Size can be cut to the window's dimensions. If preferred, 3M command strips can be used to attach to the window frame.
Blinds are black on one side and silver on the other to reflect heat and light.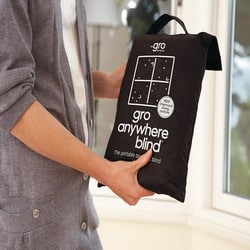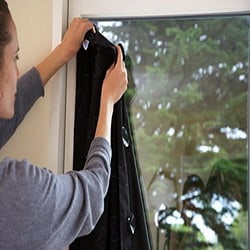 Highly portable, ideal for a traveling family
Less than 1.7lbs
Use under existing window treatments
If suction cups aren't sticking may need to moisten with warm water
Not suitable for windows with damaged edges, laminated textured/patterned or leaded glass
Price $$​
Brought by the UK based Gro company, this blind is meant to "gro anywhere."  Installation is fairly painless, consisting of arranging pre-attached suction cups on the window pane.  The Velcro system allows the blind to be gathered to fit any window up to 51in x 78in.  Great on the go blackout solution.
For a little nursery pizzazz, this vinyl backed curtain features a side covered with moon and stars.  The room still remains dark, giving your child quality, sound sleep.  Before buying though, checkout the Amazon alternative that just came out.
Portable lightweight solution
Velcro edges, blocks UV rays, noise
Use under existing window treatments
Price $
Amazon Basics now offers a product very similar to the Gro company, even in size (at 50 in x 78 in (198 x 130cm).   The sun and moon stars fabric is eerily similar.  The blackout blind also folds neatly in a travel bag.
The pricing comes in a fair bit cheaper than the Gro company blinds so we would try these first.  We've left the Gro blind review up for comparison.  This product is also backed by an AmazonBasics one year limited warranty.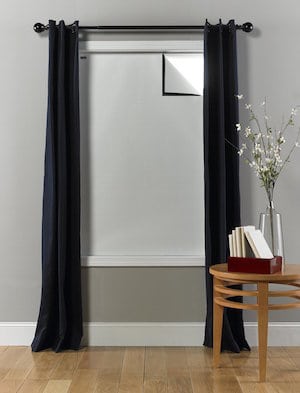 Detachable and customizable for window size
Full blackout blocks light even around the edges
Use under existing window treatments
May not work as well for windows with levers that stick out
Price $$​$
Sealing the light around the edges is critical for true blackout shades. The Blackout EZ Window Cover, is a portable and customizable solution designed to block out light.  It comes in black and white, with strong velcro that is easily installed on the window frame.   According to the manufacturer, the shades can be removed and installed >2000x, offering incredible reusability for a different room or even grandma's house.   It actually rolls up into a portable and at 1.5 pounds is light enough for travel.
During the day the cover can be rolled and fastened up without being taken down completely.   The view from the outside is a white shade, which reflects heat.  As an added benefit the cover may even block out wind, heat, additional dust or pollen.
Designed by a former night delivery driver, these shades were created with the day sleeper in mind.  They are a bit pricier than the other solutions (for the size), but the quality may justify the price.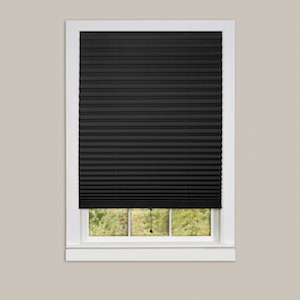 Pleated shade with a cord
Use under existing window treatments
Not designed for removal and reinstallation
Cord to let the shades down is a reach at the top
Price $$​
The Achim Vinyl Pleated Shades are a highly affordable solution for blocking light in the nursery. The pleated blinds add a decorative touch, and they do keep the room dark and cool for the kids to sleep.
Made out of vinyl, these shades are easily wiped clean.  They are likely a bit more durable than paper ones.
Adjustable using scissors to trim, there's also a push button to unlock the cord that lower and raises the shade. It opens with an easy Installation is peel and stick, which makes them really easy to install.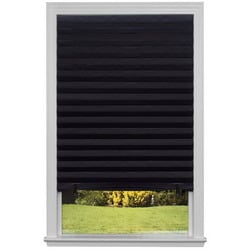 Comes in pack of 6 for multiple uses
Semi-permanent shade
Blocks 99% of light for UV and light protection
Does not appear to be made for reinstallation
Pleating vulnerable to movement from indoor air
Price $
An affordable solution is the Blackout Pleated Paper Redi Shade, a pack of 6 shades that can be trimmed to fit windows.  These shades are suitable for bedrooms, bathrooms, any rooms that require a bit of privacy or darkness.  Redi shade, the manufacturer, has been manufacturing window covers for 25 years. Made of durable paper, installation is a simple peel and stick, though the shades don't seem to be designed for repeated removal and re-installation.
Clips are included for ease of lowering and raising the shade.  The shade itself is pleated, with a choice of black or white. This option likely has less insulation value than the others.
Convenient static cling sheet
Can be cut to fit any sized window with scissors
Leaves no mark
If windows are dual pane or insulated check with manufacturer for safety
Price $
This is a 100% light blocking blackout blind roll that comes in 17.5 x 80 inch or 36x 72 inch rolls. They can easily be cut using scissors to desired size or shape depending on the windows. You will likely want to use an exacto knife or razor plus a ruler to cut straight edges.  The sheet sticks to the window using static; there is no need for glue, adhesive or tape. It can easily be peeled off when not needed and can be reused.
In some cases, dual paned glass windows can crack if the air between the 2 panes expands due to heat.  The seller recommends checking with the window manufacturer if covering a dual paned or insulated window.  (It depends on the age of the window, thickness of the class, general climate, and window positioning relative to the sun.)
Accessories
Hopefully the blackout curtains you buy are a perfect fit, but just in case here are some accessories to fill the gap, or even use as a quick temporary solution.   The goal is total and utter darkness, and in some cases you might need extra tools in your arsenal to achieve this!
Peel and stick
No ironing or sewing required
Machine washable
May not come off without a mark if used on walls
Price $
This is a 24"X ¾" velcro piece with sticky back designed for use on fabrics.  You may combine two different size curtains together, or use it to close any gaps that let sunlight seep into the room.  Cleaning these is possible as well, though they must be machine washed in cold water, not hot.
Conclusion
A bit of extra sleep seems priceless to most parents, especially during those newborn days.  We all do what we can to get by.
What are your biggest concerns when it comes to finding blackout curtains?